Like perhaps no other mode of transportation, train travel has a powerful ability to immerse you in your surroundings as you move steadily through them — without a care in the world for navigating or getting behind the wheel. Even better? You're often rolling along routes and through landscapes no roads can reach.
And when the train itself has a sense of place and connection as evocative as the views out the window, as does the Rocky Mountaineer, the experience for passengers onboard is just richer for it.
The largest privately owned luxury tourist train company in the world traces its roots to 1990, when the Rocky Mountaineer kicked off as a family business in British Columbia, Canada. Since then, some 2 million guests have journeyed onboard its luxurious carriages through iconic landscapes in the Canadian Rockies and — as of late 2021 — the American Southwest, too.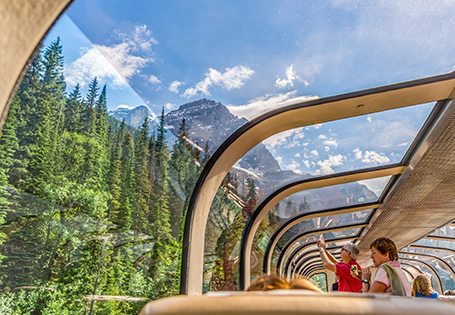 Choose Your Own Rail Adventure
You have four distinct rail route options (three in Canada and one in the U.S.) when it comes to where you travel aboard the Rocky Mountaineer — and once you decide which route most interests you, you can customize your trip by hopping off the train to spend a night or longer exploring some of the destinations along the way.
While planning, keep in mind that all routes operate in both directions, so you can start and finish where it makes the most sense according to your onward travel.
The First Passage to the West route, at its briefest, is a two-day journey between Vancouver and either Banff or Lake Louise, with an overnight in a Kamloops hotel along the way. Ocean, lake, and snowy mountain vistas are par-for-the-course views out the train windows.
The Journey Through the Clouds route takes passengers from Vancouver to Jasper via Kamloops on similar two-day routes that can be customized into longer journeys, too. Consider adding on sightseeing tours and more overnights along the way, with time to extend at the end of your trip, too, in UNESCO World Heritage listed Jasper National Park.
The Rainforest to Gold Rush route similarly travels from Vancouver to Jasper, but with the option to stay a night or longer during your journey in Whistler and/or Quesnel.
The Rockies to the Red Rocks, the first U.S. itinerary launched by Rocky Mountaineer in 2021, travels along a historic rail route between Denver, Colorado and Moab, Utah. Natural archways, ancient canyons and vast desert expanses are yours to ogle during two-day journeys that overnight in Glenwood Springs, where you shouldn't miss a restorative soak in the local hot springs.
Read more about scenic train trips across the U.S.
Whichever route you choose, prepare for the joy to be in the journey as much as the getting there. The Rocky Mountaineer's SilverLeaf service, its most luxurious, offers a moveable feast of gourmet breakfasts and lunches on board, complimentary baggage transfer services to your hotels, and a seat to remember aboard the train's most luxurious coaches. Clad with glass-dome windows that bring the views sweeping in, they make it easy to take photos from all angles as you roll merrily along.
There are many ways to customize your trips, too. So once you've nailed down your start and end point, let Rocky Mountaineer's travel advisors provide suggestions on the best tours and attractions along the way.