If there's one ingredient that can make any meal memorable, it's peppers.
From mild to hot and everything in between, peppers are packed with sweet, sometimes smoky flavors and, oftentimes, heat. Some peppers are so hot they can trick your brain into thinking your mouth is on fire.
The following five peppers are some of the most popular in North America, in part because they can take just about any meal from good to great — making it hard to forget.
1. ANAHEIM PEPPER
Sure, they have a little bit of a kick, but generally speaking Anaheim peppers are mild, making them a great choice for a wide variety of dishes.
One of the most popular peppers in the United States, red varieties of the Anaheim pepper strung together and dried to make ristras are usually how you'll see it done.
Find them at authentic Mexican restaurants across California and anywhere you see chile relleno on the menu. The dish features roasted Anaheim peppers stuffed with cheese and sometimes minced meat, then quickly grilled or fried.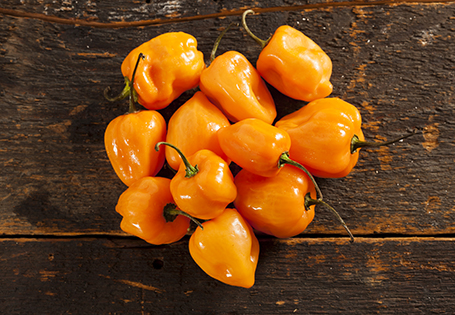 2. HATCH CHILE
In New Mexico, Anaheim peppers have a close cousin in Hatch chiles, named for the village where they're grown. And though they're beloved for all the same reasons that Californians love their Anaheim peppers, there is one major difference: Hatch chile peppers are much hotter, sometimes four times as much.
Even though the two peppers are otherwise similar, the temperature, soil, and climate in New Mexico creates a variation in the heat and flavor of the peppers that sets them apart. Visit Hatch in September during the annual Hatch Chile Festival to savor the roasted chiles and take in the local culture.
3. SPORT PEPPER
The main ingredient in Chicago-style relish, sport peppers are mild chili peppers that are absolutely central to a Windy City hot dog.
Once pickled in vinegar, sport peppers morph from dark to pale green — but don't let the dimming fool you. These peppers pack two to three times more heat than the jalapeño variety and have a flavor profile that's part spicy, part tangy, and certainly vinegary.
Just about every hot dog stand or snack shack in Chicago serves the city's famous hot dogs topped with sport pepper relish.
4. DATIL PEPPER
Used in hot sauces, jellies, and mustards throughout America's Oldest City, St. Augustine, the datil pepper has a similar heat index to habañero peppers. But unlike their distant cousins, these are sweet, not spicy, with a tangy aftertaste that clings to everything it touches.
Find it on Saturdays at the Old City Farmers Market or visit in October when local chefs compete in the Datil Pepper Festival.
5. HABAÑERO
Up to 20 or even 30 times hotter than jalapeño peppers, habañero peppers are found in many hot sauces and spicy dishes. Beloved for their heat and intense flavor, they release a floral aroma that fills the air when cooking or eating.
Surprisingly, the habañero pepper is named after the city of Havana, Cuba, where it once featured heavily in trading, but it's rarely used in Cuban cooking. Today, the Yucatán Peninsula is the world's largest producer of habañero peppers.