After a very long hiatus, the cruise vacation industry is nearly ready to hit the high seas once more. Post pandemic, cruising will look and feel very different. While some safety measures will fade away in time, such as social distancing and mandatory face mask mandates, other more permanent changes are here to stay. And while limited capacity aboard some vessels and shorter trip durations are expected in the short-term, a new normal is in store for the cruise line industry in the future. Expect a safer and more convenient return to travel when you embark on your next cruise.
1. Vaccination Passports
Most major cruise lines will require proof of vaccination for the foreseeable future. While certain exceptions will be made for people who can't receive the vaccine, including children, most ships will require a vaccination card or passport to sail. For cruise lines not requiring proof of vaccination, many will instead require passengers to submit a negative COVID-19 test prior to boarding. Be sure to pack your vaccination card or passport and bring it with you to the check-in terminal.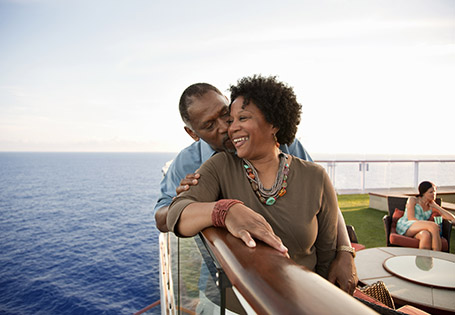 2. Health Screenings
While health screenings have always been a requirement to cruise, their enforcement in recent years has fallen by the wayside. After the pandemic, that is no longer the case. Passengers are now expected to complete a health screening declaring they feel well and do not have any symptoms of sickness before boarding a ship. Passengers who lie during their health screening may face serious legal consequences as most major cruise lines are now taking the health screenings very seriously
3. Contactless Amenities
Expect a more touchless experience when cruising resumes. Many of the technological advancements we experienced during the pandemic translated over to the cruise line industry as well. Checking in, completing your health screening, unlocking your cabin door, booking excursions, scheduling spa treatments, and more will all happen from your smartphone. Printed daily programs and menus will also be available in digital formats. These changes promote a more paperless cruising experience and are better for the environment as well.
4. Enhanced Safety Muster Drills
Do not expect the standard safety muster drills of the past. Post-pandemic muster drills will first require passengers to watch a short safety video from their cabin or smartphone. Passengers then have to verify they've watched the video by using a unique code displayed at the end of the video. Finally, passengers have a few hours to visit their designated muster station to scan their cruise card, wristband, or app proving they know where to go in case of an emergency.
5. Expect The Unexpected
Remember to be flexible as the cruise industry resumes post-pandemic operations. With new procedures and enhanced safety measures in place, there may be delays along the way. Health screenings at ports of call, longer lines at restaurants no longer offering self-service options, designated check-in times, reduced capacity for certain events, and more can all translate into unexpected changes to your itinerary. It is important to be in the right mindset before setting out to sea
Ready to go? Start off with these four fun day cruise ideas  ranging from sunset excursions to casino night outs. Or, check out these surf and turf Caribbean cruise vacation ideas  for land and sea adventures
Link to RCI Caribbean Cruises article