Ready to emerge from your COVID cocoon safely and have a vacation? Consider destinations where you can combine the freedom of exploring a city at leisure, with a day — or a few hours — of cruising in open waters. Day cruises offer unique experiences at a good value and are a great way to get to know your host city from a different angle. So, get your traveler's feet wet again (pun intended), and immerse yourself in a new experience that will create lasting memories. Here are some travel ideas for your next day cruise.
1. Whale Watching Alaska Cruise
Alaska is a whale-watching paradise and most tours are in the form of day cruises. Every spring, gray whales migrate through Alaska's waterways on their way to their summer feeding grounds in the Arctic Ocean. Belugas can be found outside of Anchorage in the Turnagain Arm and humpbacks are plentiful outside of Juneau. As you go in your quest for these magnificent mammals, you most likely will have a chance to also admire from your ship other members of Alaska's rich marine life like dolphins, porpoise, seals, sea lions, fur seals, walrus, otters, and more. That's a heck of a bonus that makes for an unforgettable vacation.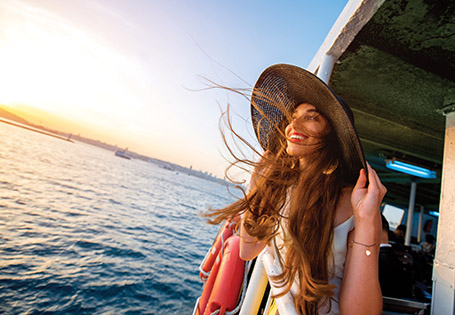 2. All-You-Can-Drink Scenic Cruises In Rhode Island
The options for this cruising experience are plentiful in beautiful Newport. From chasing one of New England's magnificent sunsets sipping on champagne on a sailboat, to rum runners in a classic motor yacht built in 1929 while touring historic lighthouses, to a morning mimosa cruise in a retired lobster ship, the question is not whether to do any of these day cruises but how soon. Newport is the jewel of Rhode Island's coastline with a fascinating history rooted in sailing and the Gilded Age. Once a favorite spot of the rich and famous, and still favored by many celebs who own summer houses there, this New England coastal town can be enjoyed by everyone.
3. Mexico Sunset Cruises
When visiting a Mexican beach destination, you can count on a few classic staples being readily available. Amazing margaritas and spectacular sunsets are two of them. But, wait for it, what if the two can be combined in a fun cruise that's just a couple of hours long? Whether you are visiting Cabo San Lucas, Puerto Vallarta, Playa del Carmen, Mazatlan, or Cancun, don't overlook a sunset cruise. The level of luxury is totally up to you, and the sky seems to be the limit. From group experiences with open bar, to more intimate ones with delectable wines, hors d'oeuvres, and even a full dinner, there are plenty of options for you to pick the one that best suits you
4. Casino Cruise In Daytona Beach
If you are visiting Central Florida and trying your luck is what you'd like to do, you could gamble at sea. Floating casinos depart from Daytona Beach every day. There are daytime, sunset, and dinner cruises available. Among the most popular is Victory Casino, which sails twice a day, seven days a week. The ship offers several craps tables, roulette, blackjack, baccarat, Let It Ride, Ultimate Texas Hold 'Em, and more, distributed throughout four decks. And, of course, a casino shouldn't call itself a casino unless it has plenty of slot machines. You won't be disappointed — this cruise has plenty of them. There's a café on board and a full bar. Plus, drinks are free while you are playing
Searching for a full-on cruise vacation? Check out these surf and turf Caribbean cruise vacation ideas  for land and sea adventures. Then read up on the latest travel safety tips for cruise vacations .
Link to RCI Caribbean Cruise article
Link to Cruising Post-COVID Safety Tips article