Make this fall unforgettable with a trip to wine country. For wine connoisseurs, fall is known as crush season, which is when the winemakers decide that the grapes are ready to be picked after a fruitful growing season. It's an exciting time to witness in the winery world, and just one of the reasons why fall is a great time to visit. But there are so many more reasons to travel to wine country vacation destinations this fall. First, immerse yourself — the fall foliage surrounding the wineries paints a beautiful backdrop as you sip and savor. Vineyard touring and wine tasting in the fall can actually give way to a truly relaxed atmosphere, with fewer crowds, cooler weather, and a more personalized experience. So pack up, and plan to visit one of these five wine regions this fall with RCI.
1. Texas Hill Country, Texas
Texas Hill Country features over 50 unique and visually stunning wineries throughout Hill Country. Just a 1.5-hour drive from Austin, the rumpled terrain of Texas' famous Hill Country is where visitors sip wine amid grazing cattle, wooded canyons, and a select offering of quaint historic towns. The locals, quirky and welcoming, are what bring life and passion to the unique wines and German-infused cuisine of the Texas Hill Country area. Try a full day, half day, or private wine tour of Texas Hill Country. Or hop aboard a shuttle that takes you to select wineries throughout the area departing downtown Fredericksburg every 10 minutes on Saturdays.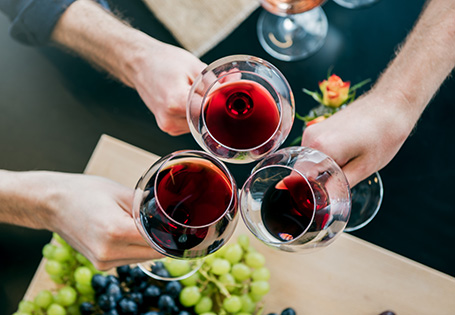 2. Puget Sound, Washington
Fall wine country travel is all about combining wine tasting with sightseeing and recreational activities — which is easy to do at the beautiful Puget Sound Islands near Seattle, Washington. Island hop along the picturesque wineries and landscape in the area aboard a ferry. Even if you're short on time, visiting the local wine shops and wine bars is a great way to take in the local ambiance and savor the tastes of the region.
3. Napa & Sonoma, California
As many can attest, Napa and Sonoma wine country is known for producing some of the world's best, most sought-after wines. Napa and Sonoma tend to get crowded quickly during peak season, so fall provides an amazing time to properly explore these more coveted wine tour regions with fewer crowds. There's more than 400 wineries in the area, so download the Napa Valley Winery Map to get the inside scoop on which ones to visit. Forced to choose between Napa and Sonoma? Each has its own unique appeal. Napa is known for a more luxurious, upscale feel, while Sonoma has a laid-back, casual feel, each with price points that correspond to their distinct offerings. Discover more things to do in Napa Valley.
4. Verde Valley, Arizona
Wine with a desert backdrop? Yes, please. Verde Valley, Arizona, is rich with award-winning wineries and tasting rooms surrounded by vibrant red rocks along the Verde Valley Wine Trail. Given its proximity to Sedona, tours to several of the area's most popular wineries along this trail fosters a change of pace and welcome addition to the traditional attractions in the Sedona area.
5. Shenandoah & Charlottesville, Virginia
Located between the Blue Ridge Mountains and the Allegheny Mountains, the Shenandoah Valley and Charlottesville area features a delightful climate, conducive to growing a variety of different grapes, producing an assortment of different wines. With numerous distinct wineries throughout the area, fall is the optimal time to visit — inviting crisp weather, changing leaves, and the debut of special wines and new releases. There are various wine tours in this area, each with their own specialty. With over 35 wineries around Shenandoah National Park, many of which are kid-friendly, a Shenandoah wine tour is the perfect oasis after a long day of traveling and hiking.