Most of us envision sugar-white sand when thinking ahead to our next beach vacation, but wouldn't it be a fun plot twist if the sand were a different color? After all, psychologists say that color affects our moods and behaviors. So match your favorite color with one of these colored sand beach destinations to help ensure the best chances of experiencing hands-down the happiest beach getaway ever. 
Pink-Sand Beach In The Bahamas  
It's altogether fitting that the tropical paradise of the Bahamas offers a beach with ethereal pink. Harbour Island's Pink Sands Beach is as alluring as it is unusual, romantic with its feminine rosy pink sand — caused by crushed shells. Those smitten with the color of "love and compassion" will put this exotic beach on their bucket list.
Red-Sand Beach In Santorini
On the southern edge of the Greek island of Santorini lies Red Beach, widely visited for its vivid red sands. The steep rocky volcanic mountain backdrop guarantees you'll truly be surrounded by this fiery hue, making it a striking fit for those who love the color. Some studies have shown that red increases the appetite, so remember to pack plenty of beach snacks! 
Orange-Sand Beach In Malta
Orange is adventure-loving and playful, the most "extroverted" of all colors. If this color feeds your soul, book your next escape to Malta. Ferry over to Malta's sister island Gozo, and head to Ramla Bay for a stunning beach vacation. The beach's unforgettable burnt-orange sand color is caused by the abundance of iron in the water. Visit Calypso's Cave nearby, referenced in Homer's The Odyssey, to capture an Instagram-worthy photo of Gozo's renowned orange beach.  
Green-Sand Beach In Hawaii
As a color we see everyday in nature, green is proven to be easy on the eyes. It's also shown to unleash a sense of calm. How wonderful, then, to vacation at a green-sand beach, something Hawaii offers at Papakōlea Beach on the Big Island. The abundance of olivine crystals explains the color, which injects the landscape with that sense of calm green does so well. 
Purple-Sand Beach In Central California
Because purple is rarely found in nature, purple-lovers won't want to miss Pfeiffer Beach in Big Sur, California. This secluded beach enjoys a magical setting with purplish sand at the beach's north end, a phenomenon caused by manganese garnet in the area. The picturesque Keyhole Arch adds additional wonder to this other-worldly place, perfect to visit at sunset.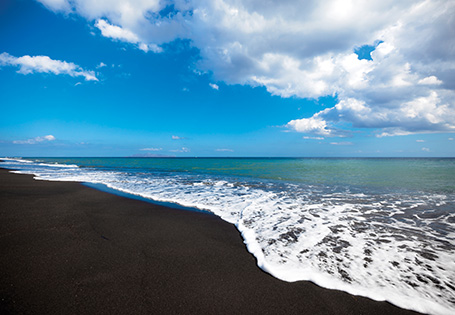 Black-Sand Beaches In Costa Rica 
This enduringly-popular shade evokes sophistication and power. If you're part of this trendy hue's fan-base, Costa Rica is your dream destination. Home to 800 miles of coastline and world-famous for surfing, Costa Rica offers black-sand beaches courtesy of lava deposits from the country's 50+ volcanoes. They include Playa Pavones, Playa Negra of Puerto Viejo, and Playa Hermosa of Puntarenas, which hosts the annual Quiksilver's International Surf Championship. 
Gray-Sand Beach In Northern California 
Those who love the color gray are channeling the experts, because gray has been named the color of 2021, along with sunny yellow, in fact. On a quest for a gray-sand beach? Shelter Cove in northern California is a remote, soothing haven that begs you to slow down and allow its soft grays to remind you of earth's foundational natural elements which endure over time.  
Ready to go? Get five travel tips to help plan your next beach vacation. Just don't forget to pack some sunscreen.