With the official onset of summer vacations, it's time for pool parties, farmers markets, and unhurried beach escapes. Embracing the season of sun while meandering down main street with ice cream or barbequing in the backyard not to mention wiling the day away on the beach reading a book will provide a healthy dose of Vitamin D as well as an unhealthy dose of sun exposure. Here are four summer travel tips to help you stay safe from the rays while having fun in the sun.
Need a little summer travel inspiration? Check out these four cool vacation destinations to mix up your summer vacation.
1. Apply Sun-Protection
It may be obvious, but water-resistant, broad-spectrum sunscreen offering a sun protection factor (SPF) of 15 for daily wear is truly your best friend. Don't leave home without it! Both basic formulas — chemical and physical (using active ingredients such as oxybenzone and zinc oxide respectively) safely and effectively protect skin when used correctly. Consider which form of sunscreen you personally prefer as you'll be more inclined to use it, be it lotion, spray, pump, or stick. If you'll be outdoors all day, use SPF 30 or higher and don't forget to reapply every two hours. Stock up on fun SPF 30 lip balms too, because lips are also vulnerable to cancer-causing rays.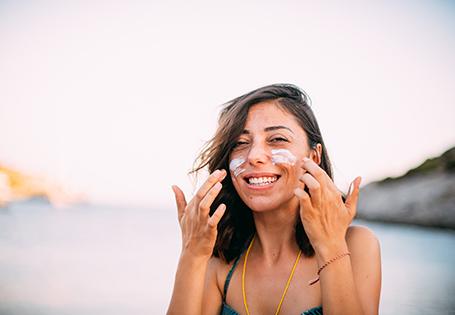 2. Don Protective Gear
Don't make sunscreen do all the work. Look for clothing made with sun-protective treated fabric labeled UPF 30 (Ultraviolet Protection Factor) or higher, advises The Skin Cancer Foundation. Dark colors, dense weaves, and synthetic fabric offer superior protection. Shade yourself with a wide-brimmed hat so sunrays won't find any part of your face, shoulders, chest, and back of the neck. Pack a cute sun umbrella for that glorious day exploring town on foot. For those embarking on a road-trip, invest in some UPF 50+ driving gloves for the many hours your hands will be on the wheel.
3. Wear Sunglasses
Sunglasses are a nonnegotiable summer staple because the intensity of summer sun over time can inflict permanent damage to eyes. Ultraviolet rays harm the cornea and lens, leading to cataracts and eye cancer. Besides looking for an attractive pair you feel good in and will wear daily, choose sunglasses that provide 100% UV protection. Don't be fooled by polarized lenses — this indicates they cut glare but say nothing about UV protection. Neither are dark lenses necessarily better if they don't offer 100% UV protection. Experts point out that the bigger the better, with a wrap-around design, to offer full-protection from every angle. Be assured it's not necessary to sacrifice fashion for safety, as there are some great choices out there!
4. Cover Up With A Coverup
Clothing choices like a long-sleeve rash guard swimming ensemble will go a long way to ensure you don't end the day with a painful sunburn. Look for saltwater and chlorine resistant fabrics with a protection level of UPF 50+. No need to compromise on cuteness either, as there are plenty of attractive options available. These make smart choices especially when engaging in activities such as snorkeling, scuba diving, or kayaking where reapplying sunscreen can be difficult. And don't forget when lounging by the pool with your margarita at your side to throw on a sensible UPF 50+ coverup to keep harmful rays at bay.