A typical summer vacation often contains three main ingredients: sun, sand, and saltwater. But if lazy days by the beach start to feel repetitive, how about switching things up this year? Clear out your camera roll, trade in the surf for some snow and get ready for the thrill of the unexpected. Indulge in these winter-inspired activities at some of your favorite destinations in Pigeon Forge, Tennessee; Denver, Colorado; Branson, Missouri; and Orlando, Florida.
Have A Snow Day In Pigeon Forge, Tennessee
Pigeon Forge, Tennessee, is known for its host of family-friendly attractions in the surrounding area, like the immersive Titanic Museum Attraction, comedy shows at the world-famous Comedy Barn and Dollywood, the theme park inspired by the life of country music legend, Dolly Parton.
But if you're looking for an adventure like no other, consider taking a detour to Pigeon Forge Snow, also known as America's first indoor snow park. It's a year-round destination that's perfect for the whole family with snow tubing and a Snow Play area where you can build snowmen and snow forts. The best part? It's real snow made fresh daily, and there's no need to pack puffy layers — the climate always stays between 60 and 70 degrees.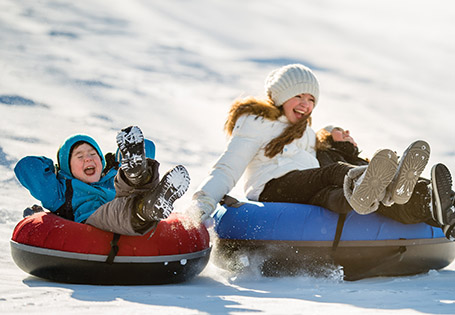 Hit The Summertime Slopes In Denver, Colorado
Most flock to Denver, Colorado, in winter for its renowned skiing and snowboarding. But did you know you can still experience the surrounding area's finest ski resorts and other activities in the off-season?
Head to St. Mary's Glacier, a trail about 40 miles west of Denver. It nestles along a semi-permanent snowfield, so chances are, you'll catch glimpses of ice and snow even in the warmest summer months. The trail itself is great for those who love a moderate hike, along with panoramic views and a picturesque lake that's perfect for picnicking.
Go a little further west, about 65 miles from Denver, to find the Winter Park Resort. In the wintertime, it's a skiers paradise, but in summer, it's everyone's playground. Catch a breeze as you make your way up 10,700 feet on the gondola, soar down the 3,000 foot alpine slide, and hike the 2.5 mile Waterfall Trail — a trek for all ages!
Live It Up In Branson, Missouri
Branson may be known as the Live Music Capital of the US, with more than 100 different shows like comedies, musical performances, and even dinner cruises. But while you're there, consider taking a day to experience Snow Flex Park, an adventure within Wolfe Mountain, an outdoor thrill park that the entire family can enjoy.
Climb into a rubber tube and glide down a 400-foot snow-like surface while taking in breathtaking views of the Ozark Mountains. Because of the slope's unique material, you can enjoy these thrills year-round. When you're ready, let the adventure guide you to the rest of the park, which offers seven zip lines, 10 sky bridges, and a 40-foot "Dynamite Drop."
Chill Out In Orlando, Florida
If you've been to Orlando, chances are you've made your rounds through Walt Disney World® Resort. But Disney's Blizzard Beach Water Park is in a league of its own, creating the nostalgia of a winter wonderland with a snow-sculpted, ski-resort theme and a splash of fun. It's notably home to Summit Plummet, one of the fastest waterslides in the world. Brace yourself for speeds up to 65 mph while plunging down the 120-foot water slide.
It's not just for adrenaline seekers. You'll find plenty of other milder water slides and attractions. Relax in a tube along Cross Country Creek, one of the longest lazy rivers in the country or hop onto the chairlift that will take you to the top of Mount Gushmore where you can relax and take in scenic views as you cruise over to other rides.
This summer, treat yourself and your family to the best of both worlds with fun, winter-inspired destinations to beat the heat. But whether you opt for a classic summer vacation or one of these seriously cool ones, check out these travel tips for staying safe from the sun's rays.