Father's Day is near and, newsflash, no man in America is wishing for a necktie on June 20. You know what almost no father will turn down, especially after a year of mostly indoor confinement? An outdoorsy adventure doing what he loves with plenty of opportunities to chill and make memories. This is also a time-proven formula to become his favorite person.
The options for such an adventure are plentiful, but let's start with these.
Lake Tahoe: For The Dad Who Likes To Fish
Lake Tahoe's sapphire blue water is the heart of the Sierra Nevada Mountains and a freshwater angler's paradise. Few places in the United States can compete or compare to its rugged beauty and abundance of fish. The lake is synonymous with mackinaw trout and rainbow trout. Brown and brook trout are less abundant, but you can still find them. The key is knowing where to look. (Browns usually stick to shallow rocky ends of the lake, while brooks prefer streams within the lake on higher elevation). There are many fishing charters with expert guides operating in the area. Most offer half-day trips that are perfect to get a taste of Tahoe fishing, while allowing for time to explore neighboring towns or Tahoe City, with its acclaimed restaurants and great golfing.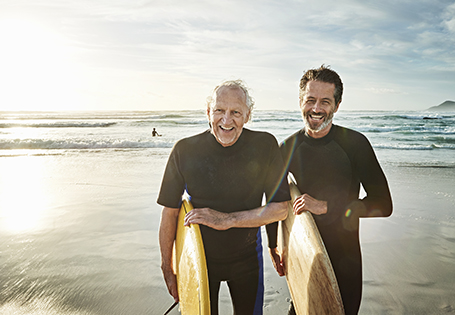 Palm Springs: For The Dad Who Likes To Golf
Speaking of golf, what do you call a region with more than 125 top-notch courses? You could call it a golf mecca or just Palm Springs. This awe-inspiring oasis of palm trees and breathtaking views of the Santa Rosa Mountains is roughly two hours east of Los Angeles. Golfing is king here. Every level of luxury, difficulty, and amenities are represented. With plenty of public golf courses in addition to private ones, you are likely to find a spot that fits dad's skills and wallet. As a bonus, he may spot a celeb or two. The area has a long history with Hollywood stars going all back to Fran Sinatra and the Rat Pack in the 1950s and 1960s, to Madonna, Clare Danes, and Brad Pitt in more recent times.
Newport: For The Dad Who Likes Sailing
If a sailboat is dad's happy place, as the wind fills the sails and water rushes past the boat, look no further than Newport, Rhode Island, for a trip he'll never forget. Considered one of the sailing capitals of the world, Newport has earned the right to claim this title by being home to the largest fleet of America's Cup 12 Meters contenders and winners. But the best part? Most of them are available for charter. These vessels are works of art and stunning engineering. The horsepower that drives these 65,000-pound racing beauties to speeds as high as 12 knots comes from their massive sails, which are approximately 1,200-square-feet in size. After experiencing their might, dad may never be the same.
Puerto Plata: For The Dad Who Likes To Surf
Say your dad loves the ocean, but he prefers a surfing board to a boat when it comes to conquering waves. A destination he'll love and may want to return to again and again is the Dominican Republic. The best surfing spots are alongside the northern coast of the island, in the province of Puerto Plata. Surfing here is good year-round, with an average of 350 surfable days and very few flat days in between. Plus, the warm Caribbean turquoise blue water makes wetsuits optional. The waves are smaller between April and October, making it ideal for beginner and intermediate surfers.