Summer is on the way. Warmer months are often thought of as a time to escape the heat and soak in the beautiful weather — but what if it's different this time. What if you're beckoned to a place that isn't the all-too-familiar beach or pool family vacation, but so much more.
Consider skipping the crowded swimming pools or messy beach sandal tracks. Instead, explore the intricacies of the Biltmore Estate after taking in the scenery of the Pisgah National Forest in Asheville. Or, bask in the southern charm of Savannah's historic district, including locations where Forrest Gump was filmed! How about heading to the Wisconsin Dells for waterparks and wineries?
Summer is what you make it — and at the end of the day, it's about making memories that are unique to you. This summer, consider changing up the scenery to enjoy a vacation away from the water. Who says it needs to be a splash when there's so much more waiting for you to take in at vacation destinations such as Asheville, NC; Galveston, TX; Sedona, AZ; Savannah, GA; and Wisconsin Dells, WI. This season is what you make it, and these five cities could very well be your next vacation destination for summer memories that last throughout any season.
1. Awestruck In Asheville, North Carolina
What if summer vacation means local breweries, exploring the Biltmore, and biking, hiking, or zip lining across the Blue Ridge mountains. Well, if zip lining is not your adventure of choice, perhaps driving along the Blue Ridge Parkway and stopping at the scenic overlooks is more your speed. If you've never experienced it, the Blue Ridge Parkway is a 469-mile scenic road that passes right through Asheville. It's guaranteed to give you a road trip like no other while spending time with family creating new memories along "America's favorite drive," from the air-conditioned comfort of your car! Also off the Blue Ridge Parkway and in several locations across Asheville, movie buffs can make a truly memorable vacation by visiting the beautiful mountain locations you saw on the big screen — Asheville is where The Hunger Games was filmed. Not to mention, sunshiny summer is a wonderful time to take in the lush foliage, in milder temperatures, and experience all the many attractions that Asheville has to offer.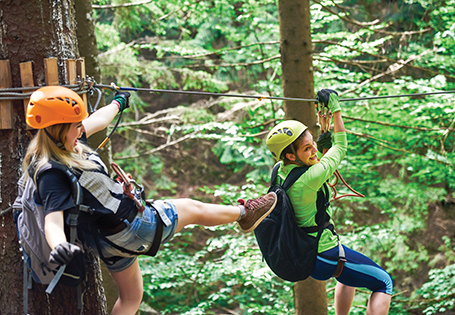 2. What's Great In Galveston, Texas
What if your summer vacation could include the turquoise water and 10-mile long sea wall of Galveston's beaches, but also so much more. Less than an hour from Houston, Galveston offers the ultimate summer getaway — from sightseeing, bird-watching, fishing, museums, aquariums, mansions, and dining, you could find yourself a new favorite place to escape. Be sure to check out the historic Strand district in the heart of downtown where restaurants, galleries, shops, and cafes still feature many of the original facades for that area.
3. The Scenery Of Sedona, Arizona
The famous red rocks of Sedona are definitely something to be experienced any time of the year, but summer vacation is the perfect time to take in Sedona in all its sightseeing splendor. Sedona is breathtaking, and a truly wonderful summer idea. Take in the city's stunning landscape through a hiking tour. If hiking isn't your thing, hang on tight and sign up for an off-road jeep tour that allows you to see so much of what the lovely land has to offer from the comfort of the Jeep. Not-to-miss landmarks such as the Chapel of the Holy Cross and Red Rocks State Park are sure to offer a one-of a kind summer vacation you're sure to cherish for years to come.
4. Southern Charm In Savannah, Georgia
What if your summer break included horse-drawn carriages, antebellum architecture, and the beauty of Savannah's picturesque historic district. There is plenty of shade to shield you from the summer sun at Savannah's Forsyth Park, and so much rich history to be explored and experienced first-hand here from Historic River Street to Bonaventure Cemetery, Wormsloe Historic Site, and more. Savannah is definitely a sight to see this summer.
5. Wild Times In Wisconsin Dells, Wisconsin
If you're all about water parks, wineries, tours, and attractions, Wisconsin Dells could be your place. Known for its renowned theme parks and water parks such as Noah's Ark Water Park, and Mt. Olympus Water and Theme Park, Wisconsin Dells has a bit of anything for everyone. How about nature trails and camping at the forested reserve of Mirror Lake State Park, or seeing the exhibits, shows, and animals first hand at Timbavati Wildlife Park.
Sedona*
For a limited time, pay no resort fees when staying 3, 5 or 7 nights. Take advantage of this special offer here.
Savannah*
Save on your next Savannah trip. Pay no resort fees when staying 3, 5, or 7 nights. Take advantage of this limited time offer (up to a $182USD value!) here.