Bring vacation memories home in a bag by choosing one special souvenir. Identify the it-gift near your resort and set out to find just the right version for you. Artisans, nature, and even popular restaurants might be behind a vacation destination's signature take-home item. The shopping itself is relaxing retail therapy. And your purchase? A meaningful memento of your special time away. Discover eight special souvenir ideas for your next RCI vacation.
1. Amish Quilts
Hershey, Pennsylvania
Take a day trip to Lancaster County for a living history lesson about the simple Amish and Mennonite ways of life. As a keepsake, purchase one of the colorful hand-sewn quilts for which these communities are renowned. Women create the patchwork blankets in "quilting circles," taking pride in the uniform stitching that looks polished and helps each piece last for years.
2. Silver Jewelry
Santa Fe, New Mexico & Sedona, Arizona
Blue-green turquoise stones and shiny silver backdrops beckon jewelry lovers visiting the Southwestern United States. Native Americans perfected the style, and vendors from boutiques to tourist shops display myriad varieties in the form of rings, necklaces, and bracelets.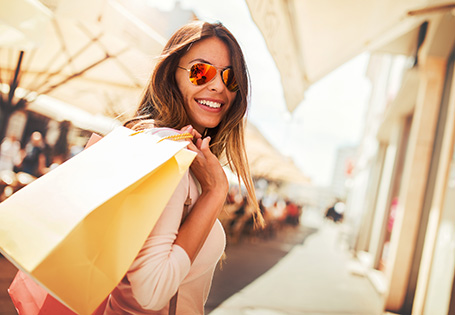 3. Must-Eats
The Big Easy is as much about eating and drinking as jazz, so pick up epicurean specialties that are packed for travel. Central Grocery and Deli is known for its muffuletta sandwich; wrap up a jar of its Olive Salad, then top deli meats and rolls back home. Raucous bar and former speakeasy Pat O'Brien's sells its notorious Hurricane cocktail mix, and signature curved glass, for use in your own kitchen. Other treats: Café Du Monde chicory-flavored coffee, praline candies, and Crystal hot sauce.
4. Bear-aphernaila
Jackson Hole, Wyoming
From playful statues and life-size stuffed animals to small refrigerator magnets and comical socks, bear-themed props, and merchandise, are seemingly everywhere in the towns near the Yellowstone and Grand Teton national parks. Get a giggle out of the punny versions honoring the local grizzlies. Or opt for antlers: Moose memorabilia abounds too.
5. Shell Art
Siesta Key & Sarasota, Florida
Shells aplenty wash ashore on the Gulf Coast, and local makers use them as the basis for art. Try a mirror framed by a collage of multi-hued shells, a fine art photograph of shells in the sand, or earrings made with, or shaped in silver to resemble, coquina shells.
6. Maple Syrup
Sweet luscious maple syrup sweetens every bit of New England. Add hard candies, soft ones, or pure syrup to your take-home stash after a stay in the mountains.
7. Moccasins and Mukluks
Breezy Point, Minnesota
You'll arrive in Minnesota's Lake Country for the rustic setting, the lake fishing, and the golf. Expect to depart with unfancy footwear. Local companies and craftspeople, some Indigenous, make comfy leather moccasins and super-warm mukluks. You'll remember your getaway every time you wear these iconic shoes, slippers, or boots.
8. Smoked Salmon
Seattle, Washington
Chinook, Coho, sockeye … salmon swim freely beyond Seattle's shores, and you're bound to sample plenty during your stay. Relive those Northwestern meals later on with versions packaged to last — smoked, canned, chowder and jerky.