Cruises are coming back! Set your clocks to island time on a RCI Cruise vacation. Take advantage of exclusive offers and savings and more vacation options to book your way.
Can't decide between a cruise or a Caribbean getaway? Why not book the best of both worlds with a surf and turf vacation that combines resort-style luxury on land and sea. Start your vacation before you even reach your destination with a cruise to the Dominican Republic or Mexico. While your fellow tourists hurry to pack in their half-day of Caribbean fun, you can enjoy a leisurely check-in at your RCI resort, where your adventure will continue long after the ship departs.
With RCI resorts located near the Western Caribbean's most popular ports, you'll find plenty of sun-kissed fun from the ancient temples to tropical rainforests. So, whether you're planning for your next RCI cruise or resort vacation, these shore excursions are sure to inspire your itinerary!
1. Adventure Parks In The Yucatán, Mexico
Spend the day immersed in one of the Riviera Maya's most beautiful natural wonders at Xel-Há Park. Xel-Há is home to a natural inlet surrounded by underground rivers, jungle trails, and lagoons. Spend the day in an all-inclusive paradise with unlimited access to food, drink, and attractions including snorkeling, river tubing, nature walks, zip lining, water slides, dolphin encounters, and much more. For another water eco-park adventure, check out Xcaret Park. Descend into the Mayan jungle to experience water rides, archaeological sites, and cultural attractions — all in one place.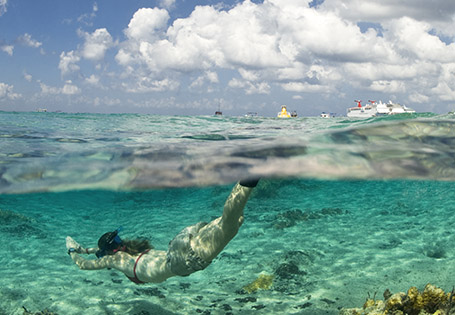 2. Mayan Ruins In Cancún, Mexico
The ruins of the Mayan city Chichen Itza are one of the most visited archaeological sites on the Yucatán peninsula. If you visit during the Spring and Fall equinoxes, the setting sun casts a shadow that resembles the feathered snake Kukulcán descending the pyramid. Tulum, known as the "Walled City," overlooks the Caribbean Sea and is known for its pristine crescent beachfront. Explore ancient structures like El Castillo, the city's main pyramid and ancient lighthouse, and the Temple of the Frescoes, which still has remnants of a painted mural. Then, cool off with a swim at Tulum's beautiful Playa Ruinas, known as the Hidden Beach
3. Waterfall Adventures In Puerto Plata, Dominican Republic
Tour the 27 waterfalls of Rio de Damajagua on a thrilling expedition through forests, canyon passages, and footbridges. Plunge into turquoise pools down a series of natural chutes and slides, from the 20-foot La Tinajita to the twisting Corkscrew waterfall. Most excursions visit the first seven falls, which offer less rigorous climbs. Experienced canyoneers seeking more challenges and thrills can trek to reach the other waterfalls, including a 30-foot cliff jump for those feeling brave.
4. Playful Monkeys In Punta Cana, Dominican Republic
Nestled in the lush mountains of the Dominican Republic, Monkeyland boasts a 5-acre botanical garden that is home to free-roaming squirrel monkeys. These friendly and curious monkeys are hand-fed and enjoy interacting with visitors, from scoring treats to taking selfies. Learn about the life and habitat of these remarkable creatures while surrounded by breathtaking mountain views and colorful native flowers and fruit trees.
Searching for shorter cruises? Check out these four fun day cruises  ranging from sunset excursions to casino night outs. Then read up on the latest travel safety tips for cruise vacations .
Link to Cruising Post COVID Safety Tips article