June is Great Outdoors Month. Which means it's the perfect time to celebrate your relationship with the queen-of-green herself, Mother Nature. It's also a chance to feed your soul through all-things wellness and recreation. Here are a few travel ideas to spark your imagination –– and chart a course for relaxation on vacation.
1. Soak Up The Spring Of Things
When it comes to wellness retreats, few things are more healing than a soothing soak in a hot spring. The warm, yet wonderfully therapeutic waters are sure to melt your stress away –– all while helping to boost blood circulation, relieve pain, and alleviate skin issues. Talk about a cool trick. And fun fact: There are more than 1,600 hot springs on record in the United States. Here are a few travel ideas to add to your trip list.
Pagosa Springs, Colorado
Nestled in the center of the San Juan Mountains in Colorado, Pagosa Springs literally translates into 'Healing Waters Springs' –– and it's noted in the Guinness Book of World Records as the World's Deepest Geothermal Hot Spring.
Granite Hot Springs, Wyoming
Located just south of Jackson, the Granite Hot Springs pool is like an oasis in the pines for weary skiers and snowmobilers.
Verde Hot Springs, Arizona
Just a day trip away from Sedona, you'll find the Verde Hot Springs –– a grouping of thermal mineral springs on the western bank of the Verde River.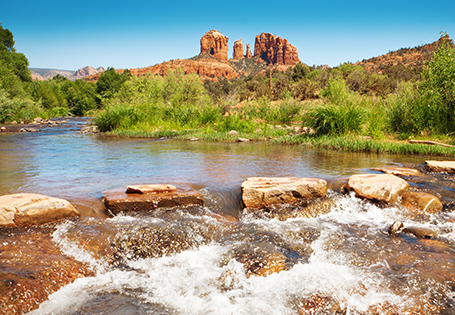 2. Go Where The Sidewalk Ends
Every trail is a new journey. Every path is a new adventure. Every hike is a chance for new discoveries. So lace up your boots and get ready to go. Because some of the world's most beautiful hiking trails are waiting for you in Waikiki, Hawaii.
Diamond Head Trail
Diamond Head Crater is a stunning volcanic landmark. Hike its trail for 360-degree views of Waikiki and an iconic photo op when you reach the top.
Makapu'u Point Lighthouse Trail
Follow paved paths to find amazing vistas and panoramic views during your 1.5-mile hike. Focus on the stunning shoreline and you may even spot a majestic whale (or two).
3. Settle In For Some Spa-aah Time
Stepping into a spa is like stepping into a quiet cocoon of vacation relaxation. One that's uniquely designed to help you disconnect from the world –– and reconnect to yourself. Which is especially delightful when you're in need of a mind-body tune up. And lucky for you, there are amazing spas to enjoy all across the country. But if you're in the mood to double up on the fun, consider a wine-n-spa weekend in Napa Valley as your next travel idea.
Napa Valley Spa Escapes
Spa breaks are the ultimate indulgence. Whether at a luxury resort or at a boutique B&B off the beaten path. Napa Valley's spas offer a range of treatments –– from hot-stone massages to vitamin C facials to holistic full-body treatments — for a relaxing wellness retreat.
4. Bloom Where You Are Planted
Botanical gardens embody the beauty of the natural world. And the U.S. is blooming with a number of top spots that will satisfy your need for nature. Many with unique attractions that allow you to witness stunning displays of living magic. San Francisco and New York City are just two great locations to keep on your wellness retreat wish list.
San Francisco Botanical Garden
Make way for magnolias in San Fran from mid-January through March. During this time, nearly 100 rare magnolias erupt in vibrant pink and white flowers. You can also set your sights on a towering redwood grove and rare cloud forest plants.
New York Botanical Garden
Experience a 250-acre oasis in the middle of the Big Apple. The NYBG features a historic, Victorian-style glass house and provides a world tour of 11 distinct plant habitats, including a tropical rainforest.
Plan your next getaway with RCI today –– and travel your way to wellness.