An organ in a cavern, sunrise scenic sightseeing, a local art gallery, and … a lavender farm? You can only find it in Massanutten! In today's crazy world, sneak away for an escape from reality in neighboring Shenandoah Valley and Massanutten in Virginia. Many people flock to this area for its incredible scenic overlooks, nature trails, wineries, historic culture and museums. But if you really want to get away, use this traveler guide to discover the hidden gem adventures and attractions ready and waiting for you to explore. Plus, read about the 10 best things to do in Shenandoah Valley.
For Adventure Travelers
Feel the adrenaline at Massanutten Family Adventure Park, featuring zip line and canopy tours where visitors of any age can take in the scenic heights. With the 750-foot-long Mega Zip Line and a smaller Kids' Adventure Course, there is something to be enjoyed by everyone. Or for an equally adventurous change of pace, check out canoeing, kayaking, or tubing at Shenandoah River Adventures, located just outside of Massanutten.
To adventure below ground, head to Shenandoah's Luray Caverns just a short drive from Massanutten. Explore the cave system, the largest discovered in the eastern U.S., on a guided tour as you take in the geological wonders — including the world's largest musical instrument: The Great Stalacpipe Organ.
As if the astonishing cathedral-sized rooms, pillars of flowing stone, and subterranean pools and lakes were not enough to captivate you, imagine an organ that instead of pipes, taps on stones called stalactites to generate tones almost like a marimba or xylophone. Talk about taking in nature's sights and sounds in a new way! Its hammers resonate throughout the entire cavern and turn the subterranean scene into a captivating ca scade of sound. Take a tour and hear it played live by an automated system.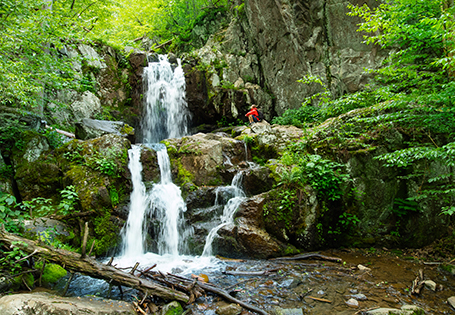 For Foodie Travelers
What's on tap? Check out the local brewery scene at Brothers Craft Brewing, take a tour, or experience the taproom ambiance with many of their signature craft beers available. Better yet, time your visit to take part in one of their upcoming events.
For a guide to foodie flavors in Shenandoah Valley, try a three-hour food tour by Rocktown Bites Downtown Food Tours. This walking tour is full of history, scenery, and bites to delight all across downtown Harrisonburg.
Have you ever tried your hand at canning? In the country, you'll discover plenty of fresh, ripe, local produce for purchase. Pick up a bushel or two and place your perfectly ripened produce into hot Ball Mason canning jars, then process them. Or for a less hands-on approach, support local markets like The Country Canner by purchasing canned delights such as local maple syrup, barbecue sauce, canned jellies and jams, and so much more.
For Leisure Travelers
The White Oak Lavender Farm offers guests the unique opportunity to learn more about growing lavender in a stunningly fragrant setting. In addition to tours of the fields, this venue features a shop that sells lavender-based products, a petting zoo for kids, and The Purple WOLF Vineyard winery for adults.
Witness a stellar sunrise or sunset at the Edith J. Carrier Arboretum. Even locals boast the beauty of this often-photographed arboretum. Take in all of nature's beauty and surround yourself with the luscious landscape that makes this area so stunning. Crowds vary by season, but it may just be the scenic getaway you're seeking off the beaten path of the other main attractions Shenandoah has to offer.
For an out of this world experience, the John C. Wells Planetarium gives you a glimpse into the depth of the sky and stars with a hybrid system that allows for full dome movies as well as exploration of what the stars look like at that instance with no light interference.
Whatever your vacation vibe, there is something to be found for every age and every style in Massanutten and Shenandoah Valley. It may be that your next getaway is awaiting you just off the beaten path. Book your next trip to Shenandoah Valley with RCI.