For more than 50 years the Daytona International Speedway has drawn visitors from far and wide to this oceanfront town 55 miles northeast of Orlando. Although the Speedway remains a top attraction, it's Daytona Beach's sweet Old Florida charms (including that hard-packed, easy-to-stroll-on sand) that have travelers returning year after year. Here, 4 reasons to book a vacation this second, besides NASCAR and the average-80-degree weather.
THE HISTORY
As one of the earliest European settlements on the continent (Ponce de León touched down near here in 1513), it's no surprise that Florida is steeped in antique curiosities. A historic site comes with a stellar view at Ponce de Leon Inlet Lighthouse & Museum. There you can climb to the top of the 175-foot lighthouse, the tallest in the state. When first lit, in 1887, the light was visible some 20 miles from land. Today visitors can explore the property on their own year-round, but it's worth attending one of the full-moon tours, during which you'll see the Atlantic surf bathed in moonlight (book as early as possible; the 25 spots sell out fast).
Another must-see? The Halifax Historical Museum, housed in a 1910 Beaux-Arts Merchants Bank building complete with original teller windows and an opulent coffered ceiling. The collection of handmade vintage surfboards alone is worth the $5 admission. Just across the Halifax River, Italianate Victorian architecture is on permanent display at Lilian Place, a former residence built in 1884. The trust that maintains it is also repairing the adjacent 1905 Hotchkiss House, where historical reenactors serve Victorian tea on the third Tuesday of every month. For a little more action, baseball fans and history buffs can catch a game at Jackie Robinson Ballpark, the site of the first integrated pro baseball game, in 1947. There's a statue of Hall of Famer Robinson near the park's southern entrance.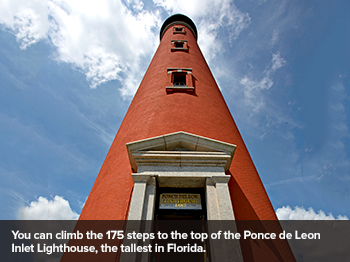 THE CULTURE
Art lovers will find plenty to do in Daytona Beach, starting with one of the largest photography museums in the country, the Southeast Museum of Photography. The permanent collection consists of some 4,500 works by everyone from Alfred Stieglitz, who helped define the art form at the turn of the 20th century, to Sally Mann, one of the most talked-about photographers today. And don't leave without asking to see Andy Warhol's 1983 portrait of Ingrid Bergman.
A 2-mile drive away, the Smithsonian-affiliated Museum of Arts & Sciences is set on a lush 90-acre nature preserve. There you can check out a range of exhibits including a 2-acre contemporary-sculpture garden and a Pink Floyd laser concert in the newly built planetarium. If you're looking to take in a show, the Daytona Beach Symphony Society hosts orchestras from as far away as Munich and Jerusalem as part of its mission to bring some of the best musicians, dancers and operas from around the world to Florida. Recent performances have included Giselle by the Moscow Festival Ballet and Aida by Milan's Teatro Lirico D'Europa.
THE NATURE
Manatees, dolphins and sea turtles are just a few examples of the diverse marine life that can be found in Daytona Beach. You can hop on a sunset tour of Inlet Harbor with Manatee River Cruise to eyeball the gentle giants (manatees can weigh up to 1,300 pounds). For an up-close view and a little exercise, consider booking a dolphin-and-manatee adventure tour on a stand-up paddleboard with Three Brothers Boards.
It's well worth driving 10 miles south of Daytona Beach to Ponce Inlet for a visit to the Marine Science Center, where you can observe healing sea turtles in the rehabilitation rooms and pet cownose rays in a touch pool. Outdoorsy types can head to De Leon Springs State Park to see a 600-year-old cypress tree and look for otters, bald eagles and sandhill cranes on the 4.5-mile Wild Persimmon Trail. The park's paddleboat trail also provides access to the 22,000-acre Lake Woodruff National Wildlife Refuge.
THE FOOD
When you're in Florida, seafood is always the order of the day. Aunt Catfish's on the River's dock and weekend live music might help draw in newcomers, but it's the food that makes the family-owned spot a local institution: fried catfish, blackened tilapia and alligator tail in citrus sauce, to name a few favorites. Don't miss the cinnamon rolls for dessert. They've been whipping them up for more than 45 years and selling an average of 1,500 a day.
Garlic fiends flock to both locations of The Crab Stop for its garlic crab and shrimp served with garlic bread plus a full cup of melted butter for drizzling. Three things separate Tia Cori's Tacos from the pack: $5 margaritas and piña coladas, a live mariachi band every night and on-point Mexican food (you know it's authentic when a beef-tongue quesadilla is on the menu).
For a night out on the town, consider nearby Ormond Beach. At Ormond Brewing Company, you can follow up yoga in the beer garden with a pint of the Dude, the White Russian of beers. At Tomoka Brewing Company, you can order a pint of beloved seasonal offering "The King" Imperial Elvis Peanut Butter Banana Sandwich brown ale and raise a glass to Daytona Beach's many charms.
NOTE: Information may have changed since publication. Please confirm key details before planning your trip.