From battlefields and historical buildings to forts and archeological relics, the National Park System (NPS) offers a fantastic way to explore our country's past. In fact, over half the NPS sites preserve and honor the people, places and events that shaped our nation's history. Not sure which historic site to visit? Read on for six great historic parks to visit near some of your favorite vacation destinations.
1. Lewis and Clark National Historic Park
Oregon, Washington
Follow in the footsteps of the country's most famous explorers! The Lewis and Clark National Historic Park brings the Corps of Discovery story alive through historical markers, trails, monuments, and interpretive centers. Tap your inner explorer as you journey between Sunset Beach and Fort Clatsop. Watch buckskin-clad rangers demonstrate how to shoot a flintlock gun, tan animal hides, and make candles.
2. Castillo de San Marcos National Monument
St. Augustine, Florida
As the oldest masonry fort in the continental U.S. (built between 1672 and 1695), Castillo de San Marcos overlooks the Matanzas Bay and stretches over 320 acres. Tour the Spanish artillery quarters, chapel, and guard rooms. Walk through stone casements for a glimpse into 1700s military life. Check out the warehouse rooms used for storing cannonballs and gunpowder. Watch history come alive with Colonial soldier re-enactments in the courtyard.
3. Chaco Culture National Historical Park
Nageezi, New Mexico
Immerse yourself in Ancestral Pueblo culture at the Chaco Culture National Historical Park, which showcases American Southwest life between 850 and 1250 A.D. Take a guided tour for an intimate view of engineering marvels (like Pueblo Bonito and Chetro Ketl) and ancient stairways and petroglyphs. Hop on one of the many hiking and biking trails to explore the mesa landscape. Or stick around for night sky programs and campfire talks.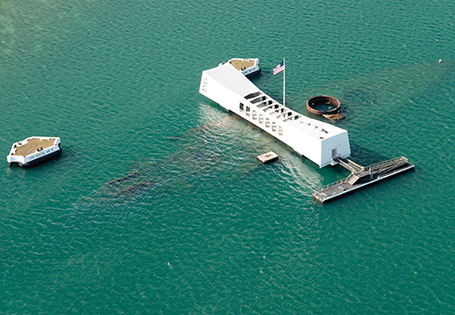 4. Abraham Lincoln Birthplace
Hodgenville, Kentucky
Yearning to see the humble beginnings of America's 16th president? Head to Abraham Lincoln Birthplace National Historical Park to learn about Abe's childhood on the Kentucky frontier. At the birthplace site, check out the early 19th century cabin replica tucked inside the Memorial Building. Visit Knob Creek Farm, the log cabin where Abe lived as a youngster, followed by a walk to Sinking Spring. Travel tip: Amble along Big Sink Trail to spot birds and wildlife or hike Overlook Trail for panoramic valley views.
5. Palo Alto Battlefield
Brownsville, Texas
History buffs can walk the preserved battlefields (marking the clash of U.S. and Mexican troops) at Palo Alto Battlefield National Historic Park. Through its visitor center, movie ("War on Rio Grande"), artifacts, and exhibits, the park interprets the 1846 clash that launched the U.S.-Mexican War. Hike the Battlefield Trail and the Resaca de la Palma Battlefield Trail (watch for snakes!), reading the educational signs as you go. Travel tip: Don't miss the 10-mile Brownsville Historic Battlefield Trail, which connects several area historic sites.
6. Pearl Harbor National Memorial
Honolulu, Hawaii
Home to world-class museums, the Pearl Harbor Visitor Center encompasses the National Memorial, and the USS Arizona, Oklahoma, and Utah Memorials — all of which dig into the causes and effects of Japan's 1941 surprise attack. Walk the hallowed grounds, pour through artifacts, tour the exhibits, and watch the 23-minute documentary that captures this pivotal moment in American history. Travel tip: While all park sites are free, you'll need to make reservations (only available through recreation.gov) for the USS Arizona Memorial Program.