With serious competition from warm Caribbean waters, sugar-white sands and salty ocean breezes, it's no surprise that Dominican food gets little attention from travelers in Punta Cana. But with such widespread high-quality cooking, it should.
FLAVOR BOUNTY
Sure, you've snacked on plantains or sipped a rum cocktail, but what you may not know is that Dominican food is quite diverse. "The island has a long history of food influences," says Santo Domingo-born Hector Piña, chef and owner of Merengue restaurant in Boston. For more than 20 years, Piña has wowed New England guests with his Dominican plates, every one of which touches on the island's culinary past. His quipe (a fried dish of ground meat, cracked wheat, onion and spices) is an ode to the DR's Middle Eastern ties, while the red snapper in a creole sauce is a shout-out to its French roots. Still, when Piña goes home to his beloved island, it's the Caribbean classics he craves most.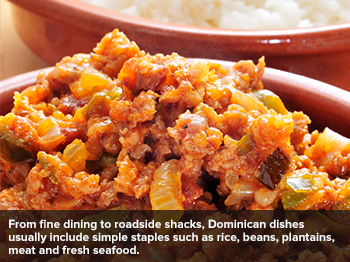 ON THE MENU
Dominican food-focused restaurants across the isle range from holes-in-the wall to fine-dining establishments, but a few common ingredients bind them all: rice, beans, meat and plantains. With your morning coffee—ideally made with granos de café from the island's interior mountain plantations—you'll find mangú, or mashed plantains served with salami, onion, cheese and eggs. Tostones, or mashed and twice-fried plantains, are as common as potato chips. La bandera (the flag) is a rice-based dish striped with red beans and stewed meat. Coconut and brown sugar—sugar cane is the DR's most important export—sweeten things up, and you can definitely count on fresh seafood along the vast coastline.
WHERE TO EAT
While Punta Cana is dominated by all-inclusive resorts, some hotels have Dominican restaurants that are open to the public. Among the best is Bamboo at the Punta Cana Resort & Club, a chic dining room designed by Oscar de la Renta. Here, you can try artfully prepared Dominican dishes such as sancocho, a stick-to-your-bones soup traditionally made with hearty vegetables and meat, as well as deep-fried fish and majarete, a corn pudding. You'll find more island residents at Nelbo's Restaurant & Bar, known for garlicky shrimp and paella marinera, two savory dishes with strong Spanish roots.
COCKTAIL CRAVING
No Dominican meal is complete without a splash of rum over ice or in a cocktail, such as the santo libre, mixed with club soda and lime. If you're not sure which brand to order, try Brugal, Barcelo or Bermudez—the three B's, as they're known on the island. And don't miss a sip of native spirit mamajuana, made with rum, honey, red wine, herbs and tree bark. Sound adventurous? That's because it is—locals swear it will get your love life back on track.
THE DETAILS
Bamboo at the Punta Cana Resort & Club Punta Cana: 1.888.442.2262; puntacana.com
Nelbo's Restaurant & Bar: Calle Pedro Mir el Cortecito, Bavaro, Punta Cana; 011 809.552.0644
NOTE: Information may have changed since publication. Please confirm key details before planning your trip.