Texas Hill Country promises more fun than you can shake a stick at. Get back to basics in this picturesque region near San Antonio with authentic German food, award-winning wines, historic dance halls, and wildflower-studded meadows. The porch light is always on in Texas Hill Country.
Wineries In Texas Hill Country
1. Signor Vineyards, Fredericksburg
This boutique family winery serves world-class wines in a tranquil setting, "where soul meets soil." Discover acres of sprawling gardens, the perfect setting to sip and smell the roses. Stop by Joanna's Market for eats and treats.
2. Carter Creek Winery, Johnson City
On the Fredericksburg Wine Road (Route 290), this new winery aims to keep you so busy, you'll never leave. Enjoy their much-lauded wines, Texas-inspired cuisine, live music, relaxing pool, spa services, and acres of grounds to get lost in.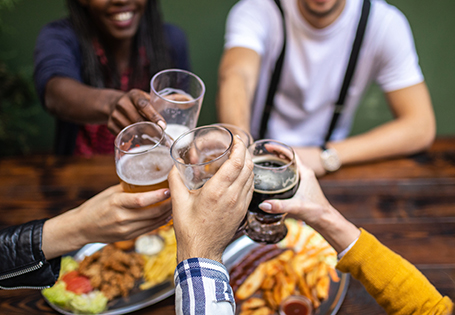 3. Becker Vineyards, Fredericksburg
An old-fashioned windmill towers above Becker Vineyards, where you can taste wine in a giant German- style barn, on outside patios, or the grassy lawn. Visit the lavender shop for sweet-smelling souvenirs.
Where To See Wildflowers In Texas Hill Country
4. Lady Bird Johnson Wildflower Center, Austin
Stroll through acres of cultivated gardens and the Texas Arboretum, where native plants bloom. Spring happy hours, called Tuesday Twilights, feature artists, food trucks, and — of course — wildflowers!
5. Wildseed Farms, Fredericksburg
Delight your senses as you ramble through the largest working wildflower farm in the U.S. Visit the garden center, sip wine in the tasting room, or try the farm's famous peach ice cream.
6. Willow City Loop, North Fredericksburg
Arguably Texas Hill Country's most awe-inspiring drive, Highway 16 winds through brilliant displays of wildflowers — it's like you're in a painting! Bluebonnets, Mexican poppies, and colorful daisies blanket the meadows from spring through fall. Please respect private property when viewing wildflowers.
Dance Halls In Texas Hill Country
7. Gruene Hall, New Braunfels
Texas' oldest continually operating dance hall offers plenty of room to swing your partner. Original side flaps lift for open-air dancing on sultry Texas nights.
8. Luckenbach Texas, Fredericksburg
Yes, Virginia, there really is a Luckenbach, Texas. And every weekend, folks do-si-do in this family-friendly dance hall to live music. Hungry? How about a Frito pie from the Luckenbach Feed Lot?
9. Albert Texas Icehouse & Dance Hall, Albert-Stonewall
Clad in corrugated metal, this rustic dance hall has been hosting social gatherings since 1922. Today, country bands rock the rafters while couples dance the two-step. Food truck fare and cold beverages provide nourishment for the next dance.
German Eats In Texas Hill Country
10. Little Gretel, Boerne
Old World flavors are the hallmark of this cozy restaurant, helmed by Czech-born chef Denise Mazal and her daughter, Veronica, who prepare German and Czech-inspired fare from scratch. Try the wild game sausages.
11. Otto's, Fredericksburg
Seasonal menus feature modern interpretations of hearty German fare, prepared by chef Henry Gutkin, a Düsseldorf native. Order the Wurst Platte or German roast beef.
11. Der Lindenbaum, Fredericksburg
Located in a historic limestone building on Main Street, Der Lindenbaum serves up authentic German dishes — from schnitzel to pfeffersteak — along with German beer and wine. Prost!