Savvy travelers know how to save pesos during a stay in Cabo San Lucas or San José del Cabo. Instead of dining at swank restaurants, they buy inexpensive snacks and stock their temporary kitchens so they can make their own treats. Here's how you can do the same.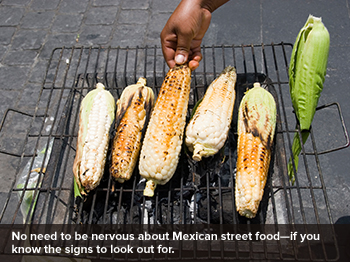 Shop Like a Local
It's fun to browse through a sprawling Mexican market, but Cabo residents prefer to shop for groceries in the region's huge chain stores, such as Soriana in Cabo San Lucas or the Mega in San José del Cabo. While these one-stop behemoths do sell some imported brands, you'll save pesos (and savor new flavors) by choosing Mexican labels: crisp Sabritas potato chips, fruit-flavored Jarritos sodas, cinnamon Canelitas cookies, mozzarella-like queso Oaxaca, and chicharrones (fried pork skins) with lime and chilies. Skip the Evian and buy inexpensive 5-gallon jugs of Bonafont, Santa Maria or other Mexican bottled waters.
Fresh Is Best
Pick up a stack of warm, just-made tortillas at a neighborhood tortillería, and pan dulce (sweet pastries and cookies) at a panadería like the one in San Lucas's small Aramburo grocery. If you have a car, buy your fresh fruit and produce from the stands lining Highway 1 from San José to the airport. Otherwise, look for piles of papayas, tomatoes, cilantro and other seasonal offerings in front of neighborhood shops. Inside, these family-owned shops sell beer (in returnable-deposit bottles), sodas and canned goods, as well as pastries and snacks like empanadas and doñas (donuts).
More produce is sold in San José del Cabo's modest Mercado Municipal. Buy a plaid plastic tote bag for a few pesos and fill it with vegetables and fruits that can be peeled or cooked. There's even fresh seafood at the market's pescadería (fishmonger); arrive early for the best selection. At the market's loncherías, or lunch counters, you can sit down with school kids and order freshly squeezed orange juice and tortas (sandwiches) stuffed with carne asada (marinated beef).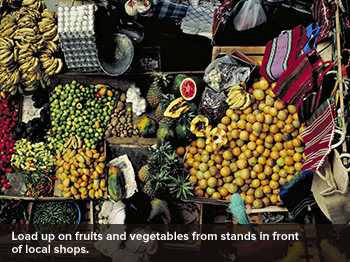 Street Treats
You've heard all the warnings about eating street food—and some vendors are best avoided. But if the operation appears clean (look for jugs of purified water and watch the cooks at work) and popular, you're in for a tasty treat. Cart vendors sell plastic cups filled with sliced mango, papaya or cucumber. Pick a favorite fruit to be peeled and sliced, and try it with a sprinkling of powdered chilies. Juice stands equipped with squeezers and blenders serve refreshing licuados (fruit blended with milk and ice) and aguas frescas (juice with water and sugar). Other carts sell popcorn, churros (stick-shaped donuts), hot dogs and corn on the cob slathered with mayonnaise and chilies. Sometimes you won't even have to leave the beach for a snack: Look for vendors walking along the sand selling grilled fish on a stick or chilled coconut milk in the shell.
Taco Time
Tacos are the quintessential street food. They can be fried or soft, and filled with anything from fried snapper to pastor—seasoned pork cooked slowly with pineapple on a rotisserie. Pile on chopped onion, avocado, cilantro and other condiments, add a splash of salsa and chow down immediately. For some of the best tacos in San Lucas, try Tacos Gardenias on Camino al Hacienda near Playa Médano, El Palacio del Taco on Calle 16 de Septiembre two blocks west of Avenida Cárdenas, or Las Quesadillas at the intersection of Avenida Cárdenas and Marina Boulevard. Popular spots in San José include Tacos Rossy on the inland (west) side of Highway 1 at Calle Manuel Doblado, and Las Guacamayas on the west side of Highway 1 off Calle Pescador, in the Chamizal neighborhood (look for the neon sign).
Or, if you've stocked up on fresh tortillas, you can make your own tacos. Fill them with takeout roast chicken from Pollo de Oro (several outlets in San Lucas, including one at the intersection of Calles Morelos and 20 de Noviembre) or seasoned pork from Carnitas el Michoacana (in San José, at Km. 6 on the west side of Highway 1.
NOTE: Information may have changed since publication. Please confirm key details before planning your trip.