You've heard of speed boats, ferry boats, and houseboats, but what about canal boats? If you're an adventurer at heart who loves exploring, new experiences, and a change of pace, read on, mate. Merry old England (or perhaps Merrie Olde Englande) offers visitors a unique opportunity for a one-of-a-kind vacation - the canal boat. Often called a narrowboat, a canal boat is like a floating apartment, offering vacationers the chance to skipper thspanselves down a portion of England's more than 2,000 miles of historic inland waterways.
The canals offer a rare glimpse of country life from the immortal days of yesteryear. The majority of the canals, as well as the tunnels, bridges, aqueducts, and locks that line the waterways, were built at the height of the Industrial Revolution, as a way of quickly moving goods throughout the countryside. Nowadays, they're mostly used for pleasurecraft and holidaying, offering a singular vacation experience not to be missed.
The Canal Boat Skinny
They're not nicknamed narrowboats for nothing - at slightly less than 7' wide, they're long and skinny, like a houseboat on a diet. Canal boats come in two sizes - the 4-berth (45' that sleeps 4) and the 6-berth (55' that sleeps 6). Amenities include a fully-equipped albeit compact galley (kitchen), lounge and living area, and bathroom with shower facilities. Quirky and unique, each boat is the equivalent of a custom-made floating vacation suite that cruises at a maximum speed of 4 miles per hour, or 3 knots.
Who's the Skipper?
You are. Or the designated leader of your vacation party, that is. No nautical experience is necessary to captain a canal boat, however a minimum of two adults are required to crew the craft properly. When you arrive at the marina to check-in, you'll receive an introduction to the canal boat and are required to undergo a thorough training course. This will cover how the boat works, rules of the canal, and boating etiquette, as well as practical application and the opportunity to ask questions. You'll get your sea legs in no time.
What are the Options?
Unlike the narrowboat itself, the options for experiencing a canal boat are vast. Canal boats can be found at many marinas throughout England's waterways, and each location offers a particular experience that is unparalleled. All of the options offer a variety of cruising routes to choose from, featuring unique sights and one-of-a-kind adventures. Here are 10 options for experiencing a canal boat vacation for your next jaunt across the pond.
Anderton Marina
Located in the town of Norwich, cruisers from this location will have the opportunity to explore the ruins of an ancient Roman amphitheater as well as a 13th century cathedral, a zoo and aquarium, various art galleries and museums, and the home stadium of the famous Manchester United Football Club.
Canal Boats: Canal Boat Club at Anderton Marina #C097
Worcester Marina
Cruise from the township of Worcester and experience a trip back in time to Shakespearean England - take in one of the Bard's famous plays at the Royal Shakespeare Theatre, learn about the area's rich porcelain heritage, visit the Tudor House Museum, and explore the area's medieval royal tombs, crypts, and cloisters.
Canal Boats: Canal Boat Club at Worcester Marina #A849 or CLC at Worcester Marina #DG83
Aldermaston Wharf
The small town of Reading is the starting point, offering visitors the chance to see Windsor Castle, an official residence of HRH (that's her royal highness to the non-Brits) Queen Elizabeth II, as well as the extraordinary spires of Oxford and the infamous Roman baths in the town of, well, Bath.
Canal Boats: Canal Boat Club at Aldermaston Wharf #C904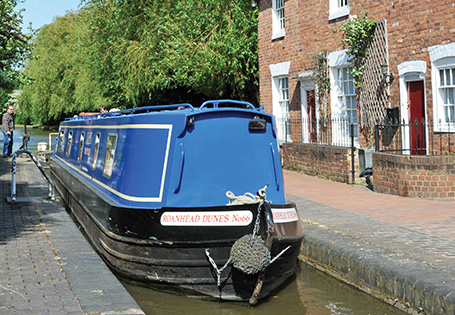 Alvechurch Marina
Located in the quaint hamlet of Alvechurch, cruisers from this location can explore the dungeons and labyrinth at Warwick Castle, ride heart-pounding thrill-rides at Drayton Manor, and tour the world-famous Cadbury's chocolate factory - just make sure to sample at least one of everything.
Canal Boats: Canal Boat Club at Alvechurch Marina #A848
Blackwater Marina
Cruise from the picturesque village of Ellesmere and see two historic sights on the waterway built in the early 1800s - Pontcysyllte Aqueduct and Chirk Aqueduct - and experience the wonder (or terror) of floating more than 1,000 feet down a canal while suspended more than 70 feet in the air.
Canal Boats: Canal Boat Club at Blackwater Meadow #6985 or CLC at Blackwater Marina #DG81
Gayton Marina
The Northampton area offers cruisers the option to delve into historic buildings, antique shops, and unique markets, as well as the chance to explore the famous cities of Oxford and London, and several smaller towns as well - make sure to hunt down the famous concrete cows while you're floating through.
Canal Boats: Canal Boat Club at Gayton Marina #A958
Hilperton Marina
Situated in the township of Wiltshire, this area features numerous art galleries and museums, as well as the opportunity to see the sights and sounds of Bath, admire the large flock of swans on the Thameside Promenade in Reading, and explore 17th century buildings and the historic racecourse at Newbury.
Canal Boats: Canal Boat Club at Hilperton Marina #C099
Union Wharf
The charming 13th century borough of Market Harborough showcases numerous sights and several oddities, including a castle built by William the Conqueror, a 17th-century grammar school built on stilts, a crooked tunnel built in 1797, and one of Europe's largest playgrounds - Wicksteed Park.
Canal Boats: Canal Boat Club at Union Wharf #5535