Rarely do you hear Cozumel in a sentence without hearing cruise, and for good reason: Since the early 1990s, this popular Mexican destination's tourism industry has depended on the daytime business of visitors from cruise ships—up to a dozen vessels stop here each day. It's exciting to see a new side of Cozumel slowly emerging, one that's reinvesting in its impressive nature reserves—less than 10% of the 200-square-mile island is developed—its unparalleled marine life and its low-key local culture. But this secret side of Cozumel won't stay secret for long, so here are some tips from our little black book on what to do on this tranquilo island off Playa del Carmen on the Mexican coast.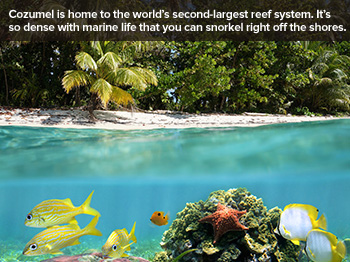 ON THE WATER
The coral walls off Cozumel's western coastline mark the northern border of the Mesoamerican Barrier Reef System, the world's second-largest after the Great Barrier Reef. Unlike what you find in the Gold Coast, in Australia, it's possible to snorkel right off the shores of Cozumel, including within a few recreational parks, such as Chankanaab.
For a more exclusive experience, you can book a private boat and sail away from the crowds to relatively empty diving spots. Deluxe Private Boat Tours arranges bespoke trips in its plush 7-seat ski boat. Sail to El Cielo ("the sky"), a crystal blue breeding ground for large starfish off the island's southwestern coast. Close by, explore colorful mazes of reefs covered with electric blue sea fans, brain corals and pastel sea anemones. Schools of queen angelfish, parrotfish and black-and-yellow-striped damselfish swim within an arm's length; also keep an eye out for elusive stingrays gliding along the sandy bottom.
BACK ON LAND
In 1996, Cozumel's entire southern tip was set aside as nearly 2,500 acres of ecological reserve, Punta Sur Eco Beach Park. Today its lily-pad-topped lagoons and thick mangroves are teeming with wildlife. Green and loggerhead turtles, whose nesting and hatchling season stretches from April to November, are a park success story: the number of nests have nearly tripled recently.
The refuge's other wildlife celebrities may be the crocodiles and flamingos, but also look out for endemic species, such as the playful coati (in the raccoon family) and emerald hummingbirds. Travelers can take advantage of the park's free boat lagoon tour, or climb the stairs—all 131 of them—of the 75-year-old lighthouse for broad vistas.
Another surprising sanctuary is the Cozumel Country Club, a challenging 18-hole course that's also Audubon certified. A biologist leads bird-watching excursions at 6 a.m. on request, but you won't need your binoculars to see crocs and enormous orange iguanas sunning themselves on the greens and fairways.
THE EAST SIDE
Occasional high winds and rough waters make it difficult to build permanent structures on Cozumel's east coast, making for a near empty, serene waterfront. To get there you can rent a moped or convertible atIsis and coast along Carr. Transversal, the main highway, which cuts through the middle of the island. Ancient-history buffs should make a detour at San Gervasio, a collection of Mayan ruins surrounded by thick jungle in the island's interior. These structures are modest compared with the mainland's Chichén Itza or Coba but are still full of allure thanks to the tales of Ixchel, the goddess of fertility, to whom they are dedicated.
The road along the coast is flanked with low-slung palm trees and deep blue waters. There are a handful of restaurants, all of which have equally impressive views, though some are tourist traps with high price points. Surprisingly, the Little Liquor Bar, helmed by a local who goes by the name Luis Whatever , is not one of them. With only a few inviting hammocks and painted wooden tables, the bar may be the ocean-side version of a hole-in-the-wall, but Luis makes expert cocktails with his sharp knife and fruit basket brimming with limes and coconuts. There you can order a michelada (that classic Mexican mixture of fresh lime juice, hot sauce and beer), or—if you like Bloody Marys—his knockout version, with beer, Clamato, celery and oregano.
For lunch, grab a table in the sand at El Pescador for fish tacos—flaky white mero is grilled with garlic and lime, then topped with sweet onions and cilantro, wrapped in flour tortillas and served with guacamole.
AROUND TOWN
Explore Cozumel's main city, San Miguel, in the evenings when cruise ships have reeled in their footbridges and streets are particularly quiet. The majority of the island's shops, on and off the main boulevard, sell little more than T-shirts and shot glasses—all emblazoned with Cozumel in neon colors, in case you forget where you are—but there are a few exceptions. While Los Cinco Soles still caters to travelers (you'll even find an outpost in the Cancún airport), it's also full of artisan goods from all over the country. The plaques explaining craft history and traditions add a welcome, museum-like touch.
Everything is handmade at México a Mano, a store with beautifully crafted works, such as table runners, woven baskets and carved statues that hail from Mexico's Pacific states, like Michoacán and Guerrero.
Beach clubs, such as Isla Pasión (52-987-872-5858; isla-pasion.com), accessible only by boat, are entertaining, but you'll find a more sophisticated crowd at Hotel B—daytime guest passes are around $20—a chic Miami-esque property with breezy bungalows, a large infinity pool and an oceanfront hot tub.
SMALL ISLAND, BIG FLAVORS
You can usually judge a restaurant by its laminated menu, but the promenade-front Palmera's, the oldest restaurant in town, is an exception. For breakfast, pair a cup of strong coffee and huevos rancheros with great people-watching.
If you want to get off the main street, stroll a few blocks east along pastel row houses to Zermatt Bakery, where locals linger with cups of coffee and pan dulces, or sweet breads, at charming outdoor café tables. Close by, the no-frills Taquería El Sitio is a favorite spot among taxi drivers: Order the torta de camarón (shrimp sandwich) and load it up with tomato-and-cilantro salsa. Downtown's Mercado Municipal, a down-to-earth covered market where farmers and fishermen set up stalls daily, also has a slew of casual eateries serving made-to-order tacos and quesadillas. For dessert, head to La Flor de Michoacán, where owner Gonzalo Hernandez offers paletas (ice pops) made with fresh pineapple, coconut and kiwi. The rice pop with a creamy cinnamon finish is a distinctly Mexican option.
Many of the island's upscale restaurants open in the evening. Kinta is an upmarket play on a classic Mexican bistro known for its house margaritas and tacos al pastor—corn tortillas topped with marinated pork, cilantro and pineapple.
Head to New Especias for house-made pastas, like gnocchi with local lionfish. Or you can try the waterfront Napa Grill, at the Presidente InterContinental Cozumel Resort & Spa, for tacos filled with jicama and shredded crab.
At Kondesa, tables are set up under twinkling lanterns in a courtyard. The California salad, a pile of chaya greens (similar to kale) with goat cheese and dorado, is a welcome option, and don't miss the hot churros, dusted with sugar and served with chocolate and caramel sauces.
End the night strolling alongside cozumeleños on the waterfront. You'll feel quite tranquilo under the stars.
THE DETAILS
Chankanaab: Carr. Costera Sur km 9.5; 52-987-872-0914; cozumelparks.com
Deluxe Private Boat Tours: 52-987-114-0927; rentaboatcozumel.com
Punta Sur Eco Beach Park: Carr. Costera Sur km 27; 52-987-872-0914; cozumelparks.com
Cozumel Country Club: Carr. Costera Norte km 6.5; 52-987-872-9570; clubcorp.com
Isis: 181 N. 5a Ave., between Second and Fourth Sts.; 52-987-872-3367; rentadoraisis.com.mx
San Gervasio: 52-914-872-0093; cozumelparks.com
Little Liquor Bar: Carr. Costera Oriental km 30; no phone
El Pescador: Carr. Costera Oriental km 49; 52-987-103-5812; elpescadorczm.com
Los Cinco Soles: Rafael E. Melgar Ave. and N. Eighth St.; 52-987-872-9004; loscincosoles.com
México a Mano: Rafael E. Melgar Ave. between Second and Fourth Sts.; 52-987-869-0140
Isla Pasión: 52-987-872-5858; isla-pasion.com
Hotel B: Carr. Playa San Juan km 2.5; 52-987-872-0300; hotelbcozumel.com
Palmera's: Rafael E. Melgar Ave. and Juárez and the main port; 52-987-872-0532; restaurantepalmeras.com
Kinta: 148 Fifth Ave., between Second and Fourth Sts.; 52-987-869-0544; kintacozumel.com
New Especias: Third St. between Fifth and 10th Aves.; 52-987-869-7947
Kondesa: 456 Fifth Ave. between Fifth and Seventh Sts.; 52-987-869-1086; kondesacozumel.com
NOTE: Information may have changed since publication. Please confirm key details before planning your trip.