Getting away to spend quality time with the family may typically include retreating to the peace and quiet of the mountains or digging your toes into a sparkling shoreline. But cities can offer a unique experience that brings everyone together with a burst of culture, plenty of activities, and adventurous new foods to try. Consider a metropolitan vacation in Las Vegas, Pasadena, or New York City for a change of pace!
1. Las Vegas, Nevada
Beyond the casino lights and bottomless bloody Mary bars, you might be surprised at how much there is to do that's plenty family friendly.
Make A Splash Poolside
Summers in the desert can be especially scorching, with temperatures exceeding the triple digits. But did you know you can get a day pass at many of the resort's pools without being a guest? The Mandalay Bay Resort & Casino boasts a lazy river, wave pool, sandy beach and occasional live music, while the pool at Circus Circus features a splash park with slides and sprinklers.
Get Transported To New Worlds
One of the many special things about Las Vegas is its ability to create multi-sensory experiences for people of all ages. The Venetian immerses you into the heart of Venice, Italy, with its man-made canals and gondolas that glide throughout the resort. Up for the coolest adventure in Las Vegas? Step into a winter wonderland at the Minus 5 Ice Experience at the Venetian. You'll be outfitted with gloves and a coat and explore interactive ice sculptures and a bar made entirely of ice serving up cocktails and mocktails alike.
Make A Show Of It
The world-renowned shows draw crowds for good reason, and there's plenty to fill up a day or evening! Go back in time to King Arthur's world to watch knights on horseback while dining during Tournament of Kings at the Excalibur Hotel & Casino. Make your way to the Luxor Hotel & Casino and watch the sensational Blue Man Group or be awed by the acrobatics during KA By Cirque Du Soleil at the MGM Grand Las Vegas.
2. Pasadena, California
Los Angeles is more than silhouettes of palm trees and the allure of Hollywood. Discover Pasadena, just 11 miles northeast at the base of the San Gabriel Mountains. Lively character complements its small-town atmosphere, and the specialty shops, unique restaurants, and charming cafes.
Get Inspired
You could easily spend an entire day exploring The Huntington Library, Art Museum, and Botanical Gardens. Peruse the seemingly endless galleries featuring art from colonial-era to the 20th century, European drawings, and paintings as well as a library with rare collections such as architectural drawings by Thomas Jefferson. Then, get a breath of fresh air by wandering the botanical gardens. The 16 gardens sprawl out across 130 acres of the property and include more than 16,000 species of plants curated by theme such as the Australian Garden, Children's Garden, and the Desert Garden.
Stay & Play
Visit the city's largest park, Brookside Park for an afternoon of picnicking, barbecuing, and enjoying the southern California sunshine. With more than 60 acres, there's plenty of space to play with a multi-purpose fields, scenic walkways, and playgrounds. Wander over to Reese's Retreat, a pirate-themed playground complete with a cannon ball climber, play panels and ocean creatures.
Have A Tea Party
Old Pasadena has plenty of treasures to uncover, with its pockets of art galleries and mom-and-pop eateries. But for a truly memorable time, visit one of the tea houses such as the Tea Rose Garden. The interior is whimsically decorated — and fragrant, as it also serves as a flower shop. Order tiny finger sandwiches and fresh confections served on a three-tier serving tray paired with your favorite pot of tea.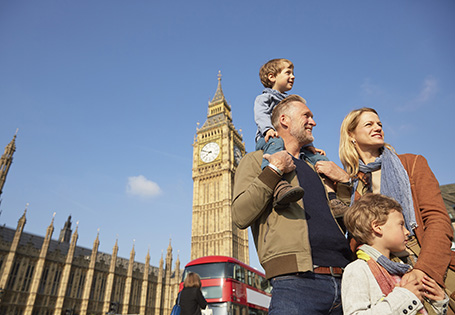 3. New York City, New York
Thought the city that never sleeps might be best for a solo trip or couples' getaway? As one of the most culturally diverse cities in the United States, there's truly something for everyone.
See The Top Of The World
The Freedom Tower gleams amid New York's skyline and stands as the tallest building in the US, and inside, the One World Observatory awaits. You'll climb 102 stories in 47 seconds in the country's fastest elevator and be treated to unparalleled views of the city. Step out and marvel out the floor-to-ceiling windows, learn about the city in the interactive exhibits, and step onto the sky portal, a 14-foot circle of glass that gives you a direct view of the streets 100 stories down.
Culture At Your Fingertips
New York is home to some of the best museums in the world, and many that cater to kids of all ages. The Children's Museum of Manhattan is right next to Central Park and boasts five floors of fun including a two-story tree house, brain building games, and installations designed to climb into, break through, and explore. The American Museum of Natural History is an iconic New York staple packed with exhibitions including the world-famous Dinosaur Hall with rare fossils and skeletons including the massive tyrannosaurus rex.
Explore Some Good Eats
Good food can be found around every corner in New York, even for the pickiest of eaters. For a unique experience cat-lover will adore, visit Koneko Cat Cafe which features Japanese-inspired pastries and felines a-plenty. For classic kid-approved diner fare, check out Brooklyn Farmacy and Soda Fountain which features favorites like grilled cheese as well as a sprawling menu of sundaes, milkshakes, and ice cream floats. Finally, no visit to New York can be complete without a visit to Serendipity 3, with its famed frozen hot chocolate and decadent desserts.