Building sandcastles, seaside sunbathing, championship fishing, these are just some of the beloved summertime activities that make the season so special. During the winter however, these cherished pastimes might seem a bit out of reach. Luckily, you can still experience the joys of summer across the globe even in the coldest months of the year. From fly fishing in Frying Pan River in Colorado, to building your very own hot tub in the sand in Hot Water Beach, New Zealand, get away to these fantastic destinations for a taste of summer even in the dead of winter.
Hot Water Beach, New Zealand
While relaxing on a sunny beach during the summer is an absolute must, you'll probably think twice before laying out surfside during the winter. Unless you find yourself in Hot Water Beach, New Zealand. Situated just a little more than two hours north of Mount Maunganui, right outside of New Zealand's pristine Coromandel Forest Park, this remarkable paradise is one of the few spots on Earth where you can dig your very own hot tub in the sand. Geothermal activity beneath the sand can warm the water up to 140º F even when outside temperatures reach a brisk 59º F.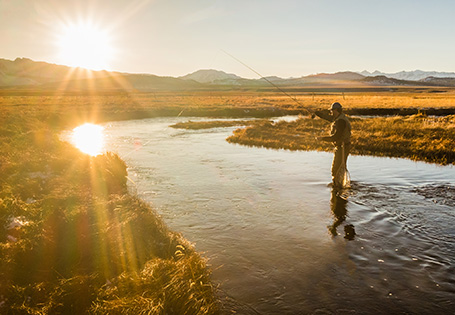 Frying Pan River, Colorado
Fishing isn't just reserved to trawlers in tropical climates. Flowing just two hours east of Mesa, Colorado, Frying Pan River boasts some of the best winter fly fishing in the United States. Even in the coldest of months, the Gold Metal fly fishing region is home to an incredible winter fishery. Cast a line in the scenic canyon rich in wild trout including Brookies, Browns, Cutthroats, and Rainbows. Even the most novice of anglers will find pleasure in fishing the bountiful hatches of Frying Pan River.
Umpqua Hot Springs, Oregon
Deep in Oregon's Umpqua National Forest lies Umpqua Hot Springs, a terrace of hot spring pools descending down the western slopes of the Cascade Mountains. Located just two hours north of Klamath Falls, these natural pools get progressively cooler as you work your way down the slope. The first and warmest of the pools can reach 108º F, and is ideal for winter soaking. The .4-mile hike to the springs makes the pools accessible even in heavy snow. Day passes are available to visit the pools, and the national forest also features hiking, sightseeing, and camping in the area.
Bavaria, Germany
Nothing says summer quite like building sandcastles on a beach. During the winter however, trade in the pail and bucket, and visit some of the world's most iconic winter castles instead. Less than two hours north of Schliersee lies Neuschwanstein Castle in Bavaria, Germany. This enchanting castle is considered to be the inspiration for Sleeping Beauty's castle at Disneyland Park. During the winter, the fortress is blanketed in white snow, creating a fairy tale-like view of the castle surrounded by the breathtaking Bavarian Alps. The castle is a museum and is open to the public.