Group getaways are a fantastic way to create unforgettable vacation memories. Whether the trip is for a special occasion or just an excuse to get out, group travel can strengthen bonds, reenergize relationships, and bolster ties between family and friends. From family reunions and bachelorette parties, to foodie tours and beach-lover retreats, there are plenty of reasons to travel with a pack this fall. Read on to discover some great vacation destinations and travel ideas for hosting your next big group getaway.
1. Cancun, Mexico
Mexico plays host to some of the world's most unbeatable beachside vacation destinations — and Cancun is no exception. Ocean lovers will find miles of pristine, turquoise Mexican Caribbean shoreline, savory international cuisine, and lively seaside excursions. You'll also find everything from dinner shows at sea to unique bars and restaurants across the city. Be sure to take in a group snorkel dive and explore colorful coral reefs, underwater caves, and rare undersea treasures.
2. Myrtle Beach, South Carolina
If you're looking to host a family reunion or other group getaway, look no further than Myrtle Beach. There's something for everyone on this 60-mile stretch of stunning South Carolina coastline. Experience the nostalgia of the world-famous boardwalk, take in a deep-sea saltwater fishing trip, pitch a tent and campout beachside, or sail the skies on a parasail ride. For a truly unique experience, round up the group and visit one of the last stands of maritime forest on the South Carolina coast at Myrtle Beach State Park.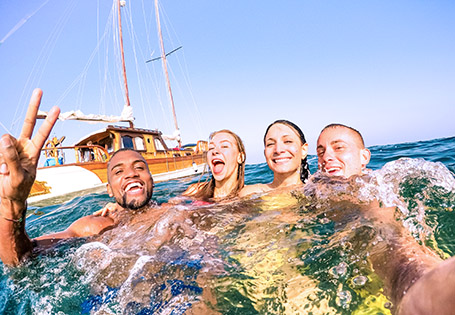 3. Nashville, Tennessee
Nashville is a prime spot to host a bachelorette party or the ultimate friends weekend trip. Music City is home to some of the most vibrant and electrifying music venues in the southeastern United States. You'll also find notable museums and attractions, beautiful parks and gardens, and a sensational foodie scene. Grab your pals and take in the city on an outdoor tractor tour complete with dance floor and onboard bar. There is no shortage of southern hospitality in this dynamic city. 
4. Orlando, Florida
From cutting edge amusement rides to premier shopping and dining options, Orlando is your go-to vacation destination for an incredible family birthday getaway. Young and old alike can expect to find plenty of exciting entertainment options to celebrate another trip around the sun. Get the gang together and spend a few days at Orlando's world-class theme parks, each with its own thrilling attractions and family-favorite crowd pleasers.
5. San Francisco, California
Arguably one of the best, if not the best foodie city in all of the United States, is San Francisco. Assemble a group of your fellow grub lovers and make your way to the City by the Bay. Breakfast, lunch, and dinner, this city is always at the forefront of what's new in the culinary industry. And with miles and miles of streets, parks, open-air markets, and bridges, you'll find plenty of ways to walk off your last meal to make room for the next. Don't forget to book a few food and wine group tours for your visit. 
Ready to go? Get these four essential travel tips for planning the ultimate friends trip.