Looking for a peaceful place to unwind and nourish your self-care? Desert cities offer a unique combination of sundrenched landscape that's perfect for recharging and pockets of laid-back local life to explore to your heart's content. Check out our picks for Sedona, Arizona; Palm Springs, California; and Taos, New Mexico that feature a range of wellness and culture-rich activities. 
1. Stretch Out In Sedona, Arizona
Known as "Red Rock Country" for its vibrant sandstone, limestone, and basalt stone, Sedona is a stunning getaway for those looking for a change of scenery. The horizon offers sweeping views of canyons and gorges hand-carved by Mother Nature herself, and the atmosphere draws visitors from all over the country to experience its ambience of renewal.
Take A Walk In Nature
Countless studies have documented that spending time in nature offers wellness benefits like reduced stress, increased concentration, and improved memory, and Sedona is the perfect place to stretch your legs in. In fact, this small desert town has more than 200 trails across 400 miles to wander and explore. Whether you're looking for a gentle stroll or something more challenging, there's plenty to choose from that reward you with breathtaking views of the landscape. Among the most notable include Airport Mesa trail, Bell Rock, Teacup Trail to Coffeepot Rock, and Sugarloaf Loop Trail.
Yoga For Everybody
Sedona's peaceful environment makes it a destination for yoga enthusiasts, making its home to countless yoga and meditation studios offering unique experiences. Aumbase Sedona Yoga Trips and Adventures lets you choose from a variety of activities, ranging from a single drop-in class to group activities for the whole family. Try a private yoga hike that invites up to six people to wander a local trail followed by a rejuvenating yoga flow, or a sound healing session such as the Transformational Breathwork & Soundwave Journey Combination which incorporates breathwork and crystal bowls, gongs, drums, and toning
2. Restore & Refuel In Palm Springs, California
Head about two hours East of Los Angeles' glistening coast, and you'll be transported to what feels like a new world entirely — the desert oasis known as Palm Springs. Once a retreat for Hollywood's golden age darlings like Marilyn Monroe, Frank Sinatra, and Dean Martin, today it's a destination for activities of leisure.
Nice Views
No trip to Palm Springs is complete without a visit to the Palm Springs Art Museum. Located in the eclectic downtown in one of the city's signature mid-century modern buildings, you'll discover pieces from the 19th, 20th, and 21st centuries. Exhibits include contemporary California art, Native American art, Mexican art, American photography, glass studio art, and more. It's a great way to get an idea of Palm Springs's unique energy.
Eat, Drink & Relax
It's no secret that Palm Springs is a major foodie destination. No matter your palate, you're sure to find everything from classic comfort to imaginative menu items.
FARM is known for its charming atmosphere and mouthwatering menu. Take a seat in the garden patio framed with floral bouquets and enjoy traditional French fare like sweet or savory crepes or a duck omelet for brunch. Dinner offers a multi-course prix-fixe menu with selections like a caprese tartar salad, New Zealand lamb, and chocolate almond mousse cake.
For a taste of Palm Springs that echoes its eclectic environment, head to the Pink Cabana which features fresh Mediterranean cuisine fused with Moroccan influence. Its unique interior is sure to bring a smile to your face as you nosh on dishes like blue prawn pasta, a Moroccan pita sandwich, and hand-cut maakouda.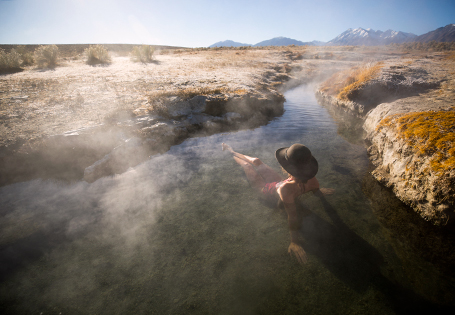 3. Recharge In Taos, New Mexico
Taos is a picturesque city perched 7,000 feet above New Mexico's high desert. The moment you arrive, you'll know this town is like no other, with stunning view of the Sangre de Cristo Mountains and known as a mecca for artists.
Immerse Yourself In The Arts
The city's local art community breaths life throughout Taos. Get inspired by the local culture by taking a leisurely stroll perusing one of the many art galleries and museums. Wander the twelve galleries at the Harwood Museum of Art, which showcases a variety of diverse works from more than 100 years of art in Taos, all set local Taos artists all set within restored adobe architecture. Experience the Millicent Rogers Museum, which features more than 7,000 pieces highlighting the history and culture of the Southwest.
Soak Up In Hot Springs
Hot springs are a favorite for those looking to relax in nature, and Taos has two in the surrounding area that welcome you to take a soothing soak. For an off-the-grid experience, head to Black Rock Hot Springs to find two natural soaking pools that range between 98 and 101 degrees depending on the season and enjoy views of the rugged New Mexico Landscape. Visit the healing waters of Ojo Caliente Mineral Springs, found in one of the country's oldest health spas built right into the landscape. In addition to relaxing in the pools you can enjoy a variety of signature spa treatments like the cactus flower massage and scrub or energy healing like craniosacral therapy or reiki.