Now is the perfect time to start planning your holiday travel — and what better way than a tropical Caribbean vacation? From breathtaking beaches to simmering sunsets and plenty of lush surroundings, nothing says island holidays more than a frozen drink with a colorful paper parasol floating inside. Each of the following islands offers something for every traveler, whether you want to chase waterfalls, dive into history, or soak up some culture.
1. Puerto Rico
With America's only tropical rainforest, El Yunque, on one end, and some of the world's biggest surf breaks like Rincón on the other, Puerto Rico is a haven for outdoor enthusiasts and the ideal spot for holiday travel. In between, you'll want to make time to explore the brick streets of Old San Juan. Admire the colonial architecture, stroll through the whimsical shops selling colorful wind chimes, straw hats, and handmade ceramics, and take in the smell of strong coffee wafting through the streets. An icon on the coastline of San Juan, the Castillo San Felipe del Morro is a fort built by the Spanish in 1521 and a must-see. Outside town, Luquillo Beach is one of the island's prettiest, with clear turquoise waters and coconut palms cradling the shoreline — perfect for your island holiday.
2. Aruba
For an island that's only about 20 miles long, Aruba has two distinct personalities. On the west coast, golden sands hug the calm glass-like beaches, where the azure water is perfect for swimming, even for little ones. The east coast of the island, by contrast, is full of rugged sand dunes and craggy limestone cliffs peering over crashing waves. To check out both sides in a single day is to take two Caribbean vacations at once. Make time to take in the quaint Dutch architecture in Oranjestad, the capital of the island and the main hub for shopping and dining. If you prefer to get away from the crowds, take a nature walk to abandoned gold mines in Arikok National Park. Adrenaline junkies can blanket the island's interior sand dunes on off-road ATVs then cool off in the Natural Pool, a swimming hole surrounded by massive rocks.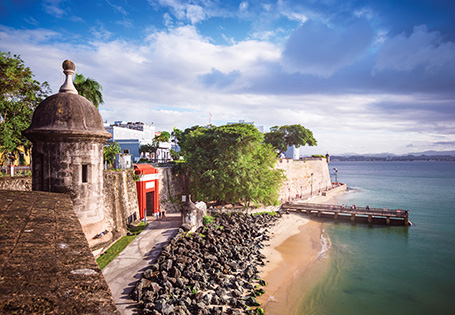 3. U.S. Virgin Islands
St. Thomas, St. John, and St Croix — whichever U.S. Virgin Island you choose to travel to first, you'll want to make sure to experience all three on your island holiday as they each have their own unique landscapes and personalities. Luckily, there is daily ferry and airplane service between the islands. St. Thomas, the largest, is a bustling, mountainous, tropical paradise filled with world-class shopping and dining in the capital of Charlotte Amalie. It's also home to beautiful beaches, such as those found where the sea and the hillside meet at Magellan Bay. Golf courses and zip lining add to the plethora of things to do in St. Thomas. Two-thirds of St. John is Virgin Islands National Park, where nature lovers follow trails that lead to historic plantation sites and sugar mills. With so many miles of beaches and lush nooks, it's arguably the most romantic of the three U.S. Virgin Islands. St. Croix is perfect for those who love hiking with breathtaking sea and mountain views (so basically, everyone). History buffs can learn about the Danish culture that's a significant part of St. Croix's early history. Must-visit sites include Fort Christiansvaern, a national historic site comprised of sunny yellow Dutch colonial buildings, and Buck Island Reef National Monument. The latter is a paradise for snorkelers and divers with deep grottos and labyrinths lurking beneath the surface.
4. Curaçao
With its pastel-colored skyline and its bright turquoise water, this southern Caribbean vacation is a Dutch dream and part of the Netherlands. Stroll through the colorful capital, Willemstad, and let your eyes feast on the colorful colonial architecture that has earned Curaçao the distinction of being a UNESCO World Heritage Site. Stop to check out the unique artifacts at the Museum Kurá Hulanda, where everything from fertility dolls to musical instruments is on display as artifacts of the European colonization and slave trade that once took place here. Less than 40 miles long and 10 wide, Curaçao is the perfect island to explore by Jeep, with plenty of off-the-beaten-path and must-see attractions like the Suplado blowhole, otherwise known as Curaçao's "natural Jacuzzi." Surrounded by more than 40 square miles of coral reefs, the island is also known as one of the best dive sites in the Caribbean.
5. Dominican Republic
This Spanish-speaking nation has it all — from some of the Caribbean's highest mountain peaks to palm-studded beaches and even desert scrubland. Visit pulsing Santo Domingo for a peek at the cobblestone streets and stone buildings throughout the 12-block Ciudad Colonial, the oldest continuously inhabited European settlement in the Americas, and see why this capital city has been designated a UNESCO World Heritage Site. Try kitesurfing or windsurfing in Cabarete, where steady winds make this the ideal place to learn. Check out dozens of waterfalls, including the highest, Salto de Aguas Blancas, and take a dip in the rock pools in Puerto Plata. Wrap up your island holiday by teeing off on one of the dozens of designer golf courses, many with stunning views of the Caribbean Sea to the south and the Atlantic Ocean to the north.