Most of us would be more than happy to pass a weeklong vacation on the Riviera Maya simply lying under a palapa on the beach with some good books and a frosty beer. But kids need action, a change of scenery, new and exciting things to try. Luckily, this 80-mile stretch of coastline on Mexico's Yucatán Peninsula offers a slew of family activities. Many, not surprisingly, involve water—both salty and fresh, above ground and below.
Tour companies offer day trips by van to most of the places listed here, but consider renting a car for a day or two to take in the sights. You can't get lost: There's only one major road, Highway 307, which parallels the coast from Cancún in the north to Tulum in the south. That way you can make your own choices about what you want to do, perhaps stopping en route for a beachside lunch or browsing the souvenir stalls. And you can get wet as often you want.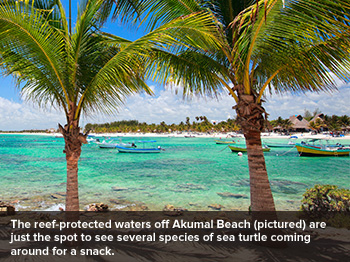 THEME PARKS, MEXICAN-STYLE
Even locals don't quite know what to call the hybrid amusement parks of Xcaret and Xel-Ha. (Xcaret goes by "eco theme park," whatever that means.) While both parks emphasize environmental awareness, their aim is mostly to entertain—which they do handily. Each requires a full day, and it's not a cheap one for a family.
Xcaret (pronounced ISH-ca-ret) has plenty of animals (parrots, manatees, jaguars, tapirs and dolphins you can swim with) and performances throughout the day: rodeo tricks, ceremonial dances and more. Kids love to float down the cool, freshwater underground river; you wear a life jacket, and pass through illuminated caves. Xcaret's evening show is the grand finale, in a 6,000-seat theater. If folkloric songs and dances don't do it for your kids, how about Mayan floor hockey, played with giant flaming balls?
Xel-Ha (SHELL-ha) has similar attractions, but the emphasis is on water: a lazy-river tube float, dolphin swims, kayak trips. Go snorkeling, and you'll feel as if you're swimming in an aquarium. Bring swimsuits; lockers, showers and life jackets are provided. 
TURTLE SOUP
The reef-protected waters off Akumal Beach, about halfway between Playa del Carmen and Tulum, are home to dozens of loggerhead, hawksbill and green sea turtles—some with shells 3 feet wide. Snorkel right off the beach (rent gear at the dive shop) to spot them munching on grass, surrounded by tropical fishes plus the odd barracuda and moray eel. A short drive north on a dirt road takes you to Yal-ku Lagoon, an even more protected (and somewhat tamer) environment that shelters brilliant parrotfish, angelfish, blue tangs and more. Lockers and life jackets are available for rent. 
GOING DOWN UNDER
The Yucatán is famous for its hundreds of cenotes, or underground pools linked by subterranean rivers, where you can swim, snorkel or scuba dive in crystal-clear water from one limestone cavern to another, between stalagmites and stalactites. Sign up with Hidden Worlds, just north of Tulum, and you'll be fitted with a wetsuit (for extra comfort in the 75-degree water), snorkel gear, a life vest and an underwater flashlight. Your guide swims ahead as you explore illuminated underwater chambers. There are also several zip lines on the property. The Cenote Snorkel Discovery package lets you visit two cenotes on a guided tour. 
DON'T CALL IT A HISTORY LESSON
The ancient Mayan city of Tulum, at the southern end of the Riviera Maya, is right on the ocean, which means you can get your archeological fix and go for a swim. Built between 400 and 500 B.C., this walled city's stone temples remain captivating. Arrange a guided tour from your resort, or get there on your own and hire an official guide ($40 for your group), who will enthrall your kids with tales of how the ancient Mayans devised an early calendar based on the stars, practiced blood sacrifice and played ball games that often ended in the loser's ritual death. Go early (the site opens at 8 a.m.) to beat the crowds and the heat, and wear your swimsuits. Or take one of the new 45-minute nighttime tours, which begin at 8 p.m. 
NATURE, PURE & SIMPLE 
In 1986 some 1.3 million acres of canals, lagoons and mangrove swamps became the Sian Ka'an Biosphere Reserve, a protected habitat for more than 330 bird species. The reserve, with its 75 miles of coastline, begins about 10 miles past Tulum. A full-day tour with CESiaK (Centro Ecologico Sian Ka'an) includes a naturalist-guided walk on a jungle trail and a boat ride through grass-lined canals once used by the Mayans. You'll spot pelicans, great blue herons and osprey; see a crumbling Mayan temple; and don life jackets to float in the freshwater streams. After lunch (perhaps grilled chicken, rice, black beans and plantains) at the Ecological Center, with its stunning ocean view, your guide leaves you at a hidden cenote for one last cooling dip.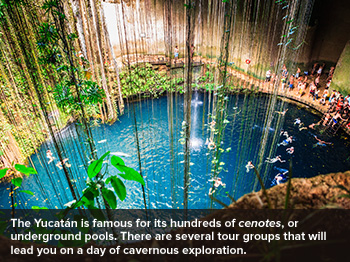 FOR ANIMAL LOVERS
Young kids get a kick out of Crococun, a roadside zoo with all kinds of regional wildlife on display. The stars are the crocodiles—this was once a breeding farm—but there are also spider monkeys, boa constrictors and weird Mayan hairless dogs. Bolder kids are encouraged to pet and feed the critters.
The Details
Xcaret: xcaret.com
Xel-Ha: xelha.com
Hidden Worlds: hiddenworlds.com
Sian Ka'an Biosphere Reserve: 011 521.984.104.0522; cesiak.org
Puerto Morelos (Crococun): 011 52 998.850.3719; crococunzoo.com
NOTE: Information may have changed since publication. Please confirm key details before planning your trip.