Spa Getaways
Orlando is home to dozens of wellness retreats where you can go for a day of total indulgence. A Vichy shower and single-sex quiet rooms are just two of the 70-plus services that draw locals and visitors to Orlando's Woodhouse Day Spa. You can reenergize with the spa's signature Minkyti facial: A warm poultice and seaweed mask help hydrate the skin as you receive a head, neck and shoulder massage. Or opt for Woodhouse Escape, which consists of seven specialized treatments designed to relax you from head to toe.
If you're looking for a romantic escape, the spa at Bella Collina seeks to transport its visitors to the Tuscan countryside by emulating the spirit and architecture of an Italian villa. Natural materials such as wood and stone give Old World charm to the modern treatment rooms and central courtyard. Consider taking advantage of the couples massage, which includes a soak in a copper tub followed by champagne and chocolate-dipped strawberries.
Set in a cottage on a quiet side street, The Massage Spa of Winter Park offers facials, massages and a variety of wellness treatments. A number of the spa's offerings consist of traditional Eastern therapies such as acupuncture and fire cupping, a Chinese practice that promotes blood circulation and relaxation. Expert services, friendly staff and a homey vibe make the Massage Spa of Winter Park a prime option for low-key spa goers.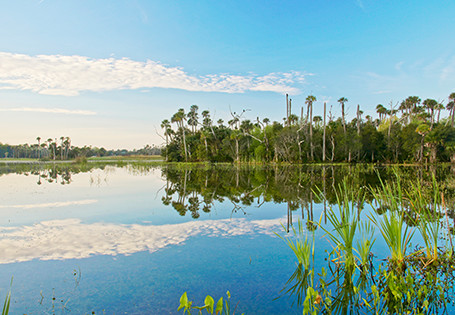 Nature Escapes
Outdoor lovers can spend an afternoon hiking around Bill Frederick Park, set along Turkey Lake. The park's 183 acres are filled with walking and biking trails, a disc-golf course and fishing piers. At the Mead Botanical Garden you can explore some of the area's native flora and fauna. Shaded walks, trees dripping with Spanish moss, wetlands and a butterfly garden are among the charms that regularly draw visitors to this urban oasis.
You can kick back on the water when you hop on one of Orlando Lake Tours' pontoons. Once on board, you'll experience a 75-minute narrated voyage through the Butler Chain of Lakes, 13 interconnected bodies of water that span nearly 5,000 acres. During the tour, you can spot waterfront mansions, including one owned by basketball star Shaquille O'Neal, and if you're lucky, osprey and alligators.
Urban Oases
Looking for other ways to unwind? On Sunday afternoons, you can visit Casa Feliz, a grand Spanish-farmhouse-style Winter Park home designed by acclaimed architect James Gamble Rogers II. Refreshments are served, and musicians play classical guitar, harp or jazz saxophone while visitors explore the redbrick manse. Or, you can relax with a craft beer at Crooked Can Brewing Company, in Plant Street Market. In the tasting room, you can sample microbrews made on the premises. During most weekends, live music is also on tap, and eateries within the market will deliver pizza, sushi or burgers directly to your table when you're ready for a bite.
For the ultimate laid-back dinner and a movie, head to Enzian, an alternative cinema that has offered table service with its movies for years. Arrive early for a cocktail at the theater's open-air Eden Bar, then dig into dinner during the film. No matter what your style is, it's likely you'll find a way to recharge that's just right for you in Orlando.
This article originally appeared on EndlessVacation.com in April 2016.
NOTE: Information may have changed since publication. Please confirm key details before planning your trip.