Beyond the neon lights of Sin City's strip, nature beckons. Las Vegas is a stone's throw from a number of Nevada's treasured parks, each offering its own set of outdoor attractions and adventures to discover. Uncover experiences like hiking, fishing, and so much more at these best four Las Vegas parks.
1. Valley of Fire State Park
An hour northeast of Las Vegas, 40,000 acres of bright red sandstone formations await. Valley of Fire, formed 150 million years ago, is home to petrified trees, sandstone cliffs, petroglyphs, and the area's best hiking. Nearly a dozen official trails are available with lengths and terrains for all preferences. The Fire Wave Trail is the park's best-known route, featuring an incredible desert formation of red and tan stripes along this stunning Las Vegas hike.
2. Desert National Wildlife Refuge
This wildlife refuge just north of Vegas is the largest in the contiguous United States, encompassing six major mountain ranges and seven distinct habitat zones. At Desert National Wildlife Refuge, you'll find all kinds of animals, from collared lizards to mule deer to mountain lions, along with hundreds of bird species. For the best chance of spotting bighorn sheep, plan your visit for early to mid-morning. Don't forget binoculars!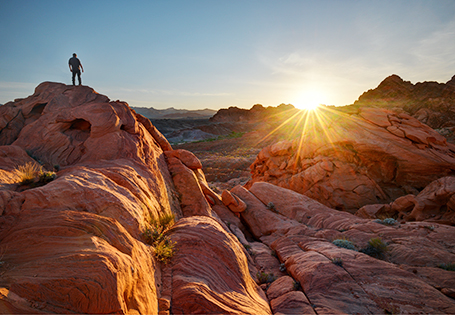 3. Lake Mead National Recreation Area
The largest man-made lake in the country, Lake Mead shimmers like a mirage in the desert. Escape the heat with a dip in the blue waters at this Las Vegas park. Raft, water ski, or launch a rented boat from Hemenway Harbor and cruise to the Hoover Dam. Or reel in a big one with some of the southwest's best bass fishing.
4. Red Rock Canyon National Conservation Area
Just a few miles west of Sin City, Red Rock Canyon features Aztec sandstone cliffs, red outcrops, and dinosaur tracks. Choose from a 13-mile scenic drive or more than 30 walking trails for an unforgettable Las Vegas hike. Come nightfall, the conservation area offers incredible opportunities for stargazing. Consult a sky chart and head to Blue Diamond Road, south of the visitor center, for the best views of the starry skies.
Where To Stay In Las Vegas With RCI: