The ABC islands are a kindred bunch. Aruba, Bonaire and Curaçao speak a common tongue, Papiamento—a Creole language touched, like the islands themselves, by Spanish, Dutch, Portuguese and English. These 3 islands in the Dutch Antilles share the Netherlands as their motherland, but when it comes to personality, they go their separate ways.
Aruba has wide beaches and a highrise-hotel scene that could just as easily be in Miami as 15 miles off the coast of Venezuela. Stroll down the pedestrian-friendly streets of Curaçao's capital, Willemstad, and the merchants' houses with gingerbread facades and the vibrant café scene will make you feel transported to Amsterdam. Bonaire exudes a laid-back vibe: Local chitchat orbits around where the breeze is best for windsurfing and which cool tropical creature was spotted most recently by divers on the epic colorful reefs that ring the island.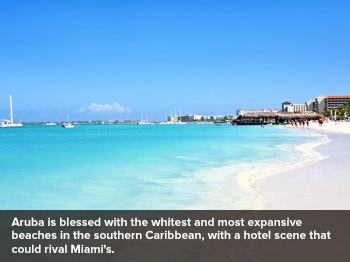 A IS FOR ARUBA
The roughly 20-mile-long island westernmost in the group is blessed with the whitest and most wide-open expanses of sand.
Palm Beach, on the northwest coast, is the island's most commercialized stretch, a paved promenade fringed by sand and casual watering holes, such as the Bugaloe Beach Bar & Grill, set on the end of a pier. You can sip a cold Rum Runner in your board shorts here.
On the more mellow Eagle Beach, just to the south, the gnarled trunks of divi-divi trees make for a prettier, more photo-worthy backdrop for sunbathing, snorkeling or standup paddleboarding lessons with the Aruba Surf and Paddle School.
You can make use of Aruba's public transportation system or rent a car for the day to visit its cheerful capital, Oranjestad. A new, free trolley system connects the cruise port to popular shopping areas near Main Street, including the upscale Renaissance Mall and the shops at Royal Plaza Mall, where you can pop into Little Holland for European-inspired souvenirs, like Delft earthenware and lace-fringed Belgian linens.
When adventure calls, escape the beach crowds on a Land Rover tour with ABC Aruba Tours to the remote Arikok National Park, a rugged, desertlike expanse. Four-hour excursions stop at abandoned gold mines and a natural collapsed bridge made of coral stone. But the highlight comes when you walk 85 steps down the lip of a cliff and pop out at Natural Pool, a shallow cove protected from the pounding surf by a ring of rocks. You can don a snorkel and mask, then swim among hundreds of candy-colored tropical fish that flit around like confetti.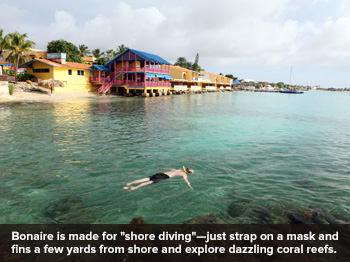 B IS FOR BONAIRE
Avid scuba divers will tell you that Bonaire is made for "shore diving," which means it's a place where you can strap on a mask and fins and kick just a few yards from the beach out to the dazzling coral reefs that ring the 24-mile-long island—no boat required. Flow Bonaire will provide you with a mask and snorkel and take you to some of the island's roughly 400 cave systems: ancient limestone reefs fed by freshwater springs. Through the piercingly blue water, you can see pale stalactites and stalagmites jutting from the shimmering walls.
On the southeast coast, relatively shallow waters and steady winds at Sorobon Beach create a good environment for learning to windsurf atop floaty boards from Bonaire Windsurf Place. You can also plan a self-driven tour (car rentals are widely available on Bonaire) along the 21 miles of dirt roads that crisscross Washington Slagbaai National Park to spot flamingos that gather by the thousands at Goto Lake. And at the Donkey Sanctuary Bonaire, more than 400 sick, wounded or orphaned animals—descendants of the donkeys brought here by the Spanish in the 17th century—are being rehabilitated in a parklike setting.
Finally, consider snorkeling with Bonaire Tours at Klein Bonaire, an uninhabited island a few miles off the west coast. You're likely to spot sea turtles.
C IS FOR CURAÇAO
If Aruba is all about beaches and nature is the thing on Bonaire, then Curaçao is the worldly European island of the archipelago. The town is filled with colorful Dutch- and Spanish-influenced 17th- and 18th-century merchants' houses, many of which UNESCO has granted World Heritage status.
You'll get postcard views of Willemstad's historic building facades if you walk across the Queen Emma Bridge, also known as the Swinging Old Lady, an 1888 wooden pontoon bridge that spans St. Anna Bay. Follow the bridge to the Otrobanda neighborhood and the notable Museum Kurá Hulanda, which is thought to be on the site of a former slave yard and displays the largest collection of African arts and artifacts in the Caribbean.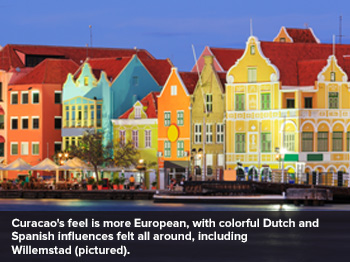 Willemstad's lively nightlife scene has spawned an island tradition: On most days, truk'i pans (bread trucks) roll along the city streets from 10 p.m. to 4 a.m. offering comfort food, such as barbecued ribs, French fries with peanut sauce and lomitos (steak sandwiches).
Beaches on Curaçao aren't like the sprawling stretches of white sand you'll find on Aruba; they're more like remote pockets, little treasures to stumble on. Playa Kenepa Chiki (Knip Bay), the smaller of two stunning coves edged by manchineel trees, is a favorite spot with locals and visitors. Families love Jan Thiel Beach, where palm trees shade an open bay and restrooms and showers are available. And to reach one of the most divine beaches in all of the Antilles, take a 2-hour cruise (15 miles) aboard the Mermaid to uninhabited Klein Curaçao for swimming, sunning and snorkeling on powder-fine sands.
When it's time to give a final toast to all the diversity of the ABC's, a tasting tour at the Curaçao Liqueur distillery (Elias R.A. Moreno Blvd., Willemstad; 011-599-9-461-3526; curacaoliqueur.com; free) fits the bill. Start with the classic Blue Curaçao, made from the island's native laraha fruits.
The Details
Aruba:
Bugaloe Beach Bar & Grill: J.E. Irausquin Blvd., De Palm Pier, Noord; +011 297.586.2233; bugaloe.com
Aruba Surf and Paddle School: Palm Beach and Eagle Beach; +011 297.593.0229; arubasurfschool.com
Little Holland: Royal Plaza Mall, Oranjestad; +011 297.583.8494
ABC Aruba Tours: 61 Schotlandstraat; 1.888.815.3577; abc-aruba.com
Arikok National Park: 70 San Fuego; +011 297.585.1234; arubanationalpark.org
Bonaire:
Flow Bonaire: 103 Kaya Gob N. Debrot, Kralendijk; +011 599.788.4636; flowbonaire.com
Bonaire Windsurf Place: Sorobon, Lac Bay; +011 599.717.2288, bonairewindsurfplace.com
Washington Slagbaai National Park: Barcadera; +011 599.788.9015; washingtonparkbonaire.org
Donkey Sanctuary Bonaire: Kaya IR Randolph Statius van Eps; +011 599.9.560.7607; donkeysanctuary.org
Bonaire Tours: 7 Harbour Village Market Sq.; +011 599.717.8778; bonairetours.com
Curaçao:
Museum Kurá Hulanda: 9 Klipstraat, Willemstad; +011 599.9.434.7700; kurahulanda.com
The Mermaid: Fisherman's Harbour; +011 599.9.560.1530, mermaidboattrips.com
Curaçao Liqueur distillery: Elias R.A. Moreno Blvd., Willemstad; +011 599.9.461.3526; curacaoliqueur.com
NOTE: Information may have changed since publication. Please confirm key details before planning your trip.