In a world filled with flavors, why choose vanilla? Why not go with something a little more decadent, a little more tropical, a little less typical? There are hundreds of vanilla vacations out there, the ones you've already done multiple times and have come to expect and even embrace. There's nothing wrong with that. But maybe, just maybe, now is the time to branch out to a new flavor of vacation - one in which you fall asleep with the waves underneath you, lulling you to sleep with their gentle lapping and calm tranquility. If you've ever wanted to branch out with your vacation, these four options are more decadent, more tropical, and less traditional than you've ever imagined possible. Bonus - each one allows you to spend your days and nights with the peaceful ocean waves beneath you.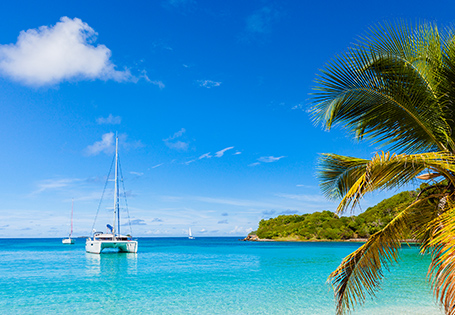 Over-Water Bungalows - The Ultimate Enchantment
Play in Playa del Carmen
Near the tip of Mexico's Yucatan Peninsula, right on the Caribbean Sea sits Playa del Carmen, a beachfront town and tourist hotspot known for its turquoise waters, white sand beaches, and laid-back attitude. It's a place where vacation dreams can come true, and if you've ever dreamed of spending your vacation in a bungalow over the ocean, then dream no further. The Palafitos Overwater Bungalows will make you feel like you've died and gone to heaven (if heaven is Mexico, that is). Watch the sun rise and set on your bungalow's private terrace. Relax and cool off in your bungalow's private infinity pool. Marvel at the bungalow's glass floors, through which you'll see the stunning waters of the Caribbean Sea. Your bungalow is all-inclusive, and (in addition to meals and drinks) that includes 24-hour room service, gourmet in-suite snacks, and the option to order a personalized picnic to be enjoyed on the resort's private beach. If that doesn't sound like paradise to you, then nothing will.  
Accommodations: Palafitos Overwater Bungalows at El Dorado Maroma Special Promo #DL29
A Malaysian Marvel
Malaysia's stunning coastal areas are home to some of the world's most beautiful beaches, and the country is well-known as a vacation haven for tourists from throughout Asia and the South Pacific. It's a multicultural area, with primary influences from China and India, among others. Hospitality plays a huge role in Malaysian culture, and hospitality is what you'll find at the Avani Seppang Goldcoast Resort. This resort is made up of over 300 private bungalows, spread out over the waters of the Strait of Malacca in the shape of a palm tree (appropriate, isn't it). Enjoy the privacy and quietude of your own personal bungalow, comfortably and stylishly furnished, with amazing views and even more amazing service. You won't mind leaving your bungalow on occasion to visit one of the resort's five dining establishments, swim in the infinity pool, have a cocktail at one of two onsite bars, or enjoy a massage or facial at the full-service spa. Snorkeling, diving, and other water sports are all available as well. You'll leave this vacation feeling relaxed, rejuvenated, and (if you're lucky) 10 years younger. 
Accommodations: Avani Sepang Goldcoast Resort #A540
Catamarans - A Floating Fairytale Cottage
Fascinating Fiji
The island nation of Fiji is actually an archipelago made up of more than 300 islands in the heart of the South Pacific, where average annual temperatures rarely dip below the mid-70s and the ocean is warm enough to swim year-round. With water that warm, why would you ever want to sleep on land? A sailing vacation is the perfect way to experience the allure of Fiji and enjoy the benefits of being on the South Pacific, in tropical waters teeming with marine wildlife and natural beauty. On a TradeWinds catamaran (which is essentially a catamaran-style yacht), your private cabin will provide luxurious amenities and comfortable accommodations - plus a professional captain and crew, and all-inclusive benefits. The catamaran will be fully stocked with fishing and snorkel equipment, as well as ocean kayaks, to allow you the freedom to explore the stunning ecology of local beaches, reefs, and marine sanctuaries in private areas land-based tourists can't access. Fascination with Fiji is in your future if you embark on this floating vacation adventure.
Accommodations: TradeWinds Fiji #DD43
British Virgin Islands - Breathtakingly Beautiful
Where the Atlantic Ocean meets the Caribbean, you'll find the British Virgin Islands - made up of more than 50 tropical islands that are technically part of the United Kingdom (all hail the Queen). The islands showcase the tropical climate and natural beauty of the Caribbean perfectly, with brilliant blue waters and pristine sandy beaches and average annual temperatures in the 80s. Your luxury Festiva Sailing catamaran offers the chance to see and experience all that this island nation has to offer. Your professional captain and crew will do all the work, and you'll reap all the benefits. Sail from island to island and explore secluded sites, see awe-inspiring scenery, and make unforgettable memories each day. The all-inclusive benefits will have you eating fresh fish caught off the deck each day, a full open bar, and all the gourmet delicacies (prepared by the onboard chef) you could ever imagine. Snorkel pirate-era shipwrecks and amazing barrier reefs, laze under coconut palms on secluded beaches, and get all the sunny R&R you've been dreaming of. A British Virgin Islands sailing adventure is all you could dream of, and more.  
Accommodations: Festiva Sailing Vacations Tortola Bvi #7541