Everyone loves a beach vacation, and the first thing that probably comes to mind is palm trees and white sand. But there are many benefits to choosing a lake or riverside vacation destination over an ocean or seaside retreat. For starters, freshwater locales can be calmer than saltwater ones - the ocean is home to hurricanes, typhoons, and tsunamis, after all. Add in dangerous wildlife like sharks and jellyfish, and that lakeside getaway is sounding better and better, isn't it? The U.S. has many amazing freshwater vacation destinations, from sea to shining sea. Here are a few top spots for getting fun and fancy-free in the freshwater.
The Shenandoah River: Virginia's Freshwater Fishing Paradise
The Shenandoah Valley is full of pristine freshwater lakes and rivers, and its namesake, the Shenandoah River, offers adventure in many forms. Home to more than 20 species of freshwater fish, this historic area is a fisherman's dream come true. Often called lazy, the beautiful Shenandoah River is one of the world's best sites to catch smallmouth bass, although you can also catch largemouth bass and carp, among other things. The Shenandoah River's South Fork is one of Virginia's premier smallmouth and largemouth bass fisheries, and features 20 public access points, making it easy to fish from the shore or launch a boat. On the banks of the South Fork, the town of Front Royal offers a boat launch with plenty of parking for cars and boat trailers. The North Fork is home to bass as well as catfish, crappie, and sunfish, and showcases stunning views of nearby Massanutten Mountain. The main stem of the Shenandoah river is calm and gentle, making it perfect for tubing, canoeing, and kayaking. With its warm, mild weather from spring through fall, the Shenandoah Valley is a great spot for a freshwater family getaway. 
Where To Stay: Massanutten's Mountainside Villas #0174, The Pines #0233, Senedo Springs #2871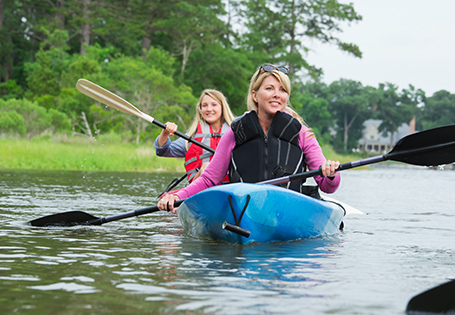 Crater Lake: Oregon's Hole in the Earth
Famous for being the deepest lake in the United States, this tranquil body of water is nearly perfectly round, and is fed purely by snowmelt and rainfall - no springs or rivers feed into it, which helps keep its water pure and clean. As its name implies, Crater Lake was formed in the crater of a massive volcano, and it's also home to another rare phenomenon - it's one of the few places in the world where you can see a volcano within a volcano. Wizard Island, at the center of the lake, is actually a cinder cone, the tip of a submerged volcano - a smaller volcano that has emerged in the crater of a larger one. Take a day cruise out to Wizard Island's pristine shores and swim, hike, and explore before boating back across the water to relax on the lake's peaceful shore. Crater Lake is also known to be great for freshwater scuba diving. Because of its great depth, there is much to be seen under the lake's serene surface. From underwater moss meadows to marine wildlife and lava formations, you'll find as many interesting sights under the water as above it. Crater Lake is a tranquil spot to find some peace and quiet on your next vacation. 
Where To Stay: Mount Bachelor Village Resort #2280, WorldMark Running Y #4324, Seventh Mountain Resort #7610
The Colorado River: Rip-Roarin' River Rafting
At nearly 1,500 miles long, the Colorado River snakes all the way from the Rocky Mountains to Mexico, but what it's most famous for is carving out the stunning walls of the Grand Canyon thousands of years ago. The rushing rapids of this river paired with the stunning geography that surrounds it make it a fabulous locale for river rafting. With areas of the river ranging from class I to VI rapids, there is a rafting excursion for visitors of all ages and abilities. As you paddle down the river, you'll see wildlife in abundance - rainbow trout and other fish in the crystal-clear water, birds nesting in the trees along the river's banks, and possibly even a herd of bighorn sheep along the canyon. And the entire time you'll be surrounded by the freshwater beauty of one of the most important rivers in the U.S., not to mention the stunning geological phenomena of the Grand Canyon itself. With options ranging from half-day raft excursions to multi-day trips, there is no shortage of choices. And if you're rafting in the heat of the Arizona summer, you won't hesitate to slip into the river to cool off in the refreshingly clear water from time to time. Rafting in the Colorado River is a family adventure you won't want to miss.     
Where To Stay: Sapphire Resorts @ Sedona Pines #DQ88, Club Wyndham Flagstaff #0759, SpringHill Suites by Marriott Prescott #RGD3
Lake of the Ozarks: Livin' It Up Lakeside
Billed as one of the Midwest's top tourist spots, Lake of the Ozarks won't disappoint. The lake's sandy beaches and clear blue water equate to the quintessential lakeside retreat, just like what you'd expect to see in a movie. Cruise the lake in style on an excursion charter and let someone else do the navigating, or rent your own pleasure craft for a few hours or days and do the skippering yourself. Pack a picnic and head to the beach and spend the day building sandcastles and splashing around, enjoying the warm weather and cooling off in the lake's refreshing waters. Try parasailing or wakeboarding, jet skiing or paddleboarding. And if hitting the links sounds good to you, Lake of the Ozarks has several waterfront golf courses so you can enjoy the lake view while you're playing nine (or 18, if you fancy). Like any good freshwater spot, the lake is also great for fishing. Lake of the Ozarks is home to your typical garden-variety lake fish - catfish, bluegill, crappie, and of course, bass. Bring your own gear or rent it while you're there, or hire a fishing guide to show you the best spots and bring the bait. There's no shortage of freshwater fun at Lake of the Ozarks, and the area's average of nearly 200 sunny days per year are a bonus.   
Where To Stay: Lakeview Resort #1757, Lakewood Resort #5127, Vintage Landing Condominiums #3284