Ever since I Dream of Jeannie's title character first blinked her way into Tony Nelson's Cocoa Beach home, the town has been known as the heart of Florida's eastern Space Coast. But in mid-2011 NASA shut down the shuttle program at nearby Cape Canaveral and the Space Coast began reinventing itself. While the Kennedy Space Center Visitor Complex still pulls in tourists, restaurants display signed photos of astronauts, and the occasional rocket launch streaks across the skies, these days Cocoa Beach's natural attractions and unpretentious artsy vibe are stealing the show.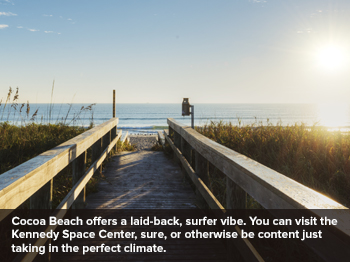 WATER, WATER EVERYWHERE
For a view of your surroundings from up high, consider taking to Cocoa's often cloudless winter skies with Florida Air Tours. "Even the locals say, 'I live here and I can't believe how much water there is,' " owner and pilot Mark Grainger says. On these tours, a circa 1941 Waco biplane flies over the Indian and Banana Rivers for views of the tangled mangrove maze Thousand Islands. As you emerge over the Atlantic Ocean, you can scan the waters for the manatees and dolphins that swim in the shallows off the sweeping coastline.
You'll find a roll call of wildlife on A Day Away Kayak Tours' nighttime journey into the nearby Haulover Canal. In winter you can often see schooling bioluminescent comb jellies that sparkle in the inky mangrove-fringed water.
Return to the same area in the daytime to travel the 7-mile Black Point Wildlife Drive through rich marshland and swamps at Merritt Island National Wildlife Refuge, where you're likely to see manatees, alligators and birds, such as roseate spoonbills. For daytime kayak trips that launch a bit closer to Cocoa Beach, head out from Manatee Cove with Calypso Kayaking to visit deserted islands in the Indian River Lagoon. If you're lucky you'll see curious animal behaviors here, including the resident dolphins' rushing of schooling bait fish onto the beach for easier hunting.
SURF CULTURE
Legendary surfer Kelly Slater spent his formative years shredding the shore breaks of Cocoa Beach. The surf-obsessed town pays tribute to the 11-time world champion in the form of the huge bronze statue of Slater that greets you as you arrive downtown. If you're feeling inspired, the town's relatively gentle waves are an appealing place to learn to surf. Ron Jon Surf Shop, which sells bikinis, boards and everything in between, offers lessons at its surf school. But there are plenty of smaller schools in town, including Ohana Surf & Art Camp.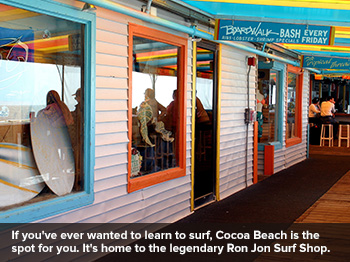 At the Juice N Java Cafe you can browse among ocean-inspired artwork by Cocoa Beach painter Rick Piper. Pop around the corner into Allen White's surfboard-shaping studio, Foam Shapers, to order a custom board of your own (from $485) or just admire his detailed airbrushing effects. Then hit Mar Chiquita Swimwear, a few doors away, for designer Rebecca Guy's mix-and-match bikinis.
FISH OUT OF WATER
You can work up an appetite at Jetty Park. Stroll on the 1,200-foot pier to spot baby sea turtles; then head to nearby Port Canaveral for a seafood feast within sight of the working fishing port. The welcome center, Exploration Tower, offers a bird's-eye view from its seventh-floor observation deck. Shrimp boats line the port's western end, and charter operations, like Ocean Obsession, make regular offshore runs during the winter (prime fishing season) to hook mutton snapper and yellowtail. Bring your catch to be cooked up at the east end's Grills, a popular restaurant and tiki bar with waterfront tables. Or walk down the road to Smokehouse Foods, where specialties such as mahimahi and alligator are cooked over baywood.
A throwback Florida dining experience awaits on your return to downtown Cocoa Beach, at Pompano Grill. Open Tuesday through Saturday in winter for dinner only, the wood-paneled restaurant has been here for 15 years and is known for its tasty coconut shrimp and snapper. From here it's a quick walk to the ocean, where you can end the evening with cocktails and live music at Coconuts on the Beach.
COCOA VILLAGE
It's worth a short detour inland (roughly 8 miles) for a stroll along the brick streets of historic downtown Cocoa Village, home to a mix of worldly restaurants and shops. Ossorio Bakery & Cafe serves up hand-rolled French pastries and crusty pizzas from a wood-fired oven. You can sample Greek, South African and Tuscan olive oils in the tasting room at From Olives & Grapes. The owner of the boutique CocoVee is an international-flight attendant who shops for pearls during layovers in Asia and employs jewelers back in Florida to craft macramé-cord and coin-pearl necklaces. And at Warehouse 216, beachy sundresses and accessories (note the hair clips with little starfish) jibe perfectly with the come-as-you-are, fun-loving identity of Cocoa Beach itself.
NOTE: Information may have changed since publication. Please confirm key details before planning your trip.