For museum-lovers on a budget, no U.S. city has the pull of Washington, D.C., where the National Mall alone is lined with nine must-hits within the Smithsonian Institution's vast collection of free cultural wonderlands, which includes 19 museums, galleries, gardens, and even the National Zoo.
Knowing where to start when it comes to tackling treasures that include everything from dinosaur bones to African American history artifacts to a lunar landing module can be tricky — especially if you're only in town for a short stay.
"You can't visit all the museums in one day, even if you don't leave the mall," said Smithsonian Institution spokesperson, Linda St. Thomas. She recommends spending some time on the official website before your trip to decide which Smithsonian museums appeal to you the most and create a plan from there.
"It's best to pick an area of interest and narrow things down from there," St. Thomas said. "And remember, you have to walk from one museum to another (on the mall), so think about the age and stamina of your group, too."
We've taken some of the guesswork out of the way by breaking down a few places to start.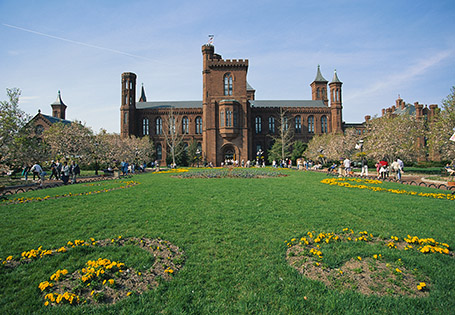 Best Smithsonian Museums For Families With Kids
The world's most popular natural history museum, the National Museum of Natural History is always a great place to get your kids hooked on the genre. From the moment you enter the grand rotunda and spot Henry — an 11-ton African elephant on display here since 1959 — it's one wow moment after another. As you make your way through the exhibition halls, you'll spot things like a life-size model of a North Atlantic right whale, the fossilized jaws of a megalodon, and other wonders.
Kids also find lots to love at the National Air and Space Museum, which is currently undergoing renovations and only has about half of its exhibits open, but is still the place to see the lunar landing module, rockets, and other out-of-this-world displays.
Best Smithsonian Museums For History Buffs
From Colonial times to the present day, U.S. history and the country's contemporary experience come to life at the National Museum of American History. This is the place to see the see iconic cultural and historical artifacts that range from the original Star-Spangled Banner that inspired Francis Scott Key's anthem, a wool uniform made for George Washington in 1789, and Dorothy's sequined ruby slippers from The Wizard of Oz. The country's African American history figures big, too, and it's impossible not to be moved when viewing the Greensboro Lunch Counter, where four African American college students sat to eat in 1960 at a "whites-only" counter and didn't leave when they were asked to.
The National Museum of African American History & Culture dives deeper into the African American experience, covering everything from slavery to hip hop through moving exhibits and artifacts, which include a straw hat owned by Rosa Parks, glass beads colonialists used to trade with African leaders for human slaves, and a training plane used by the Tuskegee Airmen during World War II.
To dive into the history and culture of the western hemisphere's native people, visit the fascinating National Museum of the American Indian. Inside the striking curvilinear building, exhibitions designed together with native communities include one of the most comprehensive collections of Native American arts and artifacts in the world pulled from more than 1,200 indigenous cultures, with Nazca and Pacific Eskimo treasures among the many fascinating pieces displayed. 
Best Smithsonian Museums For Art Lovers
Art fans can get lost for weeks within the galleries and museums that house the Smithsonian's incredible collections. There are contemporary art and outdoor sculptures by the likes of Auguste Rodin and Jeff Koons at the Hirshorn Museum and Sculpture Garden. Marvel at the vast collection of American art housed in the Smithsonian American Art Museum, inside one of D.C.'s oldest public buildings, where you can see works by Winslow Homer and Georgia O'Keefe. The National Museum of African Art  has traditional and contemporary works from the entire African continent that span masks, baskets, beaded jewelry, paintings, and beyond. And for one of the country's premier collections of Asian art, don't miss the Freer Gallery of Art to marvel over Islamic calligraphy, Japanese lacquer, Korean ceramics, and much more.