Its jagged, rocky coastline jutting into the Rhode Island Sound 30 miles south of Providence, this little city is one of the United States' oldest society resorts. Today, for almost every Colonial landmark (or saltwater taffy store) in the historic district you'll also find a stylish boutique, an inventive cocktail bar or a restaurant where a young chef is putting a fresh spin on local fare. In the spring, Newport's famed Cliff Walk comes into bloom with sun-hued daffodils and purple crocuses, and the summer crowds have yet to arrive.
EMBARRASSMENT OF RICHES
Some of the best-preserved Colonial architecture can be found downtown. Newport History Tours will walk you back in time, though you should also swing by the district's newer, sportier institutions—like the International Tennis Hall of Fame. Its museum recently reopened after a $3 million renovation and now houses everything from the Williams sisters' most controversial costumes to a holographic Roger Federer. Next door the Audrain Automobile Museum recently launched with more than 150 rare vehicles, from prewar hot rods to the latest supercars.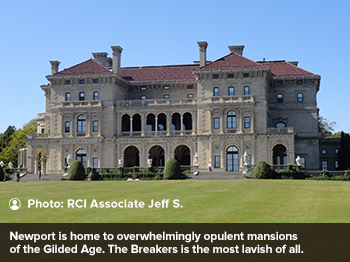 Meanwhile, you can't go near Newport and not see the mansions, or "summer cottages," built for wealthy industrialists and tycoons during the Gilded Age. Comprising 70 Italian Renaissance–style rooms, The Breakers is the largest and most iconic (it originally belonged to the Vanderbilts), but leave time for lesser-known gems, such as the former Brayton family estate, in Portsmouth, whose whimsical Green Animals Topiary Garden is well worth the 30-minute drive. Farther north, in Bristol, the 70-acre Blithewold manor comes alive during its spring Daffodil Days with outdoor afternoon teas and sunset garden parties. And back in town, don't miss Rough Point. Tobacco heiress Doris Duke filled the house with artifacts from her travels and was known to dive into the ocean from its Frederick Law Olmsted–designed promontory, where she kept two pet camels (hence the topiaries in their likenesses).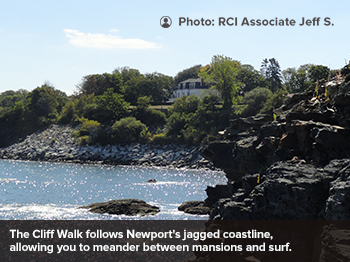 From here venture out to the three-and-a-half-mile Cliff Walk, which follows Newport's craggy southeast shore between the mansions and the frothy surf. Or head west on Ocean Drive, the 10-mile scenic route hugging the southern tip of the city, to Fort Adams State Park. It's home to the country's biggest coastal fortification as well as the Bay Walk, a two-and-a-half-mile loop with stunning views of Newport Harbor and Narragansett Bay. Afterward relax in an Adirondack chair on the lawn of the nearby Castle Hill Inn, and catch the sunset with a cocktail in hand.
SEASIDE BITES
They're cooking up more than New England clam chowder in Newport these days. At Tallulah on Thames, an early-20th-century residence turned upscale bistro, Texas-born chef Jake Rojas sources ingredients from Rhode Island farmers and fishermen to prepare imaginative dishes, like grilled endive with sunflower chimichurri and coriander-crusted swordfish.
A few blocks down, the aptly named Revolving Door hosts ever-rotating chef residences, while barman Jason Kindness mixes consistently creative cocktails (say, the barrel-aged Nelson's Folly, made of vermouth, black Cavendish tobacco and Newport's own Thomas Tew rum). And up the street Midtown Oyster Bar serves everything from an octopus Bolognese with black tagliatelle to a signature sherry-cream oyster stew in a three-level space with dark-wood-paneled booths, two outdoor decks and one of the city's largest raw bars.
In a former Prohibition-era speakeasy on Marlborough Street, you'll find Mission, a rustic-hip burger joint that sources beef and craft beers from New England; hand-cut fries, house-made hot dogs and from-scratch falafel are also on the menu. It's one of several stops on the recently launched Newport Food Tours, whose founders—Mehdi Mechtaly and Marie Larsen, husband and wife—lead two-hour culinary crawls around the "hidden" Broadway area. You'll eat with local chefs along the way and sip wine from Newport Vineyards.
For a taste of old Newport (note: There is a dress code), go for a drink around the corner at the White Horse Tavern. It has low wood-beamed ceilings and deep fireplaces, and it's the nation's oldest tavern, dating from 1673. Another spot to hit is The Chanler at Cliff Walk—the first mansion along the footpath and its northernmost point, now an antiques-filled hotel—for a Spiced Pear martini at the bar, which hosts live jazz on Friday nights. You can also have your cocktail beside the outdoor fire pit while peering out over the Atlantic.
SHOP TILL YOU DROP
More than 70 dealers sell everything from antiques and collectibles to estate jewelry and fine art at the Armory Antique Marketplace. This 6,000-square-foot former military armory, on Thames Street, is a good place to start a day of shopping. If you're after antique birdbaths, vintage planters, garden tools and outdoor objets d'art, Cottage & Garden is a must, and for home furnishings ranging from the 18th century to the present day, try Trésor Fine Consignment, which gets its treasures straight from local estates. Occupying a 1776 building on Spring Street, Royal Male offers country-chic men's and women's clothing from the UK (Barbour, Belstaff). There's also Maison DNA, where you'll find vintage dresses and the store's own label, made from "upcycled" secondhand clothing; the shop doubles as a gallery for young local artists and hosts an open-mike night on Tuesday. Meanwhile, on Thames Street, Antiques Roadshow appraiser Shana Gaines sells mid-century and contemporary dresses and accessories at Vintage to Vogue.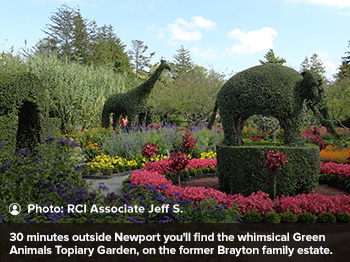 THE DETAILS
Audrain Automobile Museum: 222 Bellevue Ave.; 401-856-4420; audrainautomuseum.org
Blithewold: 101 Ferry Rd., Bristol; 401-253-2707; blithewold.org
The Breakers: 44 Ochre Point Ave.; 401-847-1000; newportmansions.org
Fort Adams State Park: 84 Fort Adams Dr.; 401-841-0707; fortadams.org
Green Animals Topiary Garden: 380 Corey's Lane, Portsmouth; 401-847-1000; newportmansions.org
International Tennis Hall of Fame: 194 Bellevue Ave.; 401-849-3990; tennisfame.com
Newport History Tours: 127 Thames St.; 401-841-8770; newporthistorytours.org
Rough Poin: 680 Bellevue Ave.; 401-847-8344; newportrestoration.org
Midtown Oyster Bar: 345 Thames St.; 401-619-4100; midtownoyster.com
Mission: 29 Marlborough St.; 401-619-5560; missionnpt.com
Newport Food Tours: 401-662-1795; nptfoodtours.com
Revolving Door: 509 Thames St.; 401-846-0400; revolvingdoorri.com
Tallulah on Thames: 464 Thames St.; 401-849-2433; tallulahonthames.com
Thames Street Kitchen: 677 Thames St.; 401-846-9100; thamesstreetkitchen.com
Castle Hill Inn: 590 Ocean Ave.; 888-466-1355; castlehillinn.com
The Chanler at Cliff Walk: 117 Memorial Blvd.; 401-847-1300; thechanler.com
Newport Vineyards Eastgate: 909 E. Main Rd., Middletown; 401-848-5161; newportvineyards.com
White Horse Tavern: 26 Marlborough St.; 401-849-3600; whitehorsenewport.com
SHOP Armory Antique Marketplace: 365 Thames St.; 401-848-2398; armoryantiquesnewport.com
Cottage & Garden: 9 Bridge St.; 401-848-8477; cottageandgardennewport.com
Farmaesthetics: 144 Bellevue Ave.; 401-619-4199; farmaesthetics.com
Isoude: 118 John St.; 401-619-5775; isoude.com
Maison DNA: 64 Spring St.; maisondna.com
Marc Allen Fine Clothiers: 142 Bellevue Ave.; 401-619-5750; marcalleninc.com
Miniature Occasions and Dolls: 57 Bellevue Ave.; 401-849-5440; miniatureoccasions.com
Newport Aromatherapy: 109 Bellevue Ave.; 401-846-1101; newportaromatherapy.com
Royal Male: 104 Spring St.; 401-846-8465; royalmale.com
Trésor Fine Consignment: 134 Spring St.; 401-835-5622; tresorestatesales.com
Vintage to Vogue: 489 Thames St.; 401-855-2443; vintagenewportri.com
NOTE: Information may have changed since publication. Please confirm key details before planning your trip.