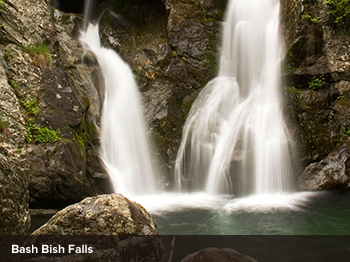 Leaves are not the only autumn attraction in the Berkshires, of course. Hiking trails and highways follow routes first walked by Native Americans. Towns look, not coincidentally, as if they were the settings for paintings by Norman Rockwell. And travelers find sustenance at the tables of some of the most elegant country inns in America. Yet trumping all the man-made entertainments is the beauty of the landscape, a rolling terrain of wooded hills and valleys ablaze with vivid shades of yellow, orange, red and brown.
Regular visitors to the Berkshires, which are only a few hours' drive from either Boston or New York City, will already have their favorite highways and backroads. But for first-timers we've mapped out 4 routes that show off many of the area's natural attractions. We've also picked out a few things to do after you've had your fill of leaves.
Peak color is hard to forecast, although any number of websites, including the Weather Channel's weather.com, will try. The brightest hues usually appear in early October—which explains why resident Herman Melville, of whale fame, named one elevation October Mountain.
Drive 1: Distance 47 miles
Route from Great Barrington: 4 mi. on Rte. 41 S to Mt. Washington Rd., on right, just past split with Rte. 23. Follow signs 10 mi. to trailhead at Bash Bish Falls. From Bash Bish Falls, Rte. 344 2 mi. west to Rte. 22 N, in Copake Falls, NY; 18 mi. to Rte. 102 E; 3 mi. on Rte. 102 E to Rte. 41 S; 10 mi. to Great Barrington
Bash Bish Falls, in the extreme southwest corner of Massachusetts, is the state's highest waterfall, and the walk to it is a leaf-carpeted stroll. But the real point of this loop is to witness the contrast between Berkshires past and present. A hundred years ago, much of the forest here was farmland, which regenerated itself as farmers either went to work in the nearby factories (now themselves abandoned) or moved to the Midwest, which has more easily tilled soil. You can see how sharp the contrast is during the drive north on Route 22, in New York State, through open farm country, the Berkshires visible just to the east.
The most southerly of the principal Berkshires towns, Great Barrington is a good place to grab a bite before heading out. The wood-fired-oven pizza at Baba Louie's restaurant has a sourdough crust from the Berkshire Mountain Bakery (see drive 4). Or you can assemble a picnic at Guido's Fresh Marketplace, a Berkshires institution.
Drive 2: Distance 40 miles
Route From Williamstown, Rte. 2 E 5 mi. At Rte. 8 S, turn right almost immediately onto Mt. Greylock Scenic Byway: follow it 18 mi. Rte. 7 N 17 mi. to Williamstown. Alternatively, Rte. 7 S 11 mi. to Lenox
Begin and end in Williamstown, home of Williams College, one of the nation's best undergraduate schools and certainly one of the prettiest on a fall day. Round out your cultural quotient at the Sterling & Francine Clark Art Institute (clarkart.edu), known for its outstanding collection of French impressionists, Old Masters and American artists. The Chef's Hat restaurant, also in Williamstown, serves lunch, but it's better for breakfast if you're craving turnip muffins.
The highlight of this route is the Mount Greylock Scenic Byway, whose hairpin turns will bring you to the highest point in Massachusetts, from which you can see five states and every gradation of fall color. Each Columbus Day, hundreds of hikers do the Mount Greylock Ramble (celebrateadams.com), a tough climb to the 3,491-foot summit (that's why most people drive). However you reach the top, treat yourself to the views and a meal at '30s-style Bascom Lodge.
Drive 3: Distance 47 miles
Route From North Adams, Rte. 2 (the Mohawk Trail) E 18 mi.; Rte. 8A S 10 mi.; Rte. 116 W 12 mi.; Rte. 8 N 7 mi. to North Adams
The Mohawk Trail is one of the busiest Berkshires routes, but the autumn panoramas, especially from the West Summit, make it worth the traffic. And here's a secret: The loop back, beginning with Route 8A, is equally pretty and little visited. Begin and end in North Adams, a left-for-dead factory town that is reviving itself through such efforts as the Massachusetts Museum of Contemporary Art (massmoca.org). MASS MoCA's 120,000 square feet of gallery space, in an old factory building, is almost as interesting as the art.
Near the end of the loop, stop in Adams for a walk on the Ashuwillticook Rail Trail, an old rail bed that's now a paved pedestrian and bike way. Stretch your legs as you scuff through the leaves, and your tongue as you practice pronouncing ash-oo-WILL-ti-cook. The trail starts at the Berkshire Visitors Bureau, on Hoosac Street. For a taste of the old North Adams, grab a dog at Jack's Hot Dog Stand, a family-owned hole-in-the-wall that goes back to 1917.
Drive 4: Distance 50 miles
Route From Lenox town center, Rte. 183 N to Rte. 7 S.; mi. to Rte. 20 E; 11 mi. to Rte. 8 S; 5.5 mi. to Rte. 23 W; 16 mi. to Rte. 7 N; 1 mi. to Rte. 183 N; 14 mi. to Lenox
This drive has a good mix of towns with historic houses, steepled churches and village greens. But a favorite section in the fall is Route 183 beside the Housatonic River, where the water reflects the leaves.
On 183, visit the Berkshire Mountain Bakery; it supplies loaves to gourmet restaurants throughout western Massachusetts and Connecticut. Buy some for yourself: hand-shaped, naturally leavened and fresh out of the oven. Farther along, visit the Norman Rockwell Museum (nrm.org), whose collection includes the artist's famous Saturday Evening Post covers.
You need a U-Haul full of money to stay at the elegant Wheatleigh, in Lenox, but if you treat yourself to lunch you'll need only a suitcaseful—and you'll be happy you spent it. More reasonable is Once Upon a Table, a delightful Stockbridge bistro that's seldom crowded.
Work off lunch with a climb at Monument Mountain (zip down Route 7, between Stockbridge and Great Barrington). When Herman Melville and Nathaniel Hawthorne did this 3-mile hike in 1850, they had time to hash out some plot points of what would become Moby-Dick. The views, as Melville discovered, are that inspiring.
NOTE: Information may have changed since publication. Please confirm key details before planning your trip.