Stroll through American history far from the Magic Kingdom's Liberty Square and spend leisurely days in Orlando's charming original neighborhoods, where vibrant new businesses greet you in decades-old downtowns. Expect brick-paved streets, leafy trees, and often a museum about local lore. Take a break from the tourist corridor on your next vacation and step into Old Florida in these five best Orlando neighborhoods. You'll get a whole new perspective on Central Florida, plus find plenty of fun things to do.
1. Winter Garden
Wander around the lively pedestrian-friendly heart of Winter Garden, long a hub for growing citrus and shipping the fruits elsewhere by rail. You'll find independently owned restaurants and boutiques operating out of red brick buildings that housed hardware, grocery, and other stores a century ago along Plant Street; others reside in brand new structures designed to look as if they've been around all along. A once-shuttered theater now puts on plays, and a craft brewery's patio serves as a community gathering spot. Let the kids frolic in the public spray park and pick up hand-crafted foods at the Saturday farmers market. For a history lesson, visit the tiny and free Railroad Museum.
2. Sanford
Head to East Second Street to experience sprawling Sanford's historic downtown. The city was an army post in the 1830s and incorporated in 1877. Today it's a destination for perusing art in unfussy galleries and tasting inventive foods in chef-run gastropubs. Sip craft beers at a variety of relaxed breweries. Take a ghost, historical, or food tour; charter a boat at the marina; or meander along the peaceful RiverWalk along the shore of Lake Monroe. If you visit via SunRail, hop on the free trolley to get to the heart of town.
3. College Park
Edgewater Drive in College Park is an eclectic area of new and vintage shopping options, along with global cuisines in never-fancy digs. The main drag intersects with streets named for colleges and universities such as Smith, Harvard, and Princeton. Since the citrus farms of the 1800s were sold off, simple bungalows and grand homes sprouted up along the now shaded residential streets. Beat generation author Jack Kerouac lived locally for a bit and his one-time residence is now a writers' residence. From the outside, the Publix supermarket looks unchanged since its 1950 debut.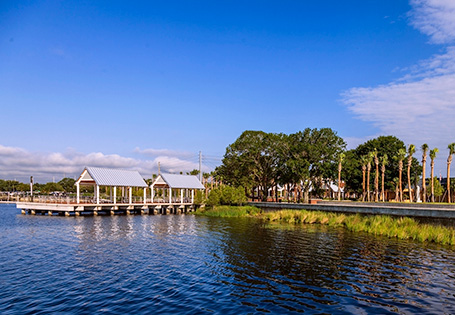 4. Thornton Park
With spacious Lake Eola Park along its western edge, Thornton Park, a center of Orlando's LGBTQ community, is a quirky, welcoming urban residential neighborhood where indie businesses dot the historic area around Washington Street, home to an iconic tile and stone fountain; contemporary condo buildings rule around the edges. One-of-a-kind eateries and salons are the draw, along with block after block of lovingly renovated older homes that sprung up in the late 1800s and early 1900s, many with homey wraparound patios.
5. Kissimmee
South of the theme parks, Kissimmee, pronounced kiss-IM-ee, has a deep cowboy past. You'll still see ranches when driving the back roads. In the city's heart around Broadway and Main Street, quirky sculptures add color and modern-day murals by local artists cover the exterior walls of buildings; those structures provided services to cattle ranchers dating from 1880s to the 1950s. Families run humble businesses inside, like antique and jewelry shops, which complement restaurants featuring American, Italian, and Latin American fare. Seek out Makinson Hardware, operating since 1884. Kissimmee Waterfront Park, pictured above, has kiddie areas and pier fishing on Lake Toho (really, Tohopekaliga).