It's time to get your passport ready and start checking off your travel bucket list. RCI offers thousands of international vacation destinations — from the beautiful beaches of Puerto Vallarta to the gilded temples of Thailand. But traveling abroad has more prep work to keep in mind. Follow these six packing tips on how to pack for your next global adventure.
Is this your first time traveling internationally? Check out the beginner's guide to traveling abroad for five essential travel tips.
1. Keep Essentials Close
There are a few things you should always keep on your person or in your carry-on bag when traveling internationally, including: your passport, driver's license/ID, prescriptions, valuable jewelry, credit cards, and any important electronics and chargers. Before bidding adieu to your checked luggage, make sure all the essentials are with you.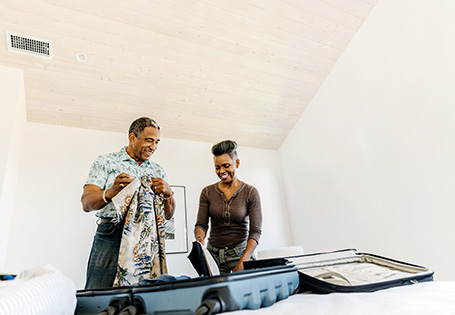 2. Try Packing Cubes
Smart travelers know the magic of packing cubes for keeping suitcase contents organized and compact — especially on international trips, where packing and unpacking between stops is par for the course. Plus, take a look at the five best travel suitcases.
3. Wash On The Go
You might need to do some laundry when traveling internationally, particularly if you're packing everything in a carry-on suitcase. A sink stopper turns your hotel sink into an in-room washbasin fueled with packets of powdered detergent you can also bring along to keep clean anywhere.
4. Copy Important Documents
Before traveling abroad, print copies of important documents like your passport, health insurance, and travel insurance, and then leave them with a relative. Photograph all of these documents, too, then email them to yourself so they'll be handy for backup, should you need it.
5. Don't Forget Your PPE
Masks and face coverings are with us for the foreseeable future. Carry enough onboard to be able to change them out every four hours in-flight. Also pack hand sanitizer, cleaning wipes, disposable gloves, and anything else you might need. Get more tips on how to travel safely.
6. Bring A Universal Adapter
Avoid arriving in a foreign country with an empty phone battery and a charger that won't fit local plugs by traveling with a global adapter kit, sure to keep you connected everywhere from Cairo to Cancún. Bonus packing tip: Bring a portable battery pack too, which are allowed in carry-on bags.