If any one person can be held responsible for Palm Springs' transformation into a mid-century modern furniture mecca, it's Courtney Newman (pictured*). Newman turned his hobby of collecting vintage pieces at estate sales into a profession when he moved from Los Angeles, in 1999, to open Modern Way. At that time, shops catered mostly to the tourist set, carrying car T-shirts and bikinis. Today his store is in the heart of the Uptown Design District, a 5-block stretch of North Palm Canyon Drive that draws collectors from around the world. (Unless noted otherwise, all venues in this article are located along this street.) Newman incorporates pieces by big-name designers, such as Eero Saarinen's Womb Chair, but he also mixes in no-name pieces with complementary appeal, like a more affordable Danish chair and ottoman.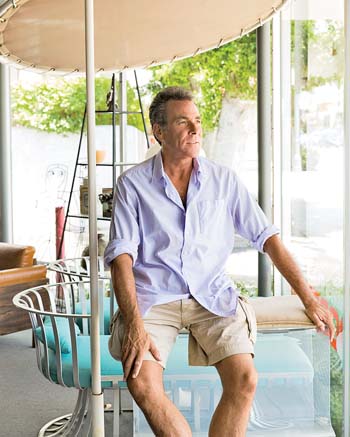 FORM AND FUNCTION
At Flow Modern Design, interior designer Brigitte Lehnert has a motto: "If we wouldn't want it in our own house, we don't carry it at the store." The shop does in fact feel like a well-appointed foyer in someone's home, complete with a mint-condition art-deco Paul Frankl cabinet and a Lucite dining table by Charles Hollis Jones. Flow also has a large selection of vintage jewelry, including stamped Valentino earrings and a Pierre Cardin gold-tone cuff.
Architecture buffs are well served at The Shops at 1345. E. Stewart Williams, whose first residential commission was for Frank Sinatra, designed the historic 1955 building. One of the stores, Towne, carries mid-century items, like a "space age" Vladimir Kagan chair, but you may also find a butler's chest from the 1800s.
Christopher Anthony Ltd. proprietors Tim Prendergast and Chris Mizeski employ their East Coast aesthetic when selecting top-condition American and European vintage furniture as well as contemporary sculptures and ceramics. You can splurge on a rare set of sabre-leg chairs and a dining table from British designer T. H. Robsjohn-Gibbings or accessorize with American artist Del Williams's metal-brazed wall hangings and tabletop objets.
Those who want the retro look without the vintage wear and tear should head to Mod Shop for custom-built furniture and accessories. Mix and match pieces from 15 collections that evoke classic architecture, 1960s whimsy or Old Hollywood glamour. Go bright with a tangerine Marrakech credenza or more subdued with a Neutra walnut-and-brushed-aluminum dining table; or simply grab a brightly patterned throw pillow or textured ceramic vase.
RETRO READY-TO-WEAR
Another pioneer of the Uptown Design District is Trina Turk, who opened her flagship clothing store here in 2002. The well-tailored flowing dresses and bright graphic patterns displayed in a 1960s Albert Frey building make it pretty easy to envision cocktails by the pool. Don't miss the recently added swimwear and home collections.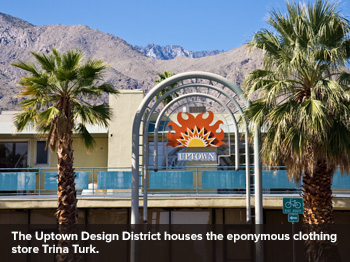 Browse among vintage sunglasses used on the set of the 2013 film American Hustle, handblown glassware and fitted Parke & Ronen designs for men at Mitchell's. This sleek jewel box of a store has fudge-colored walls and curved clothing racks.
Pick up a 1960s Hawaiian tiki jacket for him and a classic shift dress for her at Déjà Vu Vintage Finery. Gems often crop up, like Versace and Dior sport coats and iconic Gucci handbags.
BEADS AND BANGLES
Matt Burkholz wrote the book (literally) on Bakelite, the durable plastic used to produce colorful jewelry in the 1930s. His shop Route 66 West stocks thousands of pieces in all colors of the rainbow. Bangles start at $100—the geometric and reverse carved are the most prized, as well as the colors red and black. Burkholz also specializes in vintage celluloid and acrylic pieces as well as contemporary couture. One standout: the 1990s Christian Lacroix signature heart-shaped line.
At first blush Bram's looks like an ordinary antiques shop, but jewelry designer Connie Bramoweth's unique pieces are worth a look. Working with an artist in Vietnam who supplies her with buffalo horn and bone (while causing no harm to the animals), Bramoweth turns out amber-colored chain-link necklaces and white mod earrings with turquoise and lapis lazuli flourishes. Her latest project: pendants made from sterling silver Victorian-era buttons rimmed with 14-carat gold.
DESERT DINING
Don't be deterred by the line of people outside Cheeky's. It's worth waiting for the organic cheesy eggs and the "bacon flight" with five seasonings. Next door, sister restaurant Birba dishes up delicious pizza and pasta.
There may be a lobster frittata with sevruga caviar for $1,000 at Norma's, part of the Jonathan Adler-decorated Parker Palm Springs hotel, but the crispy Belgian waffle with berries and Devonshire cream hits the spot too.
The minimalist design over at Workshop Kitchen + Bar seems out of place in loud and proud Palm Springs, but it's a stunning backdrop for equally impressive dishes. Start with a specialty cocktail, add duck rillettes and a kale salad, and end with homemade rosemary-apricot sorbet.
You can't leave Palm Springs without channeling the Rat Pack at least once, so head to Bernie's Lounge and Supper Club for martinis poured table-side, a sizzling steak with chimichurri sauce and a man of a certain age crooning "Lady in Red" at the piano.
*Photo Credit: Jessica Sample
THE DETAILS
Modern Way: 745 N. Palm Canyon Dr.; 1.760.320.5455; psmodernway.com
Flow Modern Design: No. 768; 1.760.322.0768; flowmodern.com
The Shops at 1345: No. 1345; 1.760.464.0480)
Christopher Anthony Ltd: No. 800; 1.760.322.0600; christopheranthonyltd.com
Mod Shop: No. 1068; 1.760.322.8919; modshop1.com
Trina Turk: No. 891, 1.760.416.2856; trinaturk.com
Mitchell's: 106 S. Indian Canyon Dr.; 1.760.864.1515
Déjà Vu Vintage Finery: No. 664; 1.760.699.5365; dejavuroom.com
Route 66 West: No. 465; 1.760.322.6669; route66west.com
Bram's: No. 461; 1.760.416.2667
Cheeky's: No. 622; 1.760.327.7595; cheekysps.com
Birba: No. 622; 1.760.327.5678; combirbaps.com
Norma's: 4200 E. Palm Canyon Dr.; 1.760.321.4630
Workshop Kitchen + Bar: No. 800; 1.760.459.3451; workshoppalmsprings.com
Bernie's Lounge and Supper Club: 292 E. Palm Canyon Dr.; 1.760.537.7082; berniespalmsprings.com
NOTE: Information may have changed since publication. Please confirm key details before planning your trip.