Dreaming about traveling the world — or even just beyond your city or state borders? You're not alone. According to a 2020 survey by Destination Analysts, 63 percent of Americans agree that they desperately need a vacation. The solution? Give in to your wanderlust by celebrating National Plan Your Vacation Day on January 26!
With the coronavirus vaccine rolling out and travel beginning to open back up, use this time to plan your next vacation. Not sure where to start? Follow these five pro travel tips.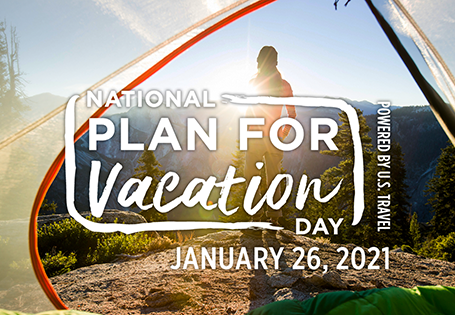 1. Get Inspired
If your travel motto is "anywhere but here," you might need some inspiration on where, specifically, you want to visit. Start gathering ideas to inspire your future getaway by asking friends and family about their favorite destinations. Don't forget to tap the global destination collection of RCI to help plan your vacation. As a member, you get access to more than 4,200 RCI-affiliated resorts worldwide.
2. Consider Travel Factors
Once you've nailed down the destination, you need to consider other key factors as you plan your vacation. How long will your trip be? When will you be traveling? What will the weather be like at your time of travel? Who will accompany you? What activities will you want to do? Will you need a passport or proof of COVID-19 vaccination? Will you be flying to your destination or travelling by car? All these elements play into the trip planning process.
3. Research Costs
Knowing your budget serves as a good starting point for determining the details of your trip. It also helps you prioritize what's most important on your vacation. If you want to splurge on more luxurious accommodations with plenty of amenities, then maybe you'll need to cut back on fine dining and expensive tours. Or maybe your trip will focus on extensive sightseeing and you won't be spending much time at your resort, so you'll opt for moderately priced accommodations. Factor in all primary vacation costs including accommodations, transportation, dining, and activities.
4. Book Your Trip
In general, the further in advance you book your accommodations, flights, and activities, the better — especially if you'll be traveling during peak season. Not only can you often save money, but you can also ensure you get the vacation you want, whether that's securing your first-choice resort or guaranteeing a window seat on your flight. Look for deals as you make reservations and buy tickets. You might find discounts at a certain time of year, such as the slower "shoulder season" in the fall. Or you might find value in purchasing city passes for discounts into local museums, attractions, and cultural venues.
5. Map Out Your Itinerary
Instead of over-engineering your vacation, plan one big activity each day. This allows you time to enjoy the magical moments of your trip rather than feel overwhelmed by the whir of activities. Rather than stick to a schedule, embrace flexibility in your plans and leave a buffer for the unexpected, including time for spontaneous exploration.
Remember, part of the enjoyment of travel goes beyond the trip itself. The joy of travel actually begins with planning and anticipating your next adventure.
NOTE: Information may have changed since publication. Please confirm key details before planning your trip.