For a vacation that checks all the tropical-island boxes—boat drinks, golden beaches and sky-splitting sunsets to the beat of a steel-drum band—Montego Bay has long been the Caribbean go-to. But Jamaica's second-largest city (and the island's tourism capital) promises much more to visitors who venture beyond the gates of their resorts and dive deeper into the island's colorful culture. Sure, you can still follow the masses to Margaritaville, on Gloucester Avenue (a.k.a. the Hip Strip), for the requisite Cheeseburger in Paradise, or jockey with the tourist herds at Dunn's River Falls for an unobstructed view. But for MoBay's real riches, try charting your own course.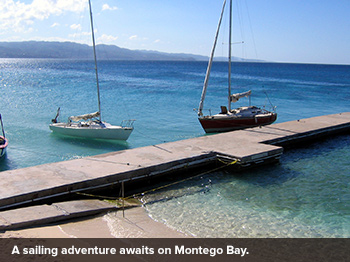 BEACHES AND REEFS
As your flight dips down toward Jamaica's north coast on its approach to Sangster International Airport, reefs streaked turquoise and sapphire spring into view, followed by myriad catamarans packed with what looks like more tourists than fish.
For a snorkeling and sailing adventure that gives you some breathing room, you can head out with Carolyn Barrett and captain Loxley Woolery of Barrett Adventures on the Lark, a 40-foot Jeanneau sailboat available for half- or full-day charter cruises from Montego Bay for as many as 15 people.
"We go where the wind takes us," says Barrett, a native New Yorker who has called Jamaica home for decades. Would-be sailors can man the Lark's helm during offshore excursions and learn to hoist the sails. Then, closer to land, they can don snorkels to explore the Montego Bay Marine Park among trumpetfish, sergeant majors and spotted eagle rays. In addition to sailing excursions, Barrett Adventures offers many tours around Montego Bay that include deep-sea fishing for marlin and mahimahi, lobster picnics on hidden beaches and trips to little-visited waterfalls.
You're not on island time until you've spent time lounging on the sand. And Doctor's Cave Beach, right on the Hip Strip in Montego Bay, offers gin-clear waters. Cool off in the shade at Sand Restaurant & Bar, right on the beach, while sipping a frozen Bob Marley cocktail, a Rasta-hued mix of rum, strawberry, mango and blue curaçao. And just down the road where Gloucester Avenue ends, at the aptly named Dead End Beach, there's no entry fee to reach a small sweep of sand where local families and friends gather for a refreshing saltwater dip as soon as the sun rises.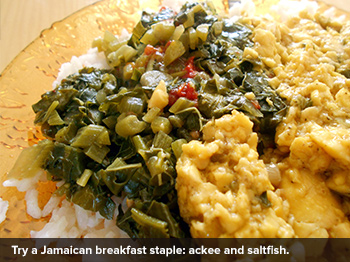 JAMAICAN FLAVORS
"Our tours are a different kettle of fish," says Alrick Allen, the owner of Your Jamaican Tour Guide, of his tasting jaunts. Allen brings guests to hidden spots around Montego Bay for a crash course in Jamaica's authentic flavors that go well beyond jerk. "We're trying to explore the real Jamaica—cow's head, cow's feet, chitlins. That's what we grew up with," says the north-coast native, who worked at a hotel in Naples, Florida, before returning to his native island to open his tour company. "I try to show people the real vibes, but a lot of times we just end up having some fries," Allen says, laughing.
Opt for a morning tour for the chance to stop at a fishermen's beach where locals clean colorful piles of grunts and parrotfish and you can watch as free divers hoist baskets of king and queen crabs ashore. You'll stop at restaurants with no websites or credit-card machines for a taste of dishes such as oxtail stew and whole snapper in brown sauce (a savory Jamaican stew) before heading on to roadside fruit stands for fresh mangoes and custard apple and visiting a favorite Montego Bay bakery for patties and pastries.
For an authentic Jamaican dinner on your own time, snag a table at the Pelican Grill, a family-run restaurant that's been in business since 1964. You'll find specialties, like ackee and saltfish (a Jamaican breakfast staple) and goat curry (there are milkshakes and burgers, too, if you need a break from the exotic).
SOFT ADVENTURES, SERIOUS FUN
During Horseback Ride 'n' Swim outings with Chukka Caribbean Adventures, you'll wade on horseback through the waters of Sandy Bay, just west of Montego Bay. On the surrounding hillsides, guides will pluck guavas straight from the trees for you to taste, make quips about Jamaican reindeer (goats foraging in the brush along the trail) and talk about the ruins of the sugar plantation that once operated here.
For more fun in the north-coast landscape, venture inland into the low mountains of Trelawny Parish, 40 minutes east of Montego Bay, to Chukka's main adventure base, on the grounds of the historic Good Hope Estate. Here on some 2,000 lush acres of jungle hugging the Martha Brae River, a range of adventure activities is on offer.
There's a zip-line canopy course with four lines strung through the bamboo. And nearly everyone loves slipping into an inner tube for a float down the irrigation canals of the former sugar plantation and into the Martha Brae. If you plan to spend the day here, Chukka's Ultimate Thrill Seekers pass includes rum tasting, horse and carriage rides around the Good Hope property and ATV tours, too. Don't miss a visit to the estate's 9,000-square-foot aviary, housed in the ruins of a former slave hospital, where you can hand-feed lorikeets and stroll freely among frill-necked pigeons that sound just like pots of brewing coffee.
AFTER-DARK DELIGHTS
The birthplace of reggae and dance-hall music, Jamaica is known for its riotous nightlife. And clubs along the Hip Strip thump with bass beats until the wee hours most nights. But for a different kind of excitement, make your way 20 minutes east of Montego Bay to Rose Hall Great House for candlelit night tours. Costumed characters spring from the shadows when you least expect it to bring to life the legend of the White Witch, a.k.a. Annie Palmer, who allegedly was responsible for the murders of her three husbands here, as well as those of a string of unfortunate lovers that followed. But the real thrill is the chance to see the 18th-century great house's restored rooms and original furnishings, including an eerie oil portrait, reported to have been owned by Annie, whose eyes appear to follow you.
Properly unnerved, carry on another 25 minutes to Glistening Waters Restaurant & Marina, where you can settle in for Caribbean spiny lobster or curried conch before boarding a small wooden boat docked out front for one of the best after-dark experiences in all of the Caribbean. It's a 5-minute cruise from the marina to a lagoon near the mouth of the Martha Brae River, where the confluence of nutrient-rich warm waters causes the sea to light up with the glow of bioluminescence. The boat's wake turns into a watery Milky Way behind you, and spooked fish leave rocketlike trails as they cut through the sea. It's nothing short of brilliant—and a sight most visitors to MoBay blink and miss.
THE DETAILS
Barrett Adventures Montego Bay: 011-876-382-6384; barrettadventures.com
Chukka Caribbean Adventures: Good Hope Estate, Trelawny Parish; 877-424-8552; chukka.com
Doctor's Cave Beach: Gloucester Ave., Montego Bay; 011-876-952-2566; doctorscavebathingclub.com
Glistening Waters Restaurant & Marina: Falmouth; 888-991-9901; glisteningwaters.com
Rose Hall Estate: St. James; 888-767-3425; rosehall.com
Your Jamaican Tour Guide: Montego Bay; 011-876-377-7634; yourjamaicantourguide.com
Pelican Grill: Gloucester Ave., Montego Bay; 011-876-952-3171; pelicangrillja.com
Glistening Waters Restaurant & Marina: Falmouth; 888-991-9901; glisteningwaters.com
Sand Restaurant & Bar: Gloucester Ave., Montego Bay; 011-876-631-4952
NOTE: Information may have changed since publication. Please confirm key details before planning your trip.