The Florida Keys are steeped in legends of sunken treasure and fountains of youth. The 112-mile archipelago boomerangs from the Florida coast into the Gulf of Mexico, and only about 30 of the nearly 800 islands are inhabited. The mainland has its own draws: The Everglades, spanning 2,400 square miles, are home to crocodiles, manatees and panthers. Whether you're after a slice of Key lime pie, a snorkel with stingrays or a nighttime airboat ride, you'll find it here. We've mapped out 3 great weekend drives from the resort town of Weston.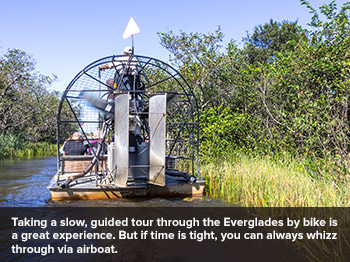 Weston to Key Biscayne
Drive: 40 miles
If you can get on the road early, you may catch the sunrise as you drive through Virginia Key on your way to Key Biscayne. On the island, locals like to hit the patio at Oasis Café for a breakfast of arepas filled with cheese and corn and a café con leche. When you make your way south down the main road, Crandon Boulevard, you'll dead-end at Bill Baggs Cape Florida State Park, on whose shore a 19th-century lighthouse sits. Tours take you up the 109 iron steps for a 360-degree view. Back in town, a fresh-veggie juice at 100% Natural will help you fuel up for a kayak tour around the island's northern tip. The guides at Key Biscayne Kayak Adventure meet you in the parking lot of the Crandon Park Visitor's Center to outfit you with gear. Along the 2-mile journey you may see nurse sharks, starfish and moon jellies as you wind through mangrove forests.
Renting a bike from Mangrove Cycles is another way to take in the four-mile-long island. Just up the road you'll find KeBo Spanish Deli, a tapas restaurant; the owners age Ibérico ham in-house. After lunch pedal down to the beach near the lighthouse for a sunny siesta or an afternoon swim. Return your bike before having dinner at Cantina Beach, an oceanfront Mexican restaurant on the grounds of the Ritz-Carlton resort.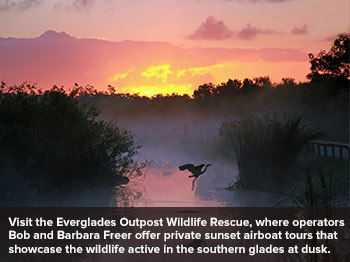 Weston to the Everglades
Drive: 50 miles
Whizzing through Everglades National Park on an airboat  can be exciting, but at a slower pace a richer experience is possible. At the Shark Valley Visitor Center you can rent bicycles to navigate the park's 15-mile loop, or take a 2-hour guided tram tour instead. Stroll down Bobcat Boardwalk, a wooden platform that juts over saw-grass prairie, for a closer look at gators.
If you head south out of the park on Route 997, you'll find Robert Is Here. It began as a roadside produce stand in 1959 but has grown to offer things like tropical milkshakes, as well as kid-friendly activities (a petting zoo with a turtle farm and a splash zone). Another resident oddity, Coral Castle, is just up the road. A man named Ed carved every piece of coral rock on the property—around 1,100 tons—over nearly 30 years, as a tribute to his lost love. On the other side of Robert Is Here, Bob and Barbara Freer operate the Everglades Outpost Wildlife Rescue center, rehabilitating injured animals. They offer private airboat tours, departing at sunset, which showcase the wildlife active in the southern Glades at dusk . Before you retire for the evening, consider a detour through South Miami for a Portuguese-inspired feast at Old Lisbon.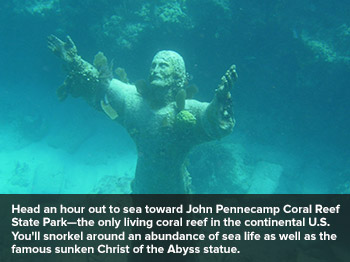 Weston to Key Largo
Drive: 80 miles
Time seems to pass slower in the Keys, and perhaps nowhere more than on Key Largo . The island is a kind of time capsule. Harriette's Restaurant is a mom-and-pop-style diner that serves breakfast and lunch and hasn't changed much since it opened, 30 years ago. If you'd like to indulge your sweet tooth, stop by Key Largo Chocolates for one of Kristie Thomas's Key lime truffles. Down the road you'll find the African Queen (the original boat from the 1951 Humphrey Bogart movie of the same name). Built in 1912, the steam-engine-powered vessel is now restored and seaworthy and cruises the Port Largo canals. Docked next door is Keys Diver, which offers an afternoon tour to John Pennekamp Coral Reef State Park  and Florida Keys National Marine Sanctuary, the only living coral reef in the continental United States. After checking in for your snorkeling adventure, you can grab a lobster BLT to go from the window at Key Largo Fisheries. The Keys Diver boat will cruise about an hour out to sea before making its first stop, at the Grecian Rocks. The sea life along the reef is otherworldly: You may see (and hear!) giant parrot fish nibbling on rocks as you snorkel among eagle rays and swim past Christ of the Abyss , a sunken statue of Jesus covered in fire coral.
Back on land the aquatic theme continues at Mother Ocean Marine Consignment Shop, filled with nautical curiosities. A relaxing way to wind down after a day at sea is to walk through the Botanic Gardens at Kona Kai Resort. Botanist Emily Magnaghi offers guided tours of the garden's 250 species of plants and their uses. A stop at Key Largo wouldn't be complete without a slice of Key lime pie from Mrs. Mac's Kitchen. And one of the best ways to end the day is watching the sunset from a bayside table at Sundowners with a plate of cracked conch. Save room for the hickory-grilled mahimahi and pineapple bread if you can; they alone are worth the trip.
THE DETAILS
Key Largo Chocolates: 100470 Overseas Hwy.; 1.305.453.6613; keylargochocolates.com
Mother Ocean Marine Consignment Shop: 98990 Overseas Hwy., Key Largo; 1.954.600.7731
Key Biscayne Kayak Adventure: 6767 Crandon Blvd., Key Biscayne; 1.305.365.3018; miamidade.gov
Keys Diver: 99696 Overseas Hwy., Key Largo; 1.305.451.1177; keysdiver.com
Mangrove Cycles: 260 Crandon Blvd., Key Biscayne; 1.305.361.5555; mangrovecycles.com
100% Natural: 180 Crandon Blvd., Key Biscayne; 1.305.365.0455
Cantina Beach: 455 Grand Bay Dr., Key Biscayne; 1.305.365.4500; ritzcarlton.com
Harriette's Restaurant: 95710 Overseas Hwy., Key Largo; 1.305.852.8689
KeBo Spanish Deli: Crandon Blvd., Key Colony Plaza, Key Biscayne; 1.305.365.1244; kebospanishdeli.com
Key Largo Fisheries: 1313 Ocean Bay Dr., Key Largo; 1.305.451.3784; keylargofisheries.com
Mrs. Mac's Kitchen: 99336 Overseas Hwy., Key Largo; 1.305.451.3722; mrsmacskitchen.com
Oasis Café: 19 Harbor Dr., Key Biscayne; 1.305.361.9009
Old Lisbon: 5837 Sunset Dr., South Miami; 1.305.662.7435; oldlisbon.com
Sundowners: 103900 Overseas Hwy., Key Largo; 1.305.451.4502; sundownerskeylargo.com
African Queen: 99701 Overseas Hwy., Key Largo; 1.305.451.8080; africanqueenflkeys.com
Bill Baggs Cape Florida State Park: 1200 S. Crandon Blvd., Key Biscayne; 1.305.361.5811; floridastateparks.org
Botanic Gardens at Kona Kai Resort: 97802 Overseas Hwy., Key Largo; 1.305.852.7200
Coral Castle: 28655 S. Dixie Hwy., Homestead; 305.248.6345; coralcastle.com
Everglades Outpost Wildlife Rescue: 35601 S.W. 192nd Ave., Homestead; 1.305.247.8000; evergladesoutpost.org
John Pennekamp Coral Reef State Park: 102601 Overseas Hwy., Key Largo; 1.305.451.6300; pennekamppark.com
Robert Is Here: 19200 S.W. 344th St., Homestead; 1.305.246.1592; robertishere.com
Shark Valley, Everglades National Park: 1.305.221.8455; nps.gov
NOTE: Information may have changed since publication. Please confirm key details before planning your trip.