The charm of small-town America lures travelers young and old, and there's no better place to see it on full display than the town's "main street." Dotted with historic buildings, stunning architecture, artisan shops, eclectic businesses, and family-owned restaurants, these well-preserved (or revitalized) downtowns showcase the best of local communities. Many downtown areas also feature community parks, fountains, and benches — inviting you to stay and play. Discover four of the best small town vacation spots and their beloved main streets.
1. Main Street In Park City, Utah
Nestled between two major ski resorts, this former silver mining town draws winter sports enthusiasts — but its bustling, nine-block Main Street deserves a spot on any Park City itinerary. Flanked by eateries, ski boutiques, bookstores, galleries, and specialty shops, this historic main street offers sightseeing, wining, dining, and shopping. Whether you're looking for rooftop dining or patio beer tasting, you'll discover more than 100 bars, restaurants, local distilleries, and microbreweries.
Dig into the past at the Park City Museum to learn about the town's mining days, get an up-close look at Native American artifacts, and tour the popular Olympic exhibit. Locals enjoy regular events like Park Silly Sunday Market and Friday Night Gallery Stroll. Hop on the free trolley to navigate the thoroughfare, spotting the historical statues along the way.
2. Main Street In Galena, Illinois
Travel back in time to this beautifully preserved historic downtown. With half a mile of Main Street to explore, you'll find more than 125 independently owned businesses housed in 19th-century brick buildings. Take a one-hour walking tour led by "General Ulysses S. Grant" to learn about the city's early days, lead mining, and steam boating. Then spend the afternoon meandering through one-of-a-kind boutiques, artisan studios, jewelers, art galleries, and antique stores.
Plenty of dining options abound, from cafés, taverns, and fine dining to ice cream parlors, bakeries, and chocolate shops. Enjoy a soda at Root Beer Revelry, a craft beer at Galena Brewing Company, or specialty cocktails at Miss Kitty's Grape Escape. Be on the lookout for trolley cars transporting visitors to nearby wineries.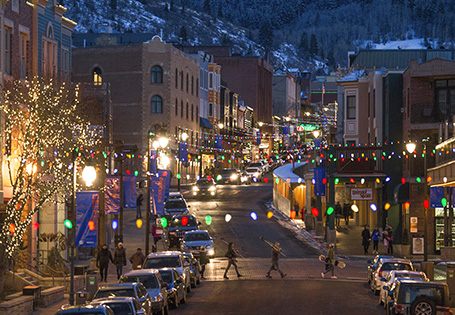 3. Beverley Street In Staunton, Virginia
Listed in the National Register of Historic Places, the Beverley Historic District showcases stunning Victorian architecture set against the backdrop of the beautiful Shenandoah Valley. With many buildings dating back to the 1870s, this walkable main street is home to notable landmarks such as the Clocktower, Masonic Temple, and Marquis Building. Photography buffs will enjoy the Camera Heritage Museum for a peak at nearly 2,000 vintage cameras dating back to the 19th century.
You'll find plenty of local charm sprinkled throughout the area, including antique stores, vintage clothing boutiques, art galleries, a cigar store, local eateries, and even a stop on the Shenandoah Beerwerks Trail. Enjoy the beautiful stained glass — including 12 Tiffany windows — at Trinity Church. And if you time your visit right, you can catch a performance at the renowned Heifetz International Music Institute.
4. Front Street In Bath, Maine
Known as the City of Ships, Bath's maritime heritage still thrives in the docks and shipyards bordering the Kennebec River. Pedestrian-friendly Front Street beckons visitors to explore its 19th-century buildings, with brick sidewalks carving a walkable path, and period streetlights adding to the historic charm. Locally owned shops, restaurants, and bars are everywhere!
Take home a Maine-authored book at Mockingbird Bookshop or a one-of-a-kind craft at Lisa-Marie's Made in Maine. Dine like a local with fresh haddock at J.R. Maxwell and Co. then imbibe a Sea Trial Cream Ale at the Bath Brewing Company. Just steps away, you can explore the 20-acre waterfront campus of Maine Maritime Museum to dive into Bath's nautical history.