Throughout the winter, skiers from around the world head to Austrian slopes for some of Europe's best snow. But summer—long after the icy roads and schussing crowds are gone—is the best time to actually explore this narrow strip of the Alps. And though Austria's Alps are tall—the highest peak, Mount Grossglockner, tops 12,460 feet—the region is relatively compact (less than 200 miles across), making it ideal day-trip territory. Down below the mountains, a network of byways big (the autobahn-like E-60) and small (farm roads) lead to Alpine villages, remote culinary outposts and the sorts of vistas Disney dreamed of: jagged peaks, glacier-fed streams and broad valleys filled with wildflowers. One added benefit: In summer, you (probably) won't even need a helmet.
IN AND OUT OF INNSBRUCK
Pinched between four countries (Germany, Switzerland, Italy and Slovenia), Austria's Alps pack in plenty. The heart of the region is Innsbruck, the charming de facto capital of the Tirol region. From here you can strike out to the surrounding valleys, but be warned: All that gorgeous scenery can make for some slow going, so plan accordingly.
Just east of Innsbruck, the Swarovski Crystal Worlds exposition skips the company's 120-year backstory entirely, instead showing off a wild collection of crystal-themed artworks from the likes of Warhol, Dalí and Picasso.
West of Innsbruck you'll find the village of Axams, with a main street lined by ornate, carved-wood farm buildings. One of the few structures not occupied by farm animals is Gasthof Weiss, a rustic pub where fresh zander fish fillets and spätzle are served with half-liters of the Tirol's Adambräu beer.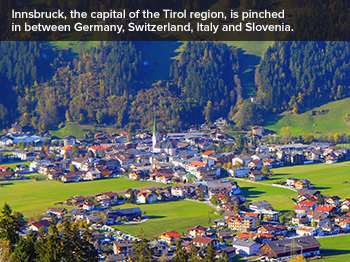 AUSTRIA, NATURALLY
"Virtually no industry." In the Alps, that's not a complaint but rather a point of pride, especially for Austria's 44 über-environmental nature parks and preservation areas, like the Walsertal Biosphere. This UNESCO-listed reserve in the western region of Vorarlberg has 155 miles of hiking paths and posted educational trails. Spanning the regions of Tirol, Salzburg and Carinthia, the sprawling Hohe Tauern National Park is the biggest nature preserve in central Europe, taking in Austria's highest mountain, the Grossglockner. To learn about the park's plants and animals, book an English-speaking guide for a walking tour.
The Alpine watershed's many crystalline streams are home to world-record brown trout. Haul in a monster on the mirror-like Salzach River, where the Bräurup Hotel offers multiday, almost-everything-included fly fishing packages. When the reels are put down, talk about the one that got away over the hotel's house-brewed beers.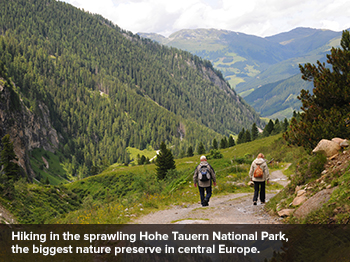 THE ÖTZ VALLEY
An hour southwest of Innsbruck, the town of Sölden sits well down the scenic Ötz Valley. Mountain bikers rule this valley come summer, enjoying 550 miles of trails and free uphill bike transport by ski lift. For your own off-road experience, rent a bike from Sport Brugger and take the free Gaislachkogel gondola in Sölden to the 3-mile single-track that starts way up at 10,000 feet above sea level. At this point, you probably do need full protective gear. Some advice: Before you unwind in the thermal baths and sauna at the striking Aquadome Längenfeld down the hill, remember to take your helmet off.
KUFSTEIN
If Swarovski wasn't enough crystal for you, head less than an hour east of Innsbruck on the E-60 to the town of Kufstein, home of Riedel, where glass-blowing artisans make the world's most celebrated wine glasses. Do Riedel glasses really make bad wines taste better? Scientists say no, but sommeliers and oenophiles say "oh, yes." After a tour, buy some sleek stemware and decide for yourself.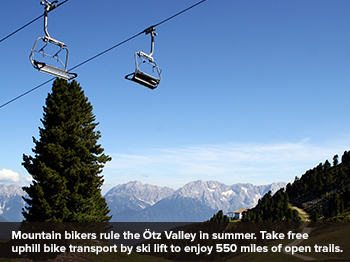 Hard choices lie ahead. Two fabulous restaurants can be found within a few miles of Kufstein. The first, Schindlhaus in nearby Söll, is run by the impossibly young-looking Winkler brothers. The duo earned a Michelin star in 2005 by focusing on the purity of flavors, like wild duck breast with spiced honey and chestnut cream. The second restaurant is Stanglwirt, in the town of Going am Wilden Kaiser. It balances Alpine Austria's unapologetically posh culinary side with its strong agrarian tradition. Located in a working barn, Stanglwirt serves classic fare like Zwiebelrostbraten (steak with fried onions) and steak in cognac-pepper sauce—at tables right next to dairy cows.
BADGASTEIN
A century ago, Europe's aristocratic elite met to take the waters at Badgastein, staying in luxury hotels and gambling away the ancestral lands. Today, Gastein sometimes drops the Bad (or "bath") from its name and promotes itself as a family destination with attractions like archery trails, where replicas of bears and other animals function as targets for kids ages 9 and older. Happily, the grand fin-de-siècle hotels and architectural highlights like the Gothic-era Nikolauskirche (built in 1389) remain. And while earlier guests once sought out healing dips in the area's radon-rich waters, treatments today take place on dry land, inside the town's former silver mines. These offer a radon-inhalation therapy that's said to relieve chronic pain (gasteiner-heilstollen.info).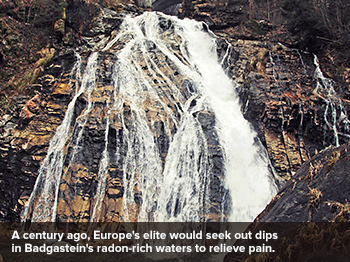 SALZBURG
Make time for a walk through Salzburg's Altstadt (Old City). If some of the high baroque gems look familiar, you must have seen The Sound of Music. For a taste of history, reserve a table at Stiftskeller St. Peter. While many European restaurants are old, this atmospheric place dates back to 803. Despite its age, the intimate cellar serves an updated menu of rustic Tirolean classics, like braised oxtail with mushrooms, and duck breast with caramelized cabbage. Guess you can teach an old restaurant new tricks.
The Details:
Swarovski Crystal Worlds: kristallwelten.swarovski.com
Gasthof Weiss: 1 Sylvester-Jordan-Strasse
Walsertal Biosphere: walsertal.at
Hohe Tauern National Park: 011-43-4875-5112-35; hohetauern.at
Bräurup Hotel: 011-43-6562-6216; braurup.at
Sport Brugger: 98 Dorfstrasse; sport-brugger.at
Aquadome Längenfeld: 140 Oberlängenfeld; 011-43-5253-6400; aqua-dome.at
Riedel: riedel.com
Schindlhaus: 134 Dorf; 011-43-533-351-6136
Stanglwirt: 1 Kaiserweg; 011-43-535-820-00-7921
Badgastein: gasteiner-heilstollen.info
Stiftskeller St. Peter: 4 St. Peter Bezirk; 011-43-662-841-2680
NOTE: Information may have changed since publication. Please confirm key details before planning your trip.