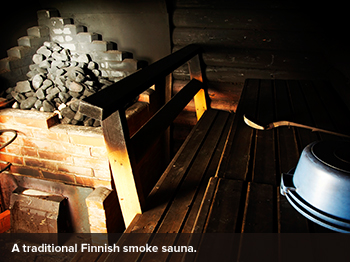 Studies show that regular sauna use can improve sleep, lower blood pressure, enhance lung function—and may generally help you live longer. These are just a few reasons saunas are hot again, especially in winter. Whether it's a Mexican sweat lodge, a Finnish sauna or a Turkish hammam, each culture has its own take on the ritual.
FINLAND
Saunas are such an integral part of Finnish life that even the Helsinki parliament has one. Traditionally, they are smoke saunas (savusaunas), in which wood burns inside a stove for a few hours before bathers enter. Today most saunas in Finland run on electricity or wood. At Yrjönkatu (21B Yrjönkatu; 011-358-9-3108-7401; kotiharjunsauna.fi, site in Finnish) a beautifully renovated public swimming hall in Helsinki, you can try three types: electric, wood-fired and steam. Don't forget the other half of the Finnish sauna experience: a cold plunge. The 1928 building, which has high colonnades and decorative tiles, is a striking example of Nordic Classicism.
GERMANY
This country has a network of health spas built around healing mineral baths called Baden. Saunas, steam rooms and even interconnected swimming pools are usually part of the relaxing ritual. At Olivin Wellness Lounge (177 Schönhauser Allee; 011-49-30-4404-2500), in Berlin's Prenzlauer Berg, you can relax in the wood-and-brick lounge or contemplate nature out in the bamboo garden between rounds in the sauna.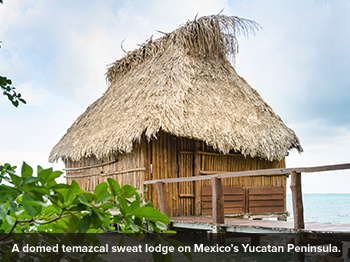 MEXICO
The pre-Hispanic ritual of the temazcal is making a comeback. Experience the traditional domed sweat lodge at the Viceroy Riviera Maya (7 Playa Xcalacoco Frac, Playa del Carmen; 011-52-984-877-3000), in the jungles of the Yucatán Peninsula. Hot rocks are placed in the middle of the temazcal, and a guide ladles on water infused with rosemary, mint and rui (a local medicinal herb).
TURKEY
Unlike the sauna, which uses dry heat, the Turkish hammam relies on steam. It usually consists of three interconnected rooms—a hot room (called the sıcaklık), a warm room and a cold room. One of the best-known hammams in the world is also the oldest: Istanbul's Cemberlitas Hamami (8 Vezirhan Cad.; 011-90-212-522-7974) was built in 1584. Sweat it out on the marble platforms of the sıcaklık before getting a scrub, a massage and a "Sultan's bath" from one of the attendants. (You can also get a clay mask, reflexology or an aromatherapy massage.)
UNITED STATES
One of the most authentic saunas in the States is the stylish Löyly (1.503.236.6850), in Portland, Oregon. At Löyly's two locations, admission will get you 2 hours of sweating in the cedar sauna and wet steam room. (There's also a cold shower to use in between soaks and a relaxation area for resting and reading.) You can add aromatherapy foot soaks and salt scrubs—and order healthy snacks, like Marcona almonds and miso soup.
NOTE: Information may have changed since publication. Please confirm key details before planning your trip.