Traditional Spanish dining culture centers around tapas – artistic culinary creations served in small portions and often shared around the table.
Among the many legends purported to have birthed tapas, the most predominant describes 13th-century King Alfonso X of Castille, finding it far easier to consume small portions of food and drink while convalescing, ostensibly starting a trend.
Though a handful of classic tapas offerings are mainstays, tapas are generally considered more a style of eating and can be found in various iterations around the world.
In many U.S. cities, in fact, tapas restaurants go the extra mile by giving a nod to their region and injecting a local spin on traditional fare in the form of spices and ingredients.
1. TORO
If you want to experience tapas à la Boston, head to Toro. Chef Darrell Boles will serve you a popular Spanish tapa, croquetas de bacalao — fried cod fritters — but with a Boston twist. Massachusetts has no shortage of fresh cod off the coast, so Toro purchases straight from Mullaney's Fish Market and salts the fish in house before preparing your croquetas.
Another example on the menu showcasing a nod to what's local is hígado — seared foie gras, cranberry mostarda, and pumpkin miso bread — prepared using locally grown cranberries, the official state fruit of Massachusetts.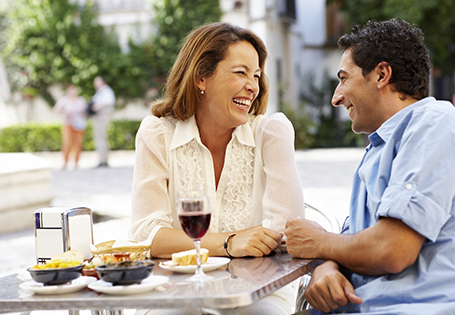 2. LA BOCA
Santa Fe, New Mexico
Established by Spain in 1608, Santa Fe is America's oldest capital city, and its Spanish roots are unsurprisingly embedded in the food scene. La Boca has created a menu fusing Mexican, New Mexican, and Spanish sensibilities.
For example, their tacos de la boca use Mexican corn tortillas, Spanish blood sausage (morcilla), shrimp, and chile salsa made with Spanish smoked paprika.
Hot chili peppers are beloved in the region, and La Boca incorporates locally grown Padrón peppers for the seasonal tapas, Galician-style pimientos de Padrón. New Mexican peppers are added to kick up the heat and suit local taste buds in the restaurant's classic Spanish garlic shrimp dish, gambas al ajillo.
3. BARSA TAPAS, LOUNGE & BAR
Charleston, South Carolina
Barsa channels Charleston sensibility and pride in their champignons — local mushrooms, herbed goat cheese, and grilled ciabatta — which features oysters and shiitake mushrooms from the Trappist monks of Mepkin Abbey.
Giving a regional twist to crispy Brussels sprouts, Barsa adds a dash of Southern flavor in the form of onion marmalade and bacon. The chicken and chorizo paella exhibits a heavenly fusion of Southern and Spanish, presenting a Cajun jambalaya with chicken and sausage, but Spanish style. Seafood, including shrimp sautéed with fresh serrano peppers, garlic, and cilantro, is sourced from local vendors to weave an extra bit of Charleston into tapas.
4. BRASA HAYA
Portland, Oregon
In 2021, tapas restaurant Brasa Haya found a home in a 1906 historic American Foursquare structure in Portland's King Neighborhood. Under the leadership of Chef Ian Muntzert, Brasa Haya offers a rich, Spanish-inspired menu utilizing ingredients grown in the Pacific Northwest.
Select the roasted beets, charred orange glaze, smoked yogurt, and hazelnut dukkah — a tapa created using local hazelnuts, Oregon's official state nut. Locally foraged mushrooms infuse regional flavor in the braised chanterelles, housemade mascarpone, and toast. The delectable bone-in, dry-aged ribeye is sourced from Carman Ranch in Wallowa County and is meant to be shared by a table of four.