All aboard! These train trips are as scenic as they are convenient. Canyons, rivers, bogs, and cliffs. Watch the world's wonders from your perch in a railroad car.
From the American Southwest and the Pacific Coast to the Grand Canyon and Cape Cod — and even a route through the Caribbean — there's something special about traveling by train. Check out some of these adventurous options and get ready to ride the rails on your next vacation.
Rendezvous With Red Rock Scenery
Denver, Moab, Salt Lake City
Sit back in a comfy seat, look out the oversized glass windows, and take in grand vistas of the Southwest's red rock formations, deep canyons and tree-lined creeks during a two-day Rockies to the Red Rocks expedition.
An "onboard host" guide will explain what you're seeing along the way as the train runs from Denver, Colorado, to Moab, Utah, with optional bus or "flighteeing" add-ons to Salt Lake City and Las Vegas.
Other than a hotel stay partway through, you'll be on track to have majestic views of nature's finest — including the Continental Divide — all day long. Meals from locally sourced ingredients, wine pairings, drinks and snacks are included. Read more about the Rocky Mountaineer.
A Sweet Caribbean Excursion
St. Kitts & Nevis, Caribbean
Glide above Caribbean palms, trees and sands on St. Kitts' historic, double-decker Sugar Train. The elevated narrow-gauge railway takes you on a 30-mile, narrated, three-hour adventure (including busses for some parts) starting in the city of Basseterre.
You'll pass villages, canyons, windmills, cliffs, and rain forest. Sit on top, shaded in the open air, or choose an air-conditioned "parlor" car below; those have vaulted windows and display local art.
Grab free soft drinks and fruity cocktails from the bar, and hum along as a choir entertains with regional folk songs and hymns. The trains originally delivered sugar cane via "The Last Railway in the West Indies" in the early 1900s.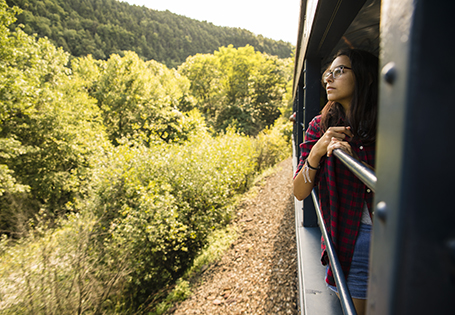 Better Than A Rodeo
Arizona
Enhance your visit to the scenic Grand Canyon by traveling there via a 1901 train line. You'll snake through prairie, desert, and plenty of ponderosa pine forest while seated in a restored locomotive car from 1923, the 1950s, or later, depending on which service level you choose.
Playful "cowboys" keep things lively by strumming guitars and staging comical skits. You'll begin your journey in cutesy Williams and, less than three hours later, be steps away from the South Rim. The train will bring you back by late afternoon.
Food and beverage are available in select train cars during the 65-mile trip.
A Captivating Cape Code Tour
Massachusetts
Take in New England cranberry bogs, dunes, canals, and marshes on this heritage passenger train line. Opt for the narrated version to learn about sites, industries and animals as you travel between Buzzards Bay and Hyannis in any of five types of seats.
Or have a meal while you ride. Lunch, brunch and dinner excursions in vintage dining cars provide food and beverage on linen-topped tables while you take in Cape Cod's scenery. One version has wine pairings. Trips last two to three hours.
Parade Along The Pacific
West Coast
Ride the rails from one resort to another—maybe Los Angeles to Klamath Falls, Oregon — on Amtrak's coast-hugging line, taking in up to 1,377 miles of the California, Oregon, and/or Washington classics along the way.
Whether in coach, a bedroom or a choice in between, you'll be sated with stunning beauty. You might spot Mount Shasta or Mount Rainier, Pacific shoreline and redwood forest, pastures and pumpkin fields.
Stay on the whole 35 hours, or take breaks at different RCI resorts along the way. Like to cycle? Your bicycle can join you.