Just half an hour's drive from Savannah, Hilton Head Island has long been beloved for its powdery beaches and world-class golf. We asked in-the-know locals for their favorite hidden gems so you can experience some of the island's best attractions without the crowds.
WHERE TO EAT
"I love, love, love Bistro 843 for brunch," says Anna Ruby, the vice president of creative at J Banks Design, an interior design firm on the island. A farm-to-table restaurant, Bistro 843 is known for its hollandaise-and-crab-topped Carolina trout. "Live jazz also makes it ideal for a Sunday Funday," Ruby says.
When she's craving sushi, Ruby often heads to OKKO, a blue-lit ultramodern space focusing on Japanese and Thai cuisine. "I'm obsessed with the Ranger Rover Roll," she says. Tempura shrimp and avocado are topped with yellowtail, jalapeno and sweet and tangy miso ponzu sauce.
Susan Gilliam has been visiting Hilton Head with her family for more than 30 years. One of her favorite spots to lunch? Sea Grass Grille, voted best seafood restaurant on the island by Hilton Head Monthly magazine three years in a row. "We almost never miss an opportunity to eat there," Gilliam says. "They have the most delicious muffins, served warm with butter." One of their other toothsome specialties is the potato pancake, which comes with crabmeat sautéed with shallots and a dollop of sour cream.
For fine dining, 15-year Hilton Head resident Travis Stephenson recommends The Sage Room Restaurant. "The tuna appetizer is wonderful," he says. An open kitchen allows diners to watch the chefs prepare this pepper-seared fish, served over ancho aioli with Asian cucumber salad.
WHERE TO SHOP
"I make it a point to return home with at least one pair of shoes from The Porcupine every time we come to Hilton Head," says Gilliam. Footwear designers at this decidedly well-heeled boutique range from Tory Burch to Sam Edelman. Shoppers can also choose among clothing by Versace, M Missoni, 10 Crosby by Derek Lam and more.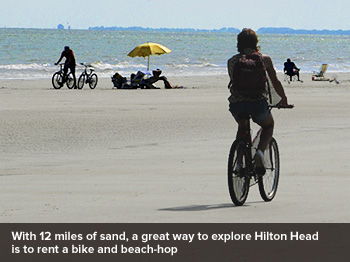 If you're in need of beach or skate attire, Fuel Clothing is the spot for quick-drying board shorts and water-resistant hoodies. "I usually go there to get surf gear for my family," Stephenson says. "The owner, Shane Gould, helped build our town's Bristol Skate Park."
WHERE TO PLAY 
With 12 miles of beach on the island, sun and sand is on everyone's to-do list. "My wife and I love paddleboarding," Stephenson says. "We recommend H2O Sports for rentals. We'll pack a small cooler, put a Bluetooth® speaker in a dry bag and paddle with the tide out of Broad Creek Marina."
Stephenson also suggests beach-barhopping by bike. Consider starting at the recently redone Sea Pines Beach Club, whose second-floor bar overlooks the ocean. You might find a live performance at Tiki Hut Barefoot Beach Bar before pedaling to The Dunes House. There, you can cool off with a frozen drink while digging your toes into the sun-washed sand.
The Details:
Bistro 843: 890 William Hilton Pkwy.; 843.686.8843; 843via808.com
Broad Creek Marina: 18 Simmons Rd.; 843.681.3625; broadcreekmarinahh.com
Fuel Clothing: 31 New Orleans Rd.; 843.842.3835; fuelclothing.com
H2O Sports: 149 Lighthouse Rd.; 843.671.4386; h2osports.com
OKKO: 95 Mathews Dr.; 843.341.3377; okkohiltonheadisland.com
Sea Grass Grille: 807 William Hilton Pkwy., Suite 1000; 843.785.9990; seagrassgrille.com
Sea Pines Beach Club: 87 N. Sea Pines Dr.; 866.561.8802; seapines.com
The Porcupine: 1000 William Hilton Pkwy., E4; 843.785.2779; porcupinestyle.com
The Sage Room Restaurant: 81 Pope Ave., Suite 13, Heritage Plaza; 843.785.5352; thesageroom.com
Tiki Hut Barefoot Beach Bar: Beach House Hilton Head Island, 1 S. Forest Dr.; 855.785.5126; beachhousehhi.com
NOTE: Information may have changed since publication. Please confirm key details before planning your trip.