Picture a quiet dirt road in Mexico beside the Caribbean Sea. Palm trees arch overhead. To your left, white sand beaches, sparkling turquoise waters and, instead of high-rise resorts, just thatched huts with hammocks. To your right, only jungle and mangroves.
Actually, that was Tulum 10 years ago. But while things have changed a little since then, Tulum (pronounced too-loom; on Mexico's Riviera Maya) remains a magical place. New resorts are springing up all the time along that beach road, officially called Boca Paila Road; there are more than three dozen now. Some of them are fancy—at Be Tulum, for instance, a suite with a private pool can set you back $700USD per night in high season—but none is more than two stories high, and many stick to the area's laid-back, rustic style. That's because this area is proudly "off the grid:" there's no electrical supply, so all the establishments rely on solar or wind power, with generators—and candles!—as backup.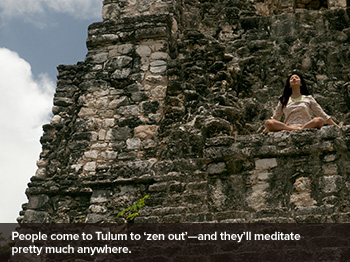 Wherever you're staying on the Riviera Maya, Tulum makes a great day trip. It's less than a 2-hour drive from Cancún and only 40 minutes from Playa del Carmen, but it's a whole other experience. Here's why you should get there soon.
Reason one: Some of the best beaches on the Riviera Maya—wide and clean, with the whitest sand and the clearest, most brilliant turquoise water. Reason two: Tulum's Maya ruins, a rare archeological site right beside the ocean. Reason three: The abundance of natural wonders—the endless salt marshes of the Sian Ka'an Biosphere Reserve, caves to explore and cenotes to swim in.
Need more reasons? Because of the stylish international crowd, you'll find unusual bars, restaurants and shops—plus great people-watching.
GET YOUR BEARINGS
Tulum consists of two parts, a sleepy Mexican village and the beach road. There's plenty to see and do in town, where Mexican businesses are interspersed with European-flavored spots (many resorts are owned by Italians and Argentineans, and the clientele comes from all over). From town it's a 10-minute drive to the beach road, where the previously empty "mangrove side" is slowly filling in with establishments that could variously be described as funky, eclectic, stylish, hipster and eco-chic.
SUN SALUTATIONS
Many visitors come to Tulum to 'find themselves.' They'll meditate on the beach, do yoga and confront their hopes and fears in the temazcal, a Maya sweat lodge. Indeed, the yoga culture permeates much of the scene along the beach road. Amansala, one of the first resorts here, caught the public eye when owner Melissa Perlman started her Bikini Boot Camps in 2002. (The "camps" consist of yoga, fitness classes, massages and healthy meals.)
Many other resorts also offer yoga, and you don't have to be a guest to sign up. At Maya Tulum, for example, sessions are held in two breezy open-air halls with tiled floors, thatched roofs and iPod surround-sound systems. Classes are given in all types and levels; beginners shouldn't feel intimidated. The spa offers massages, body scrubs and Maya skin-care treatments that use the local honey, chiles, agave and clay. If you're hungry for breakfast after yoga, stop by the resort's restaurant for banana-granola pancakes.
PARADISE BEACH
All beaches in Mexico are public, but sometimes gaining access is a problem. Not so in Tulum, where many resorts operate public beach clubs with appealing bars and restaurants. Lots of visitors make a beeline for Playa Paraiso. You turn left instead of right when you hit the beach road, and follow the signs. Parking costs $4, and you can rent a lounge chair ($4) or a beach bed to spread out on ($12); the fee includes use of the facilities.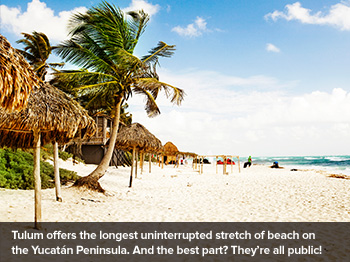 The beach is impeccable—it could be the longest undeveloped stretch along here. Boats scoot out to the reef laden with divers; Mexican families play in the waves. You can easily spend the day, lunching at the palapa-roofed restaurant—but there are many other ways to fill your time here.
SHOPPING BREAK
Explore the beach road by renting a bike for an hour or two and pedaling along for some laid-back sightseeing and shopping. Last January, a New York Times article called Tulum "The Quiet End of the Runway"—implying that the Mexican town now draws so many fashion insiders that it's like the new Hamptons. Don't be too concerned by that; you can easily ignore the fashionistas, and maybe also the high-fashion boutiques on the beach road, where the New York prices will give you pause.
Instead, browse among the Day of the Dead tchotchkes, painted gourds and woven fabrics at Mixik, which has one store on the beach road and another in town. Owner Sally Peterson focuses on folk art but also stocks plenty of inexpensive craft items and toys.
You should also make time to stroll the main street in town, where shops sell Mexican crafts and souvenirs. Pick up a straw fedora to fit in with the crowd and stop by La Flor de Michoacan for refreshing paletas (ice pops) made of mango, guanabana, strawberries and pineapple with chiles. Cool down in the courtyard out back, shaded by fruit trees.
NOTE: Information may have changed since publication. Please confirm key details before planning your trip.