HIDCOTE MANOR
Spread over 10 acres in the rolling Cotswold Hills of west-central England, Hidcote was developed by Lawrence Johnston beginning in 1907. When Johnston arrived here with his mother, Mrs. Gertrude Winthrop, the property was surrounded by farmland. Johnston bought up land for the gardens bit by bit, over several years. This strategy gave Hidcote its famous compartments, or "rooms," which range from the tiny White Garden to the Stream Garden, the Theatre Lawn and the Pine Garden. nationaltrust.org
CLIVEDEN
In its day, this 375-acre estate west of London was the stage for major society events, thanks to its famous inhabitants, Waldorf and Nancy Astor. The formal gardens are the highlight: the Parterre (left), where triangular boxwood hedges separate beds of purple catnip and asters; and the Long Garden, with its ancient statuary and impeccably groomed topiaries. You can follow in the footsteps of monarchs, prime ministers and presidents by staying overnight—part of the storied mansion is now a hotel. clivedenhouse.co.uk
HEVER CASTLE
One of England's most famous queens, Anne Boleyn, grew up in this moated 13th-century castle 30 miles south of London. The adult Boleyn lost her head in 1536 after failing to produce a male heir for Henry VIII. Today's visitors can stroll through a romantic Italian garden, with the requisite topiaries and statuary. Kids love the water maze, and anyone can get lost in the traditional yew maze, with its 8-foot-high hedges. hevercastle.co.uk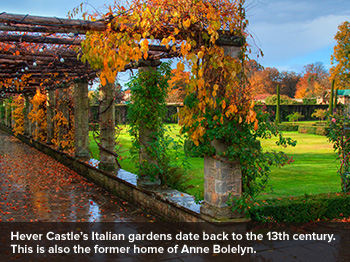 GREYS COURT
The home of the late Lady Elizabeth Brunner, a 20th-century pioneer of women's rights and the environment, lies outside Henley-on-Thames in Oxfordshire, just west of London. Ancient medieval towers form the backdrop for thickly planted beds of peonies, roses and clematis. The wisteria arbour—heavy with sweet-smelling blossoms in spring—is quite possibly the largest display of this climbing plant you've ever seen. nationaltrust.org
SISSINGHURST
The turreted 16th-century castle at Sissinghurst in Kent, southeast of London, drew writer Vita Sackville-West here with her husband, Harold Nicolson. The well-groomed rows of tulips and primroses belie the couple's unconventional lives. (She had an affair with Virginia Woolf and Nicolson had his own trysts.) Tour the Elizabethan mansion, then head to the White Garden, with its snowy delphiniums, hostas and rambler roses. nationaltrust.org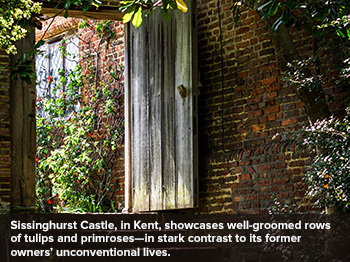 TRENGWAINTON
This spot at England's southwest tip, in Cornwall, has the mildest weather in the country. Tree ferns, bamboo, rhododendron and magnolias have thrived here since 1925, when owner Lt. Col. Edward Bolitho began stocking the gardens with species from such far-flung places as the Canary Islands and Burma (now Myanmar). The raised, western-facing vegetable beds, built in the 1820s, make the most of the winter sun. nationaltrust.org
EDEN PROJECT
This is not your typical English garden. It's an educational charity with a team of horticulturists whose aim is to inform about the environment. The 35-acre spot in Cornwall is dominated by two giant covered biomes, or greenhouses. One holds a rainforest, where the tree canopy soars to 160 feet. The other mimics a Mediterranean climate, filled with grapevines and citrus and olive trees. More than a million visitors pass through each year to admire the gardens and take part in programs offered in collaboration with other eco-conscious groups.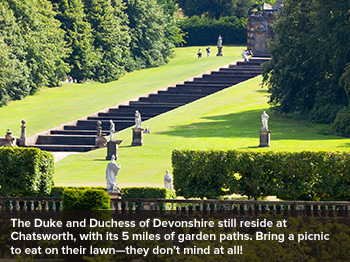 Nearby is semi-private Belmont Hills Golf Club, known for its diabolically bunkered and multi-tiered greens. Make tee times online at belmonthills.com. The Port Royal Golf Course in Southampton Parish, designed by Robert Trent Jones, Sr., is rated one of the top public courses in the world. You can book there and at Ocean View, a low-key 9-hole public course, through a centralized reservation system. St. George's, the third public course, is becoming part of a new Park Hyatt resort. edenproject.com
CHATSWORTH
The Duke and Duchess of Devonshire reside in this 175-room mansion in Derbyshire, in north-central England. Visitors are welcomed inside to view the Devonshire Collection, family treasures that range from Old Master drawings to Enlightenment-era scientific instruments. Outside, a cascading fountain falls 200 yards down a hillside, and 5 miles of paths take you past formal hedges and rare plants, and alongside streams and ponds. Bring a picnic to eat on the lawn—the Duke and Duchess encourage it! chatsworth.org
NOTE: Information may have changed since publication. Please confirm key details before planning your trip.